As part of our Blended Family Friday series, each week we spotlight a different stepfamily to learn how they successfully blended their two families. Our hope is that by telling their stories, we'll bring you closer to blended family bliss in your own life!
This week, our reader Janice shares with us the parenting plan she and her husband, Joe, agreed on early on in their marriage -- and tells us why she's grateful for a second shot at marriage for her kids' sake.
"We are both very aware that we are modeling a healthy relationship for these kids," she says. "Though they love their other parents, they also know that this relationship is built on mutual respect, love and shared responsibility."
Hi, Janice. Want to introduce us to your family?
There are five of us in all: Joe has two sons: Phillip, who's 24 and Carlo (CJ), who's 14. I have a 17-year-old daughter named Haley.
How long have you and Joe been together?
We met online in 2005, merged households in 2007 and married in 2010.
At the time, I'd spent five years as a single mom, dipping in and (mostly) out of dating sites (total number of dates over five years: about four). My daughter was young, and I was completely OK with being alone. Meanwhile, Joe, being the quantitative type of guy that he is, was busy making a list of specifications for what he wanted in a woman. He matched a handful of women to them and I happened to be his first date off the list. I always tell him he was pretty darn lucky to get me right off the bat! Who could be so lucky? It's a jungle out there!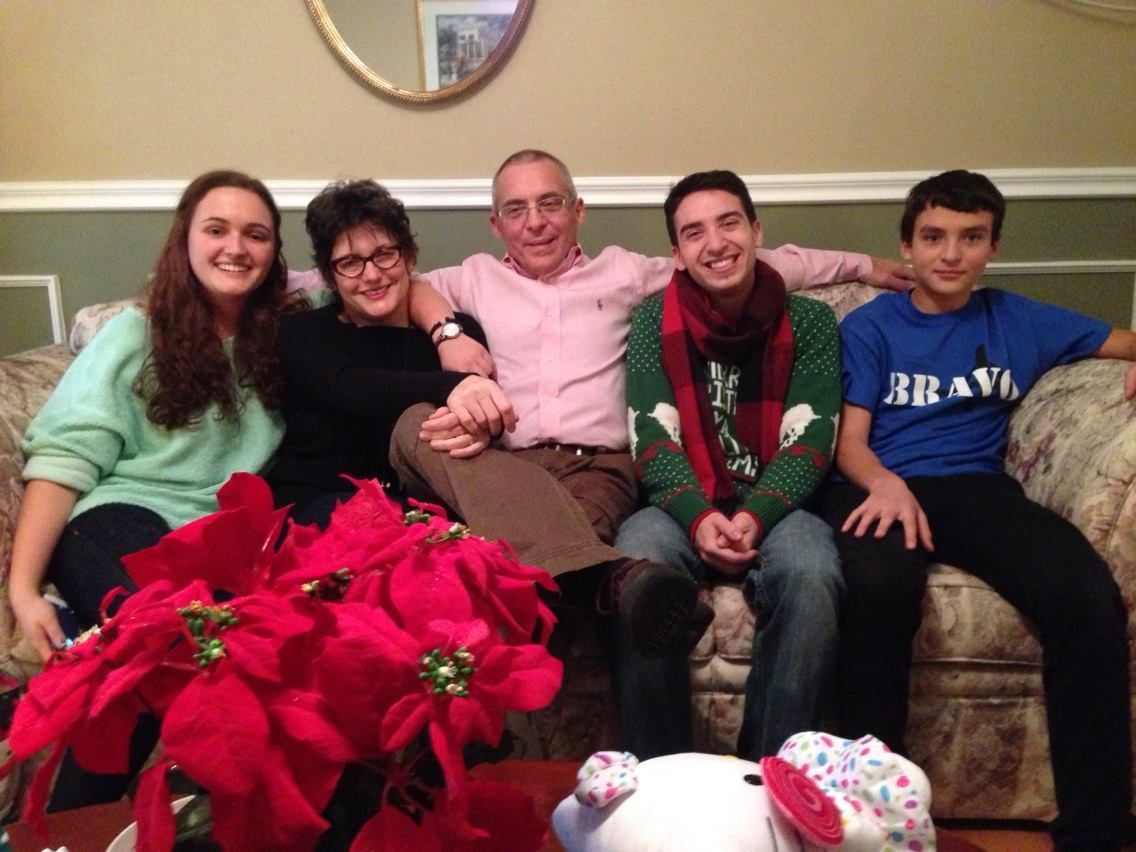 What hurdles did you and Joe face when you first merged your two households?
Parenting another person's children can be a challenge. The first few years of blending was tough, but thankfully my husband and I agreed on how to parent together. He gave me fairly free reign on structure and discipline for his youngest, CJ, and always backed me up. CJ was pretty young when we married and quite a handful. I've always tried to treat him just as I would my daughter on day-to-day things -- so inevitably, I can be the annoying, nagging mom at times, shouting, do your homework, take a shower, clean your room! I'm not trying to replace their mom, but since I am the dominant physical female presence here, it's hard for me to not take the "mom" lead. I've also learned to give up control, which has been so hard, but ultimately a very good and necessary thing for our family.
On the bigger issues with the boys, I offer my opinions to Joe (I have many...) but ultimately he is the decider. Again, not so much for Phil, as he is older, but for CJ.
Joe rarely gets involved in my decisions with Haley -- he did interject a few years ago during an argument she and I were having, telling her to watch her tone with me. She was shocked, I think, but she did watch her tone with me from then on (at least in front of him)! Earlier on, I think her attitude was, "Why is this being inflicted upon me?" Now I'm happy to report that she and the boys all act like regular siblings, sometimes ignoring each other and more often bonding together against their dorky parents.
What's the best thing about being part of a blended family?
The happiness I feel every day when I realize what I longed for most has come true: I have a loving, highly functional, supportive, tight-knit family. We have each other's back. Joe is a great guy, a hard worker and very involved in the kids' lives. I "imported" him to Jersey City from Brooklyn -- I didn't want to uproot my daughter from her school; she was older and more entrenched with her friends and it was easier for CJ since he was younger. Today, Joe is right at home here: he's active in the community, coaching soccer, on our kid's charter school board and helping to elect our new mayor here in Jersey City. We all have a good life together.
My daughter's dad is very involved in her life, too. Haley and I go to his house every Christmas morning to open presents. He has a 12-year-old son, so Haley has three brothers: two steps and one half. I joke with her that she'll need all the help she can get when we are 90 and need to be taken care of! My daughter also loves the fact that she has Joe's big, extended family out on Long Island with a "Nana and Poppy," as both sets of her grandparents have passed.
What makes you proudest of your family?
We represent the best of the modern family. No one benefits from staying in a bad marriage just for the kids. Divorce happens. I come from a divorced family, so it killed me to get divorced. If anything, that was the blueprint for what not to do. You have to put the kids first and make sure they are taken care of. Our kids have seen how some relationships don't work -- now they see the opposite. Working hard at and being happy in our relationship is the best thing we can do for our kids. We also reinforce the fact that their mom and dad are important in their lives, too. The way we look at it, we've expanded the circle of adults who love and care about them.
What advice do you have for blended families who feel like a peaceful family dynamic is out of reach?
Strive for a delicate balance of making sure everyone is heard, but also be mindful of the greater good of the family. Try to keep those special connections with your kids. Haley and I make a point to go out for sushi every few months together, just like we always did, to talk about things. Joe takes his boys hiking like he always did. And we plan family outings, vacations and celebrations together to make new rituals and memories.
This year my resolution with Joe for 2014 is to make time for ourselves, because he and I do tend to put the kids and other commitments first. We have barely had three days alone together since we met and that's so important. Our honeymoon was 48 hours on the North Fork of Long Island! We're definitely looking forward to time together.
Scroll down for more photos of Janice and Joe's family
If you'd like your own family to be featured on a Blended Family Friday, please email us at divorce@huffingtonpost.com. We're looking forward to hearing your story!