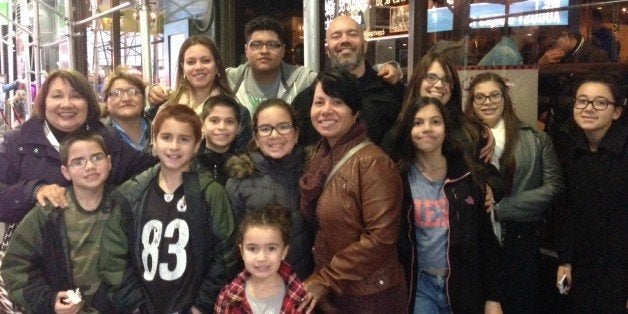 As part of our Blended Family Friday series, each week we spotlight a different stepfamily to learn how they successfully blended their two families. Our hope is that by telling their stories, we'll bring you closer to blended family bliss in your own life!
This week, our reader Miko shares with us how frenzied, but ultimately worthwhile, it's been to raise his kids along with his wife's over the last four years.
"I came in with three girls and my wife has two girls and a boy," he told us. "Add two dogs to the mix and we are non-stop."
Scroll down to hear the family's story and what Miko says is the secret to his family's close bond.
Hi, Miko. Want to introduce us to your family?
Sure. We are a family of eight humans and three dogs! (Yes, we're juggling six kids and we just adopted our third dog. Think we need our heads examined!)
As for the humans, there's me, my wife, Maddy, and our six kids: Juliana, 14; Isabella, 13; Alyssa, 12; Amelia, 10; Joshua, 9; and Valentina, who's 5. The dogs are two German Shepherds and a German Shepherd mix.
How long have you and Maddy been together?
We have been together four years and married for one and a half years.
What have been some of the biggest challenges you and your wife have faced as parents these last four years?
I think the biggest challenge has been figuring out roles and hierarchy, for lack of a better term. Each child looks for their place within the family. Things got a little more complicated recently, when Isabella and Amelia moved in with us full time during the holidays. We have been adjusting to two more people during the morning routine. We are non-stop running around the house!
Another challenge that doesn't get discussed often is when grandparents advocate for their respective grandchildren. That can unintentionally slight the other kids, so you need to watch out for that.
What's the best thing about being part of a blended family?
We truly are a blended family. Our friends call us the Bori Bunch! We are often seen at town events and sporting events rooting for all the kids. My daughters have Maddy's kids' last names on their sweatshirt and wear it proudly to cheer on Joshua at his football games. We get along famously with her ex, Jose, his girlfriend and their kids. You can often find us eating together or hanging out around town -- we really do put the focus on our kids.
What makes you proudest of your family?
I love how we continue to grow closer every day. The kids show the love they receive in the way they treat others. We overcome adversity as a team and truly try to put our best foot forward.
What advice do you have for other blended families who feel like a peaceful family dynamic is out of reach?
The key thing to success is to remember to focus on your marriage first. This weekend we did a date night, leaving the kids with their other parents. We also have to remember to focus on the needs of the children, even to our own detriment. We try to address anything they need -- they didn't ask to be put in this situation and shouldn't suffer from it.
Scroll down for photos of Miko and Maddy's family
If you'd like your own family to be featured on a Blended Family Friday, please email us at divorce@huffingtonpost.com. We're looking forward to hearing your story!