As part of our Blended Family Friday series, each week we spotlight a different stepfamily to learn how they successfully blended their two families. Our hope is that by telling their stories, we'll bring you closer to blended family bliss in your own life!
Today we speak to Craig, a father of three who's celebrating some big news: He's newly engaged to Lisa, a mom who has three kids of her own.
"We just engaged earlier this month!" he told us. "We haven't been together for years and years, but already, our child custody schedules and geographic disparity (OK, my geographic disparity) make our day-to-day life a lesson in planning, contingency, and understanding."
Below, Craig shares what he and Lisa are doing differently this time around to make their marriage last.
Hey Craig! Want to introduce us to your family?
We have a total of seven people in our new family. There's me and my fiancé, Lisa, and our five children. Lisa brought Ella, 11, and Levi, 8, into the mix, while I brought along three kids: Alison, 10; Joshua, 8; and Lydia, who's 4.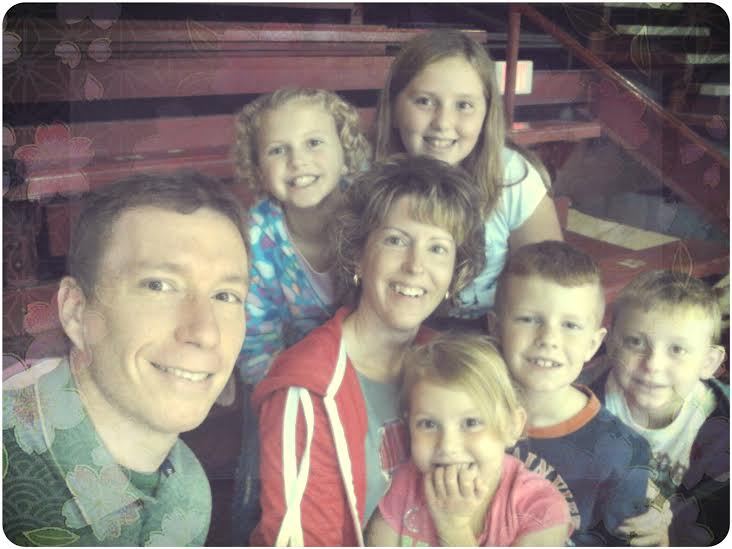 (Photo courtesy of Craig Hurda)
How long have you and Lisa been together?
Lisa and I had been dating for almost 10 months before I popped the question. I actually asked her earlier this month, while out on one of our local family adventure days. We had gone to the zoo (with a picnic lunch first), then to a local diner for ice cream, and then to the Olbrich Botanical Gardens here in Wisconsin. While we were there, my children "proposed" to Lisa's children, complete with a little "box" of chocolates. Once they accepted, they all walked over to me waiting at the highest point of an arching footbridge, where I went down on bended knee. It was a memorable day for everyone. The wedding date is still in the works, but we're excited!
What have been some of the biggest challenges of blended family life so far?
There are a few. The first challenge is finding time. Lisa has her children on a different custody schedule than I do, and my kiddos live with their mom in a different, close-by, but not neighboring, town. With four school-age children and one preschooler, the combination of activities and responsibilities can require a lot of planning to ensure everyone is covered.
The second is finding balance. This goes for both the kiddos and the adults. For the kiddos, ensuring that they all feel loved individually, while simultaneously helping them feel like a valued part of a new, extended family, can be a hard balance to strike. For ourselves, it can be tricky to find -- and have to defend -- the time we spend together as a couple. We need to keep in mind that our relationship and marriage should come first if this new family is to truly thrive.
What's the best thing about being part of a blended family at this point?
Gaining more people into our lives that will love and support us, through all of the successes and struggles we each will encounter through life. This added support network includes our immediate and extended families, as well as educators and friends. We have received nothing but positive feedback and input with the way we are each evolving as parents and individuals.
What makes you proudest of your family?
Just how well our children have adapted to and appreciate this new life. They acknowledge each other's personalities and have found common ground with everyone. Of course, the two pre-teen girls and the two 8-year old boys tend to stick together, but they all also regularly congregate as a group during both play and quiet times, and they always welcome our little 4-year old "free agent," Lydia.
How do you deal with stress in your household?
We believe communication is essential. It's a skill and attribute we both value immensely based on previous "educational" marriages.
I have found in Lisa a soul I can bare my soul to when needed, without judgement. And baring your soul to someone you completely trust, I've found, anyway, is an excellent "cleanser" of stress. It recharges you to take on the real world, knowing your partner is right beside you.
We also run at the gym! [Laughs]
You mentioned that everyone in your family is getting along relatively well so far. What advice do you have for other blended family parents struggling to make that happen?
Sit down and talk about what your core values are with your partner, and also what you will absolutely not tolerate as parents and as partners. It can be complicated, yes, but by clearly defining your boundaries and ensuring everyone understands what those are, each family member will travel on a path that works for them as well as the family as a whole.
If you'd like your own family to be featured on Blended Family Friday, please email us at divorce@huffingtonpost.com. We're looking forward to hearing your story!