As part of our Blended Family Friday series, each week we spotlight a different stepfamily to learn how they successfully blended their two families. Our hope is that by telling their stories, we'll bring you closer to blended family bliss in your own life!
This week, our reader Vanessa tells us how she and her husband, James, have kept it together while raising 11 (yep, 11!) kids over the last four and a half years.
"We're lucky that all the kids, from our two-year-old, to our 21-year-old, really love each other," Vanessa says. "The kids have thrived and excelled these last few years.
Below, Vanessa shares more of her story and passes on her best advice for keeping stress levels down when things get hectic at home.
Hi Vanessa! First, want to introduce us to your family?
Yep! We are a family of 13. There's me and my husband, James, and our 11 kids: Jocelyn, 21; Mallory, 19; Josh, 19; Caleb, 17; Sarah, 17; Danika, 16; Rachel, 14; Dalton, 13; Noah, 8; Dacey Leigh, 3; and Copeland, 2.

James and I were married on September 24, 2009. We had actually dated briefly in spring 1990, before breaking up and marrying others.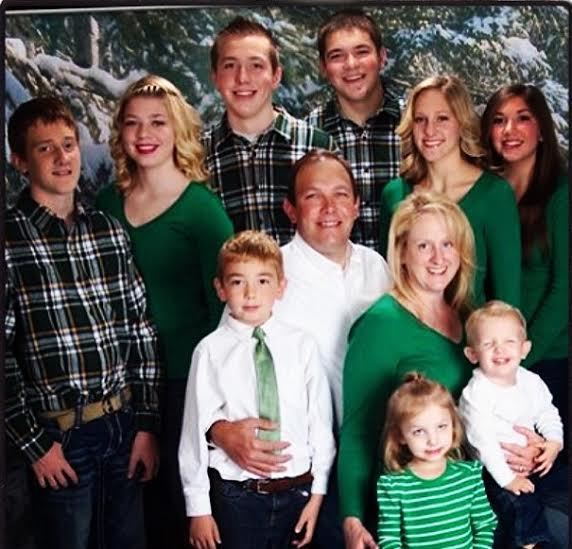 (Photo courtesy of Vanessa Lacey)

What are some of the biggest challenges of blended family life?
Ah, there's a few! But one of the biggest things is navigating the reality that what happens at one parent's house may not be allowed at another's. We all have different rules when it comes to things like bedtime and what the children can watch on TV, so it can be difficult for the kids' to wrap their heads around that.
What's the best thing about being part of a blended family?
Being blended is the ultimate test of whether or not you can truly show love. I'm talking completely selfless love. For my husband and I, this has allowed us to model to our kids what we think a family should look like.

For the kids, they've learned to tolerate and accept others that are not blood-related. They've learned to navigate relationships they wouldn't have had the opportunity to enjoy if they didn't have step- or half-siblings and that can be a wonderful thing.

What makes you proudest of your family?
I am so proud of how well the children came together and bonded. They love each other and call each other their brother or sister to everyone they know. They stick up for each other, cover for each other and defend each other as if they were raised together from birth, not just four and a half years.

How do you deal with stress in your household?
My husband and I have date night weekly. The older kids insist on it. I think it's their stress relief, too! We also travel quite a bit and always take the kids with us.
What advice do you have for blended families struggling to keep the peace in their home?
Never give up on anyone in the family. Be sensitive to the stress the kids may be under. Be supportive, yet insist that everyone follow the same rules at your house. Align yourself with your spouse, always, and not your children. They will one day leave and start a life of their own, but your spouse is going to be there to wipe your mouth when you're old. Honor that and defer to him or her, not a child. We told all the kids that, in our house, I am the mom and he is the dad, period. They were told that if they couldn't respect that, they had another parent they could choose to be with. They have chosen to stay with us. Structure and consistency for all goes a long way when it comes to earning a step-kid's respect.
If you'd like your own family to be featured on Blended Family Friday, please email us at divorce@huffingtonpost.com. We're looking forward to hearing your story!