As part of our Blended Family Friday series, each week we spotlight a different stepfamily to learn how they successfully blended their two families. Our hope is that by telling their stories, we'll bring you closer to blended family bliss in your own life! Want to share your own story? Email us at divorce@huffingtonpost.com.
Felicia Campos never wanted to be a mom. But when the man she married got custody of his kids following his ex-wife's death, she quickly realized that she was going to have to step up to the plate as a stepmom. Below, Campos tells us how she learned to love her new role and shares her best advice on strengthening bonds within a blended family.
Hi Felicia! To start things off, want to introduce us to your family?
We are a blended family of four. It's me and my husband Henry and our two kids: Rico, 28 and Crystal, 26.
Henry and I have been together for 20 years. When we look back, we can honestly say that they been truly good times. Six months into our marriage, Rico and Crystal, who are Henry's birth kids with his ex, came to live with us permanently after their mom suddenly passed away. At the time, Crystal was 6 and Rico was 9. It's one thing to prepare for a baby after nine months of planning, but it's whole different matter when pre-adolescents have to adjust overnight to living with a stepmom, especially after losing their birth mom. We made it work, though.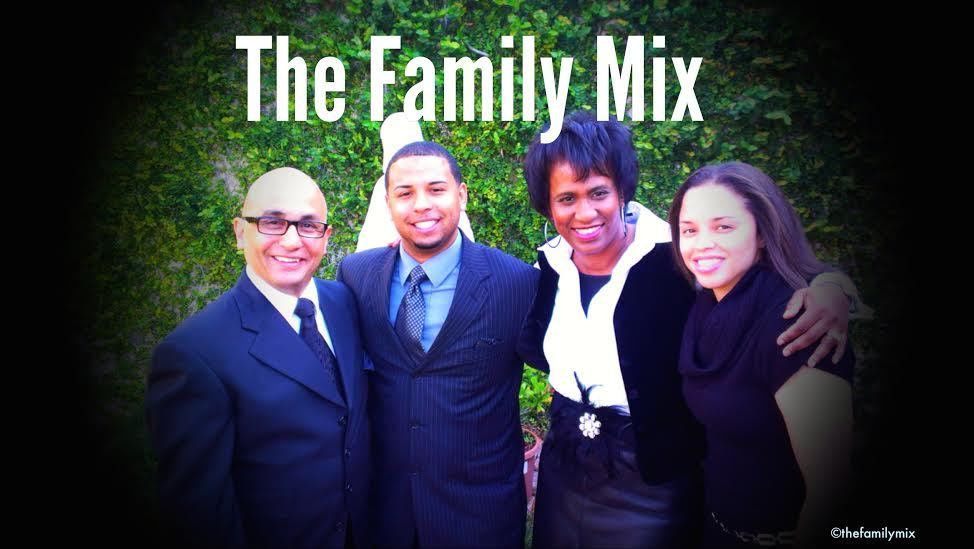 (Photo courtesy of Felicia Campos)
How would you describe your relationship with your stepkids?
We have a natural bond that is undeniable but it partly came from putting in the hard, painful and grueling work. Our bond is so great and cool today that no one even realizes we're a blended family unless we tell them. And when we do tell them, they're usually shocked.
To be honest, I never wanted to have kids of my own. But I knew what I was getting into before marrying Henry. I knew what my life would entail once I married him. I recognized that if you love the man, you have to love the kids. And I do.
Looking back on those years, what have been some of the biggest challenges you guys have worked through together?
Fear and communication deficiencies have been big issues in our family, but when the kids were growing up, there was no literature to really address these problems. Fear often takes root in a situation when there is no clarity on what's really happening. The same holds true for communication. It can be really difficult to talk and be transparent in a blended family when there are so many unknowns about the who, what, when, where, how and the why of your lives.
It would have been so useful to have some tool that addressed these issues. That's one of the main reasons we created our website. It's called The Family Mix and we strive to help other blended families work through some of those big, unspoken problems of stepfamily life. We love when blended families connect with us because we are so passionate about helping them discover the process of loving and valuing one another. (We also recently published a book called The Five Stages of Development for Blended Families. )
What's the best thing about being part of a blended family?
The best part of being in a blended family for us was making the decision that we were going to be a success. A real success. As the parents and leaders of our family, we decided that failure was not an option for us. Wherever there is good, united leadership, the chances of success greatly multiply and that's what happened with us.
We had to do that. We had two emotionally traumatized kids whose lives abruptly changed and they had to come and live with their dad who'd divorced their birth mom. Plus, he had just married some new chick who never wanted kids to begin with. An attitude adjustment was in order for us to succeed. We strove to create a strong family and because of that, we were able to declare success as a family in spite of all the hurt, pain and confusion.
How did you deal with stress in your household?
We dealt with stress by facing our problems head on. No sugarcoating or covering up. When our kids reached the ages of serious teenage rebellion, it was stressful but again, we believed and focused on victory.
And victory meant that we would do whatever it took to make sure they came through well-adjusted and knowing that we as parents had their back. We never allowed our love for our kids or their emotional trauma to deter us from doing what was best for them. Oftentimes in a blended family, the parents are too riddled with guilt to lead. Guilt is a robber of genuine good, strong loving parenting.
What advice do you have for parents of blended families struggling to keep it together?
First of all, whatever you truly believe and feel will happen in your family, will happen. When we interact with families on our website, we always start with getting the parents and kids to see themselves as a productive and successful blended family. It all really does start with what's going on in your head and heart. When we came together, we all had the worst feelings about our situation, but we worked to change that. When we started to believe that we were going to be a successful blended family, everything in our lives began to line up to support that. Today we are the family that we believed we would one day be.