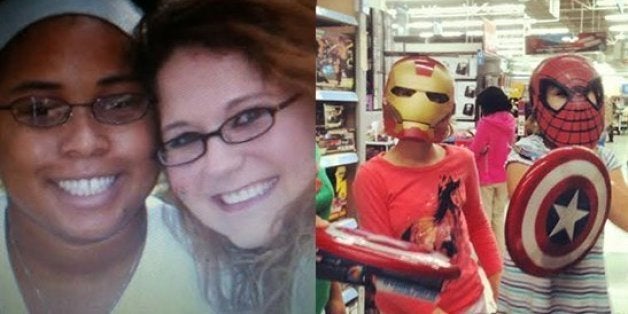 As part of our Blended Family Friday series, each week we spotlight a different stepfamily to learn how they successfully blended their two families. Our hope is that by telling their stories, we'll bring you closer to blended family bliss in your own life! Want to share your own story? Email us at divorce@huffingtonpost.com.
This week our reader Lori tells us how she and her partner Kristen have worked as a team to minimize the stress of raising their blended family.
"Our family is very much like the T.V. show 'Modern Family,'" Lori said. "It can be craziness and co-parenting with four adults can be hard, but it's worth it. Our kids have so much love in their lives."
Below, Lori tells us a little bit more about her family.
Hi Lori. Want to introduce us to your family?
We are a family of four. I'm Lori and my partner is Kristen. I have two kids: my oldest daughter Julie is 11, and my youngest daughter Victoria is 6.
Kristen and I have been together for four years and have been living together as a family for two years.
What are some of the biggest challenges of being part of a blended family?
Victoria and Julia have different dads. One of the biggest challenges for us has been dealing with not one, but two fathers, with different concerns and scheduling issues. Raising the kids with four parents has been hard at times but the children couldn't be more loved.
As a couple trying to raise a family in the Bible Belt, it's difficult for Kristen and me to deal with being ostracized for being a lesbian couple. We live right outside Atlanta and it's just not easy.
It's been a learning opportunity, though. We get to show my girls that love really is the only thing that makes a family a family. They are able to see that all families are different, but that love is the one thing they have in common.
What makes you most proud of your family?
I am proud of our ability to co-parent calmly even when it's difficult. We make a conscious effort to remain friendly in front of the children and keep any co-parent arguments private. The girls are able to see that their health and happiness are more important to all the parents and step-parents involved than any hurt feelings or resentment felt among the adults.
How do you deal with stress at home?
During stressful situations in our home, I sit down with my partner in a quiet environment and calmly discuss how to deal with it. Kristen has been in the girls' lives long enough for them to see her as a step-parent and I do my best to include her as the other parent in the home when it comes to making decisions about the kids. I value her opinion as a step-parent who loves the girls and wants the best for them. She is also naturally very easygoing and mellow and is a good balance for me. I can be a bit high-strung and easily stressed! Trying to work through rough patches in co-parenting can take a toll on one's nerves and she helps me get through it all.
What's your advice for blended families struggling to keep the peace at home?
Pick your battles. I bite my tongue more than I should just to avoid unnecessary fighting with their fathers. Sit down, take a minute, and think, "Is it worth fighting over?" To take a page from the playbook of Princess Elsa from "Frozen," sometimes you've just go to "let it go." The goal of raising kids is simple: You want to make sure that your children will one day be able to look back and say "My parent always tried to keep the peace and put my happiness first."