As part of our Blended Family Friday series, each week we spotlight a different stepfamily to learn how they successfully blended their two families. Our hope is that by telling their stories, we'll bring you closer to blended family bliss in your own life! Want to share your own story? Email us at divorce@huffingtonpost.com.
Today we talk to Stephannie, a reader who's a mom to three and a "bonus mom" to two kiddos.
"My husband and I love our little Brady Bunch," she told us. "Even through the thick of it, blending families is truly the very best decision we've ever made. It can be hard, even scary at times, but it's very rewarding for all of our kids to see what a functioning family full of love looks like!"
Below, Stephannie tells us a little more of her story.
Hi Stephannie. Want to introduce us to everyone?
Sure. Our family consists of seven actual people. There's me and my husband Troy and and our five kids: Kat, 18; Annie, 16; Emma, 16; Cooper, 11 and Joel, 7. Plus, we have our animals: three rats, two dogs, one bird and one chinchilla.
Troy and I met on March 2, 2010 and married on March 2, 2011 at Bella Cafe, the place we met for our first date.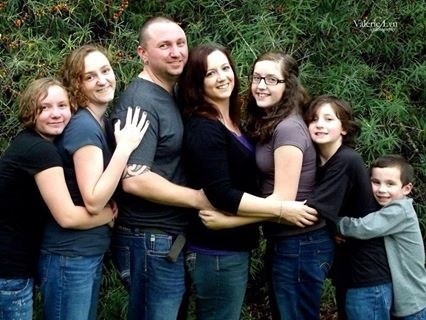 (Photo courtesy of Stephannie Stephens)
What are some of the biggest challenges of blended family life?
Imagine for a moment you have three teenage girls, two very active and occasionally emotional boys, one of whom is very sensory sensitive mostly to loud noises and the other who is in his tween pre-pubescent years -- all living under the same roof. Everything you can think of being a challenge, is a challenge.
In the beginning our biggest challenge was merging our parenting styles. Early on after a bit of frustration and a lot of being overwhelmed, we decided to come from a new approach: Your kids are great, we thought. What you are doing obviously works and it's my role to support you. So while we support each other and still take a front seat approach, we really remain in the drivers seat with the kids we came into the marriage with. I feel like this was really key for us to making our older kids more comfortable with the transition. But hey, I have no problem asking Troy to use his "Troy" voice when my little mom one isn't working.
What's the best thing about being part of a blended family?
I have always wanted to have five kids. (Crazy, right?) After having three I couldn't do one more pregnancy. My credit line for pulling all-nighters with a newborn followed by the early shift with older kids was maxed out. One of the best things for me is I now have that great big family and my last two came into my life potty-trained and ready for adventure. Overall, the best thing is the dynamic of this family. Sometimes I think there are hidden cameras in my house and that we are part of some social experiment proving the Myers-Briggs theory of personality types! If that is the case, I think we are giving them a ton of material they weren't expecting.
What makes you proudest of your family?
I am proudest of the closeness and loyalty this family has. We are definitely a mini street gang or traveling circus act at any given moment. I love the laughter and the middle-of-the-day-booty-shaking dance parties for no apparent reason. I love how they all hold hands and run into the freezing cold ocean with Troy or work together to collect oodles of slimy newts while we are camping. I'm proud of who they each are as individuals and how that includes adapting, accepting and loving each other.
How do handle stress with so many kids with individual demands?
Stress management is always a work in progress. We have the typical pouters, passive aggressive teenagers and whining out of sorts chaos. The day that our kids started fighting and getting annoyed with each other was a big victory for me! I saw it as a sign that things were going well. Let that go on the record! I thought, well, look at how comfortable everyone is now. This is success!
Troy and I make it a point to date each other on our weekends off as a way of hitting the re-set button for ourselves. This keeps us from strangling each other and gives us a chance to catch up!
What's your advice for other blended families struggling to keep it together?
Just breathe. This is a new experience for everyone involved and like anything else in life you just have to show up, do the right thing and make the best of it. When something doesn't feel like it's working I start over and remember that. Sometimes I hide in the closet and eat a lot of chocolate first, but I always return to that premise. I found that my greatest reprieve from the anxiety of having a big family is to talk about it. I like to be open in discussing my struggles with other stepparents. If I know anything I know that this is hard work and because I'm so open, I know that I'm not alone. At the end of the day, I lay my head on the pillow, say a little thank you for the gift of this family, hope that the next six to eight hours of sleep don't go by too fast and cross my fingers that I didn't run out of coffee the day before. This is my life and I love it.