As part of our Blended Family Friday series, each week we spotlight a different stepfamily to learn how they successfully blended their two families. Our hope is that by telling their stories, we'll bring you closer to blended family bliss in your own life! Want to share your own story? Email us at divorce@huffingtonpost.com.
This week, school psychologist Lisa Liggins-Chambers shares with us what she and her husband have learned from five years of blended family life. The mom of three also explains why her ex-husband is always welcome into her family's home, regardless of custody arrangements.
Hi Lisa. Want to introduce us to your family?
Sure. My husband Jason and I have three kids: Jordyn, 13; Jada, 3; and Jason II, who's our little one at 15 months. Jordyn, our teenager, is my daughter from a previous marriage.
Jason and and I have been together for five years now.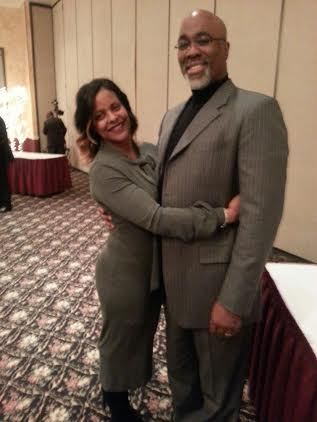 Lisa and her husband Jason.
In those five years, what have been some of the biggest challenges you've faced?
There's a few big ones. One is making sure that everyone is as comfortable as possible with this new arrangement. We try to ensure that all parties feel support from one another whether we're celebrating the good times (excellent school grades!) or trying to get through negative times (including typical, difficult teen behaviors). For instance, we all work together to provide discipline for Jordyn, our teenager. My husband and I make sure that we keep in close contact with Jordyn's father so we can get his input, personal feelings and encouragement on things like disciplinary strategies, rules and punishment. We always keep the door open for him out of respect for his important role within her life.
Another challenge is making sure Jordyn spends quality time with her dad. The courts may have provided specific days, holiday and times for visitation but we've never strictly abided by those restrictions. I firmly believe that my child and her father need one another and as a result, they have the flexibility to spend their chosen amount of time together. For instance, when she was a toddler and needed him to tuck her into bed, he was there. When she needed his help for homework or just needing her dad to get rid of the monsters, he was there. He is always welcome into my home to be her father.
What's the best thing about being part of a blended family?
The way I see it, our kids just have more parents to nurture and love them. They say it takes a village to raise a child and that's certainly true in our family's case; as a group of parents we collectively provide structure and discipline for our children and because of that, we have kids who've learned and understand how to achieve healthy relationships with others. They know what healthy marriages and relationships look like because that's exactly what we've modeled for them.
What makes you proudest of your family?
I'm so proud that during family gatherings and holidays we can all share dinner together comfortably, pray together, and laugh amongst one another as if we're all old friends.

And although I'm divorced from my oldest daughter's father, I appreciate how my immediate family and his continue to consider one another "family" despite everything. This includes embracing my current husband and our children together. Coincidentally, we all saw one another last night. Some of my ex-husband's family have not seen me in over 10 years, but it really did seem as if time had stood still. We all hugged for a long time, expressed love, and supported all the children as they played at their sports events. Now we all plan to have dinner together in the near future!
How do you all deal with stress?
As a family, we pray every day. God is the center of our household. Outside of that, we try to listen to everyone's needs and concerns. Family meetings help us do that.
As a couple, my husband and I insist on having date night twice a month. It's pure enjoyment and relaxation: no kids, no dogs, and no stress. We also travel twice per year -- once with our kids and then alone. It's important to maintain your marriage outside of your kids. My husband and I always start to talk about our kids when we're away, but we're learning how to stop ourselves when we discuss them too much!
Lastly, what advice do you have other blended family parents who are facing some of the challenges you mentioned above?
Remember, children model the behaviors of their parents. As parents, we have a responsibility to teach our children how to conduct various relationships in their lives positively and how to handle their emotions. When trying times occur, be aware that your children are observing how you're dealing with the situation. In fact, my children have caused me to stop certain thoughts, behaviors, and actions because I reminded myself they were watching. Today I communicate more effectively and am more mature within my own relationships because of that! It really is worth putting in that extra effort.