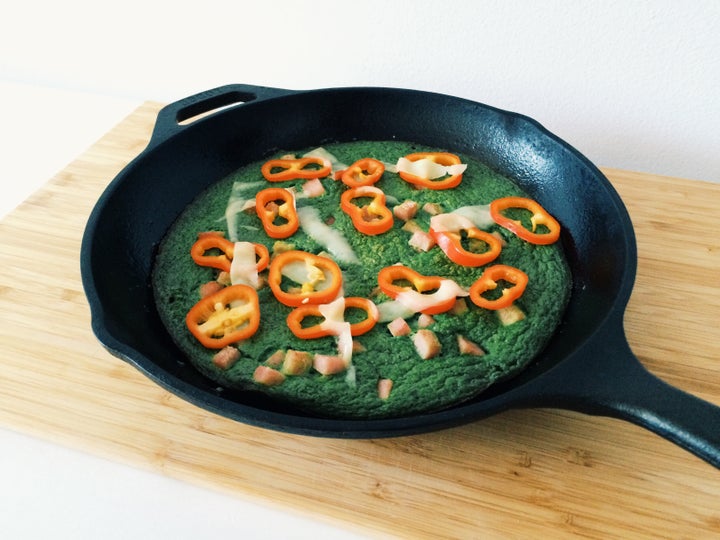 This blender recipe will change the way you think about a healthy breakfast.
It comes from the May issue of Men's Health on a page devoted to the blender's many uses -- how to use it to make anything from ice cream to falafel. But we were especially intrigued by their soufflé recipe, for its healthy qualities as well as its full flavor and -- most importantly -- its simplicity.
It only takes 13 minutes total to make and requires the bare minimum of prep.
Note: The best thing about this recipe is its potential for creativity. We've found that you can swap out hot peppers for sweet ones or add garlic or thyme to the blender -- the list goes on. The measurements are easy, so just have fun with it!
Here's what you'll need, followed by the recipe, republished with permission from Men's Health:
4 eggs
2 big handfuls of spinach
A palmful of chopped chives (note: in case chives aren't available, we used scallions and it tasted great)
A big pinch of salt, and 2 big pinches of pepper
2 ounces of ham, cut into cubes
Parmesan cheese
1 chili pepper, sliced
Throw the first four ingredients into a blender. In an oiled ovenproof skillet on medium, add the eggs and cook till the edges set, 2 minutes. Add 2 ounces of ham cubes. Bake at 400ºF till puffy, 8 minutes or so. Remove, slice, and top with shaved Parm and sliced chilies.
Prep time: 13 minutes; Feeds: 1; Per serving: 514 calories, 42g protein, 10g carbs (3g fiber), 33g fat.
Related