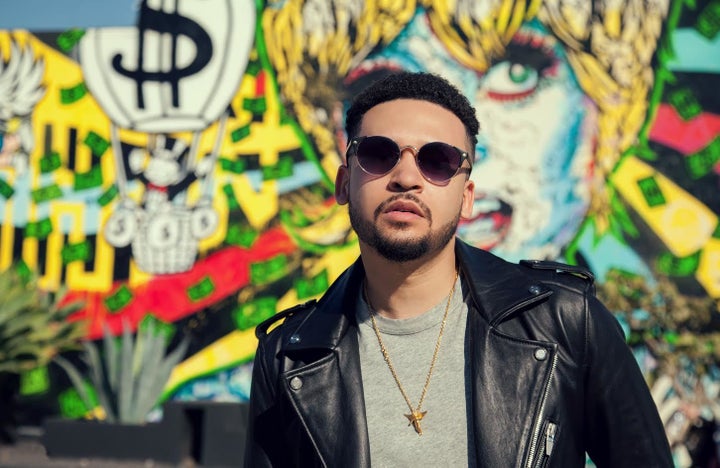 As the country struggles with fears that the end of an amazing movement of diversity and cultural awareness might be upon us, an amazing new artists breaks on to the scene to give fans hope that the world is about to see a more unified culture than ever before. Toronto Native, talented singer-songwriter Alx Veliz, is the newest hit-maker from Universal Records, and he's has already captured audience's attention with his eclectic track, "Dancing Kizomba,"- and he's about to take the world by storm all over again!
With his newest single, "U + Me," the soulful and passionate singer is once again singing about one of his favorite topics- love, as he adds to his growing discography of songs that each tell a different tale about matters of the heart. Well thought out and catchy, "U + Me" is just as good as "Dancing Kizomba," and Veliz shares the same vehement passion for both tracks. And it's impossible not to fall in love with the endearing musician as he pours his heart into his work. Easily the next big heart-snatcher when it comes to singing sensations, Veliz is quickly developing a fan-base that is throwing themselves at his romance-centered rhythmic poetry as they happily look to decipher the meaning in every song.
But, while the musician's songs might so far consistently seem to be dedicated toward talking about that special someone, the overall message of his music is far bigger as the true love story here is embracing all types of music and raising awareness for many cultures through harmony. Impressively cultured and well-schooled in all types of music himself, Veliz comes from a background where he grew up listening to everything from reggae, to Latin music, to pop, to rap, to R&B- and he makes sure to infuse all of that into his own work. Upbeat and cheery, the pleasant performer shows true hope for the future of music as he talks about using his platform to expose audiences to types of music they've never seen before, and while "U + Me" is beautiful in its core message on the surface of telling the story about a lovely romance, the true romance that Veliz is managing to form through his diverse artistry is by helping to unify the world through his powerful utilization of so many genres and cultures.
Proud to be able to sit down and talk about his music and what he has planned for the future, the gifted artist took some time to take an interview about "U + Me" and what it means to him, how it felt being on tour, who he would love to perform with, and more! Read below to see what he had to say!
(Check out the video for "U + Me" Below!)
"U + Me" is absolutely amazing!. Why don't you tell fans the inspiration behind the song, and what it means to you. Is this about rebellion against authority?
The song speaks about never giving up on love and fighting for that person that you want more than anything in the world. The video wasn't so much of a rebellion, I just wanted to show that there were a few people out there that still believe in love more than anything else. So, it wasn't rebellion toward authority- on the contrary, we aren't fighting against society, but we are fighting for society to keep moving forward in a way that spreads the message of peace and love, and to believe in that idea and in this unity- that's what I wanted to represent.
This track follows up "Dancing Kizomba." How does "U + Me" differ from that song, and what can audiences expect from your music and album as a whole?
The album as a whole tells a different story of love with each track. "Dancing Kizomba" was more the story of falling in love with the person through the beauty of dance, and "U + Me" is more about fighting to hold on to that person and making sure you don't let go. So, just like that, there's a lot of songs in these tracks that tell the story of love, whether that be falling in love, letting go, or holding on, and "U + Me" is just that- another season of love.
You seem very passionate about what you do! When did you know you wanted to get into music?
I think I always knew. Growing up in my house it was very musical, and I always heard different types of music. My grandmother would play Bob Marley, while my parents would play popular Spanish artists, and then growing up in school I would be surrounded by the popular R&B music of the time. Ever since I was a little boy, just surrounded by music, I always knew that music would be my life, and I don't regret one moment of it.
You try and blend pop, R&B and world music- as well as so many other types of music into your songs. Your music is very eclectic. Who are your musical inspirations, and who would you love to collaborate with?
Oh man, musical inspirations? I have so many! To name a few, I would have to start with Bruno Mars, he also has such a wide variety of genres that he tackles and he keeps his songs so organic. I also love Major Lazer and how they always push the boundaries, and the same can be said for Diplo and Skrillex. Obviously Bob Marley is another huge inspiration- his lyrics and poetry and the way he stood up for something beyond the cookie cutter superficial. And on the Latin side, there are also so many inspirations. And obviously the king of pop, Michael Jackson was one of my first musical idols and one of the people I look up to. So, I do have a wide variety. And if I could collaborate with anyone at this moment, it would have to be Bruno Mars- that's always been the dream. Justin Timberlake also! But that list is endless!
You've lately been on a bit of a tour, traveling around Spain and the US. Did you manage to pick up any favorite locations, or new inspirations?
I think every place I visited was really unique in its own way. I loved Texas. Just the friendliness- the people over there reminded me a lot of Canada. Philadelphia is beautiful! The landscaping and buildings, it's really gorgeous. New York and Miami will obviously always be some of the highlight places I love to go to. But, I love to travel in general and call these places my second home!
What can fans expect next from you, and more importantly, where can they buy your music, and when will you be touring next?
My fans can expect from me what I hope to accomplish- and I suppose that is to introduce what I guess to be "the new wave" of music. And when I say that, I hope my music represents our society and this generation which is a blend of different cultures, and that is what you will here through my songs- a wide variety of different instruments, genres and cultures. So, they can always expect different sounds, influences and relatable elements that hopefully they can identify themselves with. Fans can get my music anywhere and everywhere, from Spotify, to GooglePlay- anywhere you can find it, you can get it. And as for the tours coming up- look out, because we will be working on a few things soon!
And if anything can be guaranteed, it will be that Veliz will continue to do whatever he can to expose the world to even more exciting new blends of genres and cultures as he creates the new wave, helping to not only bring music forward into the future, but also the mindset of the people everywhere as well.
Check Alx out on social media at;
REAL LIFE. REAL NEWS. REAL VOICES.
Help us tell more of the stories that matter from voices that too often remain unheard.