 As an overscheduled "momtrepreneur," going to see a new movie rarely makes my priority list.
But when Frank Orosco, president at Agave52, called to invite me to a private screening of Bless Me Última ahead of the national premiere this weekend, I jumped through the necessary logistical loops to make the 90-mile drive to my state capital of Sacramento.
Why? Because I'm an author and some consider my topics controversial. So when a controversial (and banned) book inspires a movie, I must join in and celebrate. I must celebrate the unstoppable, creative spirit of many that cannot be defeated by forces of prejudice and ignorance. The very idea of this particular book by Rudolfo Anaya becoming a movie piqued my curiosity; my San Francisco-based artist friend America Jimenez and I hit the road ahead of rush hour and joined 250 others active in the business, political and cultural scene in Northern California.
Bless Me Última turned out to be a tremendous treat for the senses and for our hearts. Rarely do we see and hear stories of the perpetual battle raging between good and evil, presented through the eyes of a young child. As a mother, I was disturbed by the events witnessed by this little boy, not much older than my own son. As a creative person, I understood that all the joy, horror, disappointment and fear experienced by little Antonio, were necessary to inform his character. Those emotions and experiences strengthened his love and appreciation for the lessons from the elderly medicine woman, la curandera, who helped him make sense of it all.
What struck me most however, what I'm still reflecting on a week later is this: Antonio, perfectly acted by Luke Ganalon, exactly represents the inquisitive, seemingly-obedient, ever-doubting young Catholic child of Mexican parents that I was at that age. America, my friend, revealed she too was this way on our drive home. Antonio is the child that internalizes the religious messages from family members, from the priest, from peers. He thinks about those messages then questions their very foundation. He questions their truth and value as unpleasant, frightening, senseless events happen in front of his innocent, observant eyes. Antonio is me. "His story in many ways is my story," I heard many times at the networking reception that followed the movie screening.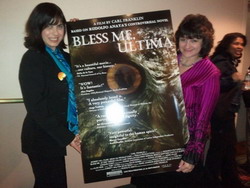 Go see it when it opens this weekend (February 22) across the nation. Support this rare project, a major movie release based on literature created by a Latino author. It's a movie that accurately portrays many of our families, our longings, our confusion, our American history. It's also a rare cinematic moment that shows and acknowledges this usually invisible fact: Mexican-Americans served this nation proudly as military members during World War II, which is when this movie takes place. As a former military officer and proud veteran, I was especially moved to see that military service commemorated on the big screen.
Why not make a double date out of the occasion? It's the perfect movie for this season of Lent, to help us either reconnect with our faith that our parents gifted to us, or to allow us to continue to question it, or perhaps a little bit of both. In any case it's a jewel, a beautifully-crafted story that will leave you with an important, perhaps even life-changing message at the end. I eagerly await your comments after you experience Bless Me Última.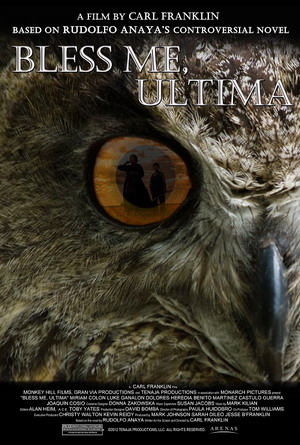 Calling all HuffPost superfans!
Sign up for membership to become a founding member and help shape HuffPost's next chapter