I don't like surprises. I love routine and the feeling of safety it brings. I plan everything. I pride myself on my organizational skills. I love lists. I think this gives me a feeling of control since growing up disabled I often felt my life was out of my control. One of my many routines is driving to work. I am able to physically drive but I have limitations. I can't physically turn my neck so I use blind spot mirrors. So in order to avoid an intersection where my blind spot mirrors won't suffice and I'll have to turn my head I always take the exact same route. I drive only through the city as highways can be tricky for me. I never deviate from my route to work. If I run into a detour sign I panic and worry that I'll have to turn my neck to see. My life revolves around planning ahead. On Sept. 24th 2010 I would learn to not only embrace the detour but to bless the broken road.
It was another beautiful September evening in Upstate New York. I could feel the chill in the air as I drove home from work. The leaves were beginning to change and the promise of pumpkins and trick or treaters were around the corner. I would normally be thrilled by this as the holiday season was my favorite time of the year. But instead I felt dread in my heart during my routine drive home. My 12 year old daughter had called me before I left work. She was in tears. She said she needed to discuss something important when I arrived home. She had been so depressed lately and I was unsure why. She was seeing a psychologist but that didn't seem to ease her pain. I wondered if it was because she came from a broken home as it was just she and I since she was very young. Or was it was because I was disabled which added difficulty to her life. All of these thoughts flooded my head as I drove home.
I arrived in the door and she followed me into my bedroom in tears. I could see dread in her face. She cried as she exclaimed "Mom, I am a boy NOT a girl. I can't go on like this anymore. I am transgender. If I have to force myself to be a girl I won't live." My heart stopped. I felt paralyzed with fear. I would say this was a shock but it wasn't. I had signs but sadly I ignored them. I had overcome so many obstacles in my life but nothing like this. I saw such sadness in her eyes and my gut told me to just listen to her. I said with a crack in my voice "I'll accept and love you no matter what but I am afraid. What about the bullying you will face?" She said boldly and without reservation "I've thought about this mom. I know I'll face bullying. I know it will be very hard. But, I can't force myself to be a girl anymore. I'll take on all of the bullying in the world to be who I really am: a boy." Wow, I thought how brave my young child is. I knew in my heart I had to do whatever I could to help her. Soon my daughter would become my son.
In 2007 before my child had officially came out I had watched very intently a 20/20 Barbara Walters Special: My Secret Self. I had some suspicions that my child could be transgender but that's not something as a parent you want to put on your child. I decided to watch this important special to help educate myself just in case this was to be my child's fate again I plan everything. (See video links below) I remember watching it quietly alone in my bedroom at night when my child was asleep. It was as if I was keeping a secret too. I became immersed in this amazing special that would help change my life for the better. I remember being in awe of these amazing parents and their very brave children. I remember in particular being strongly affected by the lovely young Jazz's story and her family especially her mom: Renee. I cried as I watched wondering if this was my fate and my child's. But Renee gave me hope. I was so touched by the abundance of unconditional love she had for her daughter. I knew how very difficult it must have been for her to open her heart to the whole world and how scary it must have been. But it was clear she did it to make the world a better place for her daughter and to help others out there accept transgender children. She wanted to touch other parents and ensure them that they weren't alone. She did just that and then some. My heart was opened by Renee's courage and genuine kindness and it would remain open when I need it most. I promised myself that if my child was transgender I would be just like Renee. This was a promise I would keep.
Many months into my son's journey I was home scanning posts on an online support group for parents of transgender children. I was so very excited to see a post from a woman who signed her post something to the effect of "Mom to Jazz from the 20/20 special, Jeanette" followed by her cell phone number. Jeanette? I thought her name was Renee could this be her? I thought she probably used a fake first name. I had to tell her that she helped save my son's life. I called and left a message on her cell phone. I rambled on and worried I sounded like a blubbering idiot. But to my surprise she returned my call shortly after my message. She was warm and kind and humble just like in the special. She reassured me and comforted me. We found we had the same views and worries for our children. We had many of the same likes and dislikes. So began the start of a lifelong friendship. I was touched by an angel.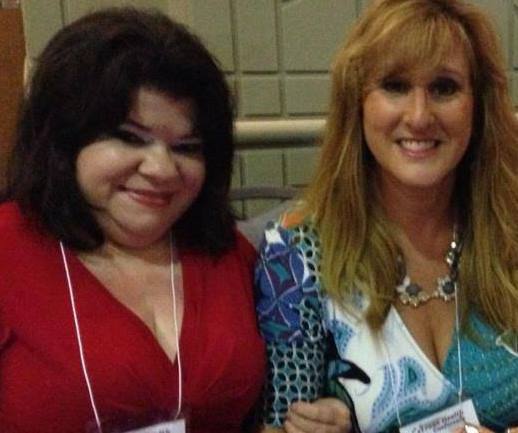 I would soon discover what a true angel Jeanette really was. She didn't stop helping others with the 20/20 special. She and her lovely daughter founded a charitable organization: http://www.transkidspurplerainbow.org/ which helps transgender children in need. Jazz has grown into a beautiful young lady and a strong advocate for transgender youth. In June 2012 Jazz was the youngest recipient of the Collin Higgins Youth Courage award. Jeanette and Jazz have done several updated media specials since (Jeanette's real first name is now used in media). Jazz now does beautifully inspiring YouTube videos (see video below) and she's coauthor of a beautiful children's book I am Jazz which is based on her life and is the first book of its kind where a child announces they are transgender. They both continue to inspire people worldwide. Jeanette and Jazz are indeed true heroes.
Jeanette and I along with our brave children have presented together at the Philadelphia Trans Health Conference two years in a row together. We speak about how brave our children are how proud we are of them. We stress how important support is to ease a transgender child's transition. We call it our "Love Fest" and it truly is just that.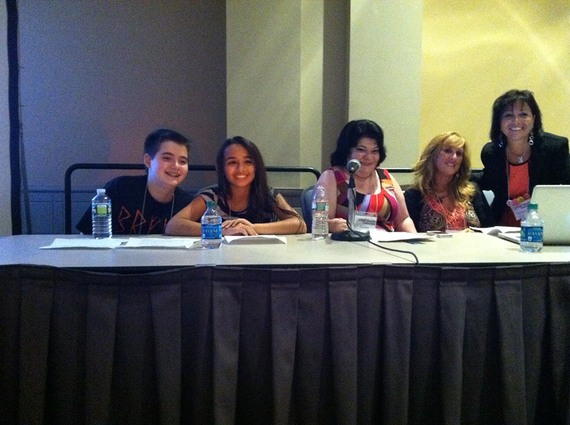 I thought I had planned everything out when I decided to have a baby but I could not have ever planned for this. I had read every baby book but I never read about the possibility of my child being transgender in What to Expect When You are Expecting. I have learned that life truly is what happens when your busy making other plans. I have come to realize that life is truly only 10% what happens to you and 90% your attitude towards it. I now have an attitude of gratitude.
It's been four years since my child came out as transgender. It hasn't always been easy but it's also been amazing and life changing. I have met so many wonderful people along the way of this broken road and I have experienced such love. I've seen my child's rebirth into my brave son. He has a confidence now I hadn't anticipated. He and I have a closeness that will transcend this life and beyond. So many blessings in disguise. I still drive the same route to work every day but I don't panic if I see a detour up ahead instead I wonder what blessings might be ahead.
Mary J. Moss
(Feisty single mom to a terrific almost 16 year old boy who just happens to be transgender)
Email me at: transparentmary@gmail.com
REAL LIFE. REAL NEWS. REAL VOICES.
Help us tell more of the stories that matter from voices that too often remain unheard.