Note: The following is the tenth post in a series of posts from GET//OUT regarding BLgT USA - the first 50-state food tour for equality. We'll be sharing updates, photos and more as the BLgT team travels across the country to get people out locally for LGBT equality.
When we set out this summer to connect people across the country in support of LGBT equality through a twist on the classic BLT sandwich, we really had no idea what we were getting into. A 50 state, 55 city food tour in 4 months? We didn't know how challenging AND rewarding it was going to be to build relationships with local restaurants nationwide. Our partnership process was as much art, as it was science. We weren't sure who exactly we should be looking for, how and where to find the right partners, and what would seal the deal in the shortest amount of time. Now, we get it. We understand the power of partnering with local, visionary food heroes, who are as crazy as we are.
Who are these heroes? And what is it about this rare breed that makes them so great? These people have a particular allure, because of their community street cred, a team to back them up, and passion for a better world. Most of the partners featured below are part of a bigger restaurant group or small local chain. They have a strong social media following of loyalists. They understand the importance of engaging people online. People trust them and love them, because they visibly support their communities. They are the bedrocks making things happen with a smile...and it makes you come back for more. For today and tomorrow's posts, we're diving deep on BLgT USA standouts of the past few weeks. WE <3 YOU, BOOS. 
BLgT USA Local Food Heroes: Part I
August 9, 2015 // Denver, CO - Masterpiece Deli.
BLgTs for Denver The GLBT Center of Colorado, supporting LGBTQ programs in Denver and education services. Renowned Chef Justin Brunson and partner Stephen Allee have two locations, and are building out the new Masterpiece Kitchen. "We're getting married next summer. We're trying to figure out how Olive is going to carry our rings down the aisle." -Harbadna, BLgT USA Supporter
August 15, 2015 // Salt Lake City, UT - Even Stevens Sandwiches.
BLgTs for Equality Utah, working on policy and programming for LGBT individuals in Utah -- Mormon gays are getting it done. Even Stevens is a local Salt Lake chain with a one-for-one model. For every sandwich you buy, they donate one to someone in need through local partners. BIg expansion plans in the works. Watch these epic movers and shakers. They are crushing it in every way. "We've said it before, and we'll say it again, food connects everyone. People who farm, people who cook, people who eat, and of course, people who love." -Jamie Coates, Creative Director, Even Stevens Sandwiches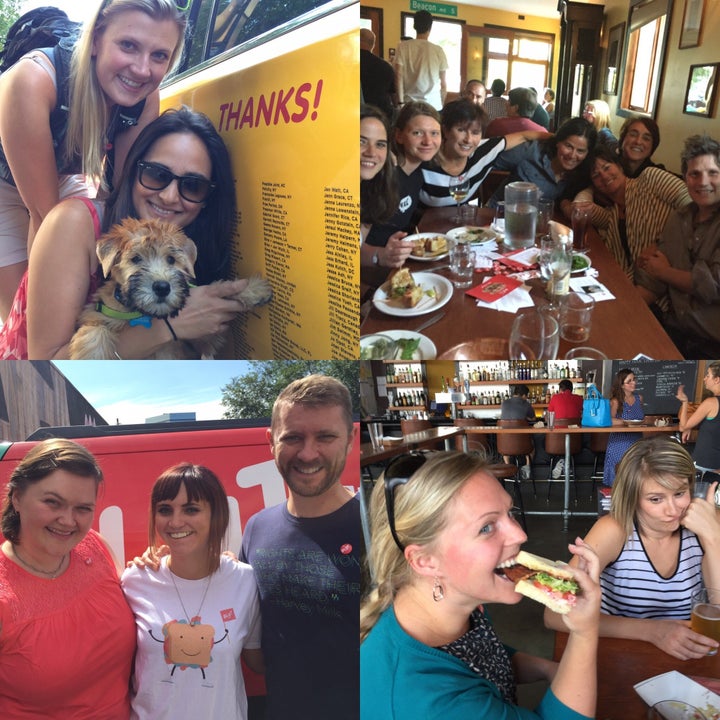 August 22, 2015 // Seattle, WA - Tippe and Drague.
BLgTs  for the Rainbow Center of Tacoma, supporting education, resources, and safe spaces for LGBTQ people and allies in Washington state. Perfect hidden back patio for summer nights. "Seattle is the birthplace of the It Gets Better Project. It started out in our alternative newspaper, The Stranger, with Dan Savage. I grew up with my mother incarcerating my brother for being gay when he was 14. She put him in jail because the law allowed you to do that back then. It was the 60s in the Seattle. If your children were 'incorrigible' you could incarcerate them. He was a year older than me. He told me that he was a queer. Which sounded okay to me. Whoever you love and care about, is whoever you love and care about. I didn't know I was gay at the time. I grew up watching persecution. As I've gotten older, I believe that you need to communicate to a younger person that it does get better. It's the shit of life to be treated like trash because you're gay. There's going to be a better day. All of us recovered. There were five kids in my family. Three of us were gay. All five of us banded together to save ourselves. And it got better." -Leslie, BLgT USA Supporter
August 26, 2015 // Portland, OR - Bunk Sandwiches.
BLgTs for Basic Rights Oregon, working on equal rights for all Oregon citizens. Friends Tommy Habetz, Nick Wood, and Matt Brown have seven sandwich locations, which includes a food truck and a space that moonlights as a indie rock venue. Epic. "The first thing I did when I moved to Portland was join a rugby team. Rugby is family. Here in Portland, everyone can be comfortable and be exactly who they are. Portlanders just live. It's really thrown off my gaydar, though. [In between bites] This is delicious. Did I mention that the team loves Bunk Sandwiches? So good." -Steph, BLgT USA Supporter
Today, September 22nd, is the official last day of summer. Our adventure began Memorial Day weekend, 123 days ago on May 23nd in Provincetown, MA. If you're kicking it in Oahu this week, join us for the final BLgT of the summer at The Nook Neighborhood Bistro in Honolulu, HI. State #50. THE END...of the beginning. Over the next couple weeks, we'll continue to post team reflections. For delicious photos of our 55 events check out our Facebook Page. For more sandwich stories from the road get after our Instagram. To sign-up for future GET//OUT updates, here ya go. For questions, feedback, and media love: go@getout.io
Calling all HuffPost superfans!
Sign up for membership to become a founding member and help shape HuffPost's next chapter