Note: The following is the first post in a series of posts from GET//OUT regarding its BLgT USA 50 state food tour. Each week, we'll be sharing updates, photos and more as the BLgT team travels across the country helping to raise awareness about and celebrate LGBT equality.
BLgT USA is the first 50 State Food Tour for Equality. The tour is being brought to life by GET//OUT, a new social enterprise creating fun ways to support equality. The tour was seed-funded by 660 supporters from around the world, who backed the team's successful $150,000 Kickstarter. BLgT USA is getting people out for LGBT rights by eating a BLgT sandwich. Participating chefs across the country are doing their twist on the BLT, with proceeds going towards partner LGBT community centers all summer long.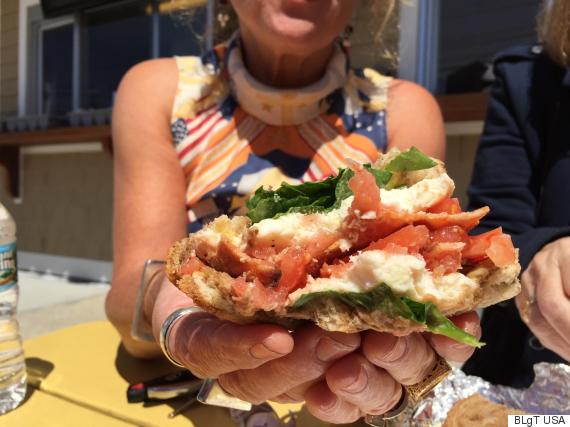 The first BLgT by Chef Vanessa Miller of Mac's Seafood. Bacon, Lettuce (baby spinach), Heirloom Tomato, on OMG pumpernickel rye bread with garlic aioli and Gourmet Mozzarella.
Our aim is to get One Million People Out for Equality during this historic summer -- online and in-person -- by traveling to 58 cities sprinkled throughout all 50 states. We'll be having conversations about LGBT life beyond marriage. Stories will be shared on our tumblr blog, in addition to our Huffington Post Gay Voices weekly series. Yes, right here, every week, for four months. Delish. This content series will be a weekly "BLgT Road Stories" -- featuring many of your voices. These are your voices, so feel free to reach out with feedback and crazy ideas.
We launched our 50 state campaign on Memorial Day Weekend in Provincetown, MA. Stop #1 in Ptown just made sense. Massachusetts has been a leader from the beginning, as the first state with marriage equality (2004) and protections for LGBT citizens (1989, 2011). The sold-out event featured familiar and fresh faces, including a mother and daughter who found us via Instagram. Ages 14 to 66 filled Mac's outdoor picnic space, and we heard some moving stories over epic BLgT sandwiches. Here are our some of our favorite "sandwich stories" from our launch: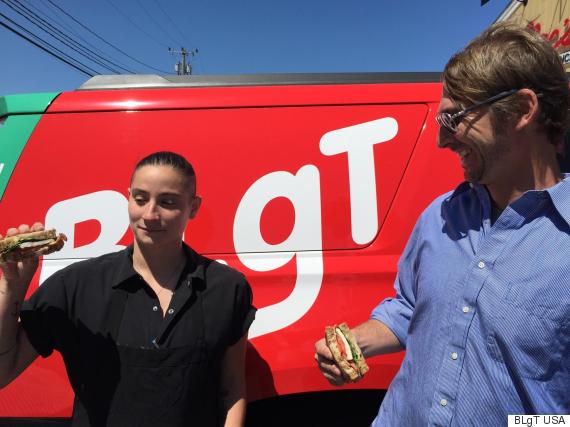 Chef Vanessa Miller + owner Mac Hey of Mac's Seafood in Provincetown, MA. Of note, Chef Miller and BLgT USA co-founder, Taryn Miller-Stevens, played basketball together at Tufts University. Family for the win.
"I've been thinking about equality and about food and about connecting people. Food is energy and the more people that can connect into that energy through good food... it's like a symbiotic relationship, feeds off of each other."
"Love is love. Love is food."
"Well I think it's also... the community we're in here in Provincetown. I'm also an advocate for equal rights and support and everybody getting along together is key. And I think bringing people together with good food is a great way to really get that out there. I didn't have a lot of time to digest what you all were doing, but when you really sit back and think about why food is a vehicle to raise awareness -- the more you think about it, it is about connecting people. It's about bringing people together and... a common ground and making people realize we're all the same. I think that what you're doing is really cool and really great way to spread the message."
"What's your g?"
"My g is gourmet mozzarella...made with my own two hands."
"What inspires you?"
"I just really love taking care of people. And knowing that people are having a good time around food that I've created is the ultimate satisfaction."
"Why does this matter to you? Why BLgT USA?"
"That's like, a really deep question. Why doesn't it matter? Because I'm a human, because I'm a member of [the LGBTQ] community and just in general, of a larger, worldwide community, in which everybody deserves a fair shot at equality."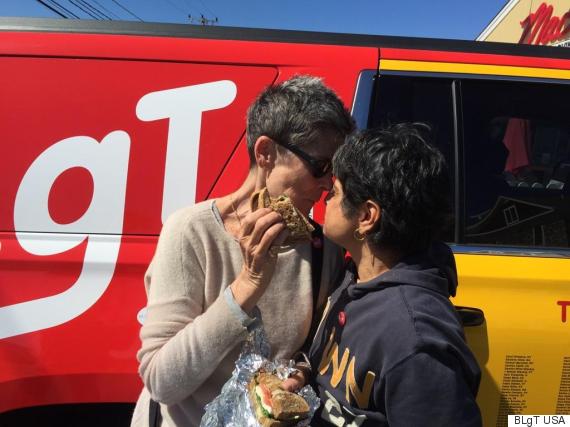 Kate Clinton + Urvashi Vaid, Political Comedian and LGBT Activist. 27 years together and still making out over BLgT sandwiches. Note: Urvashi's sandwich is vegetarian.
"Urv, what's your g?"
"Garbanzos, Indian style"
"Why does equality matter to you?"
"Because inequality is awful. Inequality of various kinds exists in this country: economic inequality, racial inequality, gender-based inequality, inequality based on sexual orientation and gender identity. So, we're for equality. In order to achieve equality, we will have to restructure a lot of institutions and take power."
"Kate, what's your g?"
"It used to be God, of course. My g… I heard garbanzos earlier, so I would say, Indian style dried garbanzos."
"Why does equality matter to you?"
"You know, it's simple. I don't understand why people don't understand it, first of all. I just believe you have to treat everyone as you would [like to] be treated. If you're the standard of equality and everyone else is doing it, then we're on an equal playing field."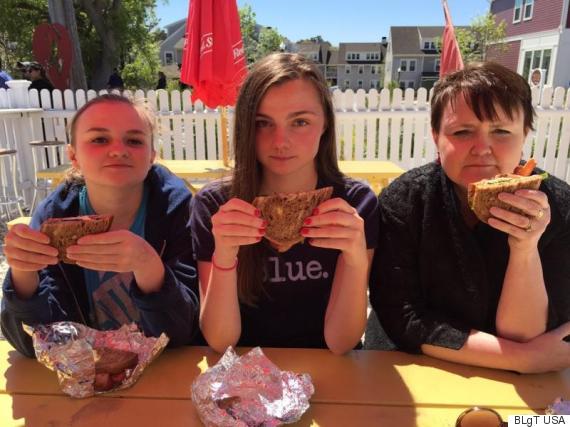 Cartherine (14 years old) + Isabella (18 years old) Capeci with mom, Barbara Clarke. Barbara is one of BLgT USA's 660 Kickstarter supporters.
"What's it like right now as an 18 year old? Is this something people talk about? What's the public sentiment in school?"
"Well, it's different for me because I go to a Catholic school, so sometimes it's like the elephant in the room, because a lot people come from really conservative families. With my friends and I, coming to Provincetown is really liberating in that you can talk about it freely and there's not really another side to it. We're more like progressive, so we don't have to worry about traditional people."
"Why does this matter to you?"
"I don't know, like, I work hard to be accepted by others, so it would be super hypocritical to not accept other people for who they are."
"[Catherine], what about you?"
"We go to the same school, but I feel like the younger girls are a little more ignorant. What they're saying about [LGBT equality], you can hear what their parents have been telling them, rather than their opinion. And like, especially, I've heard some girls… like it's more of a social thing for them because it's an all-girls school. They'll be like 'ew a lesbian, why do you go to this school?' And I mean like, I'm not a lesbian, but I would fight to the death for someone to feel comfortable."
"Because why?"
"Because I feel like, I don't know… well it's like don't flatter yourself. I don't think a lesbian would be after you, just because we're at an all-girls school. I don't know, I feel like they should be able to go wherever they want to regardless of their gender and who they want to date… because I feel like [my classmates] make it too tense and like a much bigger deal than it actually is."
Our next stop is Burlington, Vermont on Wednesday, May 27. Giddy up! We're partnering with Misery Loves Company, with proceeds from BLgTs towards Outright Vermont all summer long. This weekend, we're back in New York for with BLgTs by Top Chef Contestant and Chef Ash Fulk at The Stonewall Inn. The event is sponsored by Hill Country BBQ with special guests Sandy Stier + Kris Perry (Prop 8 Plaintiffs), DJ Zeke Thomas, and Wade Davis, former NFL athlete and ED of You Can Play. You can follow the tour on Instagram, Twitter, and Facebook, and RSVP for a BLgT in your city at blgt.us.
Calling all HuffPost superfans!
Sign up for membership to become a founding member and help shape HuffPost's next chapter