Note: The following is the seventh post in a series of posts from GET//OUT regarding its BLgT USA 50-state food equality tour. Each week, we'll be sharing updates, photos and more as the BLgT team travels across the country helping to raise awareness about and celebrate LGBT equality.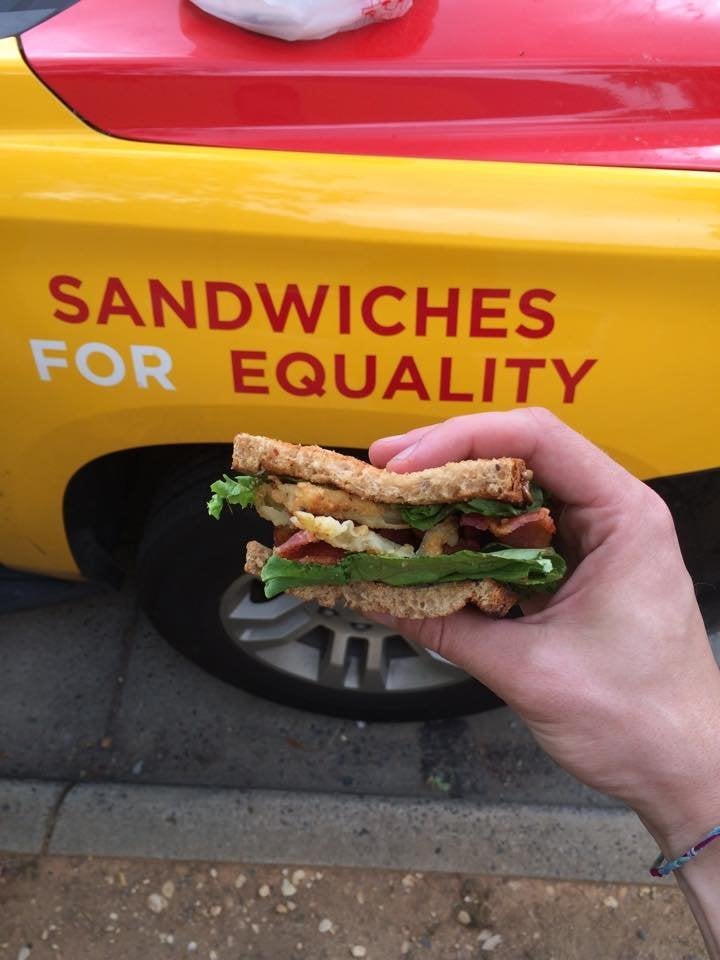 Each week, BLgT USA brings Sandwich Stories from the road. This week, we're highlighting one of our own. Community Director and primary author of this series, Katie Barnes, shares their personal connection to one of our community partners, Campus Pride whom we met at Dish, our restaurant partner in Charlotte.
I was 19 when I became an activist and 21 when I learned that I needed to do better. I never intended to be my campus' most visible queer presence, speak at a rally, or join new friends on a 50 state food tour for equality. But before all of that happened I was a college student who thought they knew everything. Campus Pride taught me to be better and to think more complexly. After spending three years with the organization, first as a camper, then as President of the Advisory Board and a member of the Board of Directors, I am more convinced of the power of youth than ever before.
I am often asked how I ended up on this tour. On the surface it seems like a food tour and youth activism have little to nothing in common. BLgT USA meets at that intersection. Taryn and Peter, my bosses turned friends turned family, created a campaign that creatively addresses the lack of actual acceptance of LGBT people in this country, despite the fact that there have been legal gains. There is a difference between legal equality and lived equality, and that will be a disparity my generation will burden.
Millennials are often touted as the more accepting generation when it comes to difference, including race and LGBT issues. That's kind of true. Most in my generation are not racists the way Dylan Roof was, and at least 70% are at least in favor of marriage equality. But we have our own issues around difference and inclusion. The thing I love most about my generation, however, is our willingness to push the conversation forward. No place is that more visible than Camp Pride.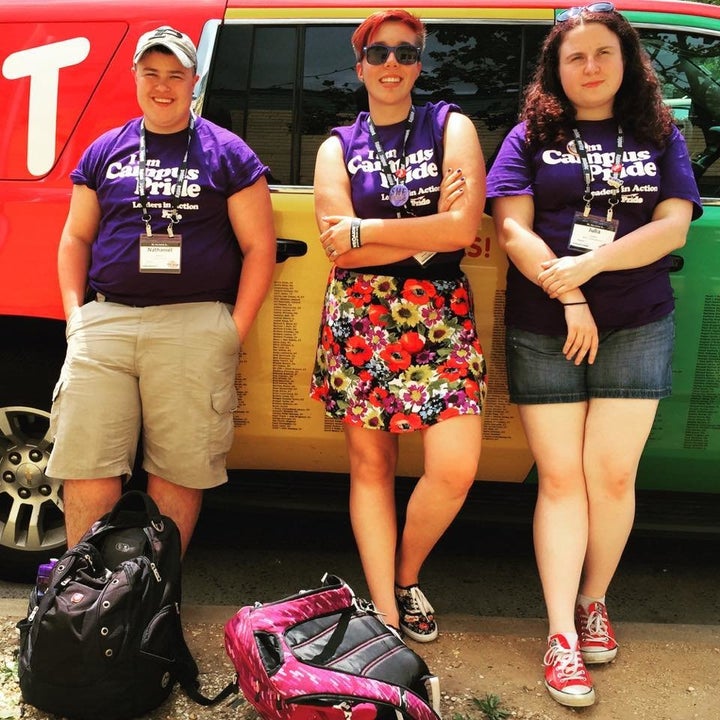 Camp Pride is the flagship program of Campus Pride, functioning as a social justice leadership academy for student activists. For the last nine years, college students from across the country have come together to learn how to be effective change agents on their campuses. Nate, 22, from Purdue spoke to the feeling of meeting others like him. "They get what it's like to be a student leader, because there are so few LGBTQ students who are leaders on their campuses. On our campuses we don't have time for self-care and we just get burnt out and stuck in a rut. Camp is self-care."
Throughout the movement for LGBTQ equality, young people continue to have nuanced conversations. Youth leaders discuss not just that it's ok to be gay or lesbian, but they explore the fluidity of sexuality while deconstructing gender norms and questioning the gender binary all together. Half of the millennial generation believe that gender is on a spectrum. These conversations often lead to youth leaders being challenged, something that gets tiring. Camp helps relieve that stress. Kaitlyn, 20, from the University of Minnesota Morris said, "It's super inspiring and encouraging, because there are people who care about pronouns and de-gendering language. It's nice to not have to fight with people and to be around people who actually care."
One of the reasons I joined BLgT USA was the millennial spirit of the campaign, and also the deep commitment to empowering the voices of young people creating change. BLgT USA opens up space to have meaningful conversation about what it means to be LGBTQ in all areas of this country. Approaching this work with the fundamental understanding that we are more than our sexual orientation, more than our race, more than our gender identities and expressions, more than our religious identities -- we are all of those things simultaneously and together. That is the future youth activists believe in. 
"We know that systems of oppression are intersectional, so our work to dismantle them must be as well," said Romeo, 21, award-winning youth activist and President of the Campus Pride Advisory Board. "We must work to remove the notion that LGBTQ liberation can happen without an intersectional framework. This is my life's work."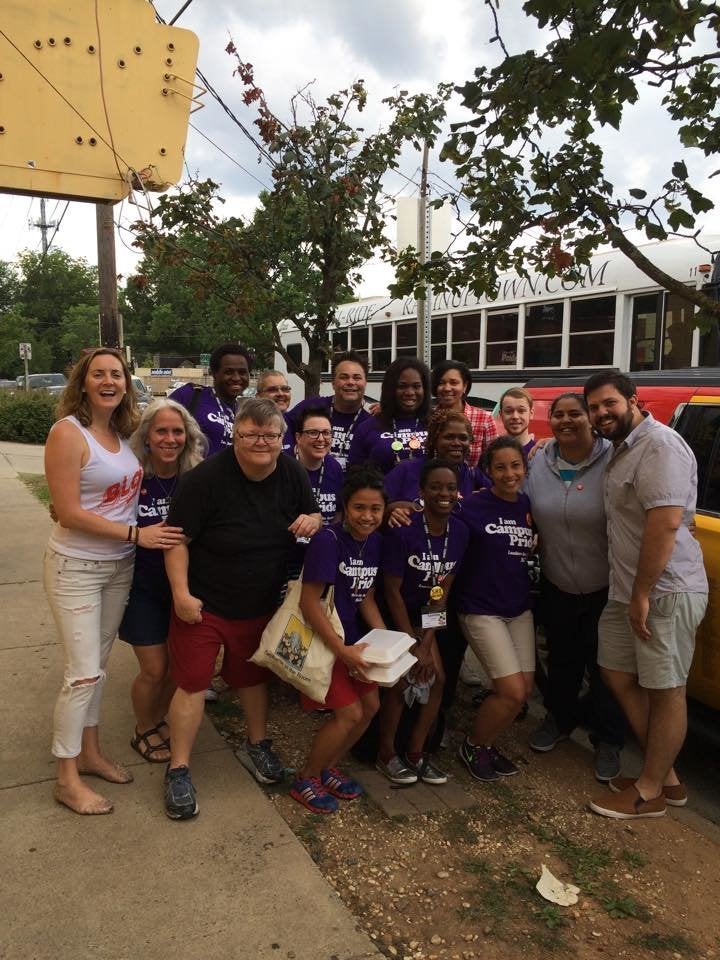 For delicious photos of our events, check out our Facebook Page. For more Sandwich Stories from the road, get after our Blog. Also, we <3 email. For questions, sponsorship, and/or media inquiries, email us: go@getout.io. 
BLgT USA has engaged 10,000 people online and on the ground across 25 states. We're currently raising $50,000 to reach all 50 states. If you want to help us finish the tour and impact the entire country on the ground this summer, join our crowd funding campaign until July 29th at igg.me/at/blgtusa 
PHOTO GALLERY
18 LGBT Kids And Allies Who Are Way Braver Than We Were At Their Ages
REAL LIFE. REAL NEWS. REAL VOICES.
Help us tell more of the stories that matter from voices that too often remain unheard.