Note: The following is the fifth post in a series of posts from GET//OUT regarding its BLgT USA 50-state food equality tour. Each week, we'll be sharing updates, photos and more as the BLgT team travels across the country helping to raise awareness about and celebrate LGBT equality.
WE WON! Unless you've been hibernating this past week, by now you've heard that marriage for ALL became the law of the land on Friday, June 26. Iowa is on Central Time, so the gang was up by 9 a.m. to follow SCOTUSblog live. We weren't sure what to expect from The Supremes. The Lawrence, DOMA and Prop 8 cases all hold the June 26 anniversary, but the team put dollar bets on the 29th being the day the decision came down, because of the Stonewall Riots. Seeing marriage on the screen surprised all of us.
Taryn, one of the co-founders of GET//OUT, stared blankly. "Oh my god. Why does it say marriage?"
Katie answered by reading the decision: "The Fourteenth Amendment requires a state to license a marriage between two people of the same sex and to recognize a marriage between two people of the same sex when a marriage was lawfully licensed and performed out of state."
"We just got marrriage!" High fives, hugs, and Instagram posts all around.
While we were overjoyed with a rainbow-filled ruling, BLgT USA has never been about marriage. We have conversations with LGBT people across the country about what being LGBT means to them, what it's like in Indianapolis, St. Louis, Cleveland, as well as New York and LA to live a life of difference. You can still be fired in 29 states for being LGBT. Lesbian, gay and bisexual youth are twice as likely to attempt suicide than their straight peers. That number is even higher for trans youth. 40 percent of homeless youth are LGBT. YAY MARRIAGE! And #onlythebeginning.
On the road, we're often asked about the place we are most excited to visit. Most people expect an answer like LA, Miami or San Francisco. While we can't wait to see our people in those gay meccas, we're most amped about Pocatello, Idaho, Louisville, Kentucky and Huntsville, Alabama. In wake of the pro-equality decision made by the Supreme Court, states like Kentucky and Alabama have experienced uncertainty around access to marriage equality, with some state officials refusing to grant marriage licenses. The defiance of, and the vocalized anger towards, Friday's ruling shines bright lights on the road ahead. Backlash is for real -- for the tour and for the movement.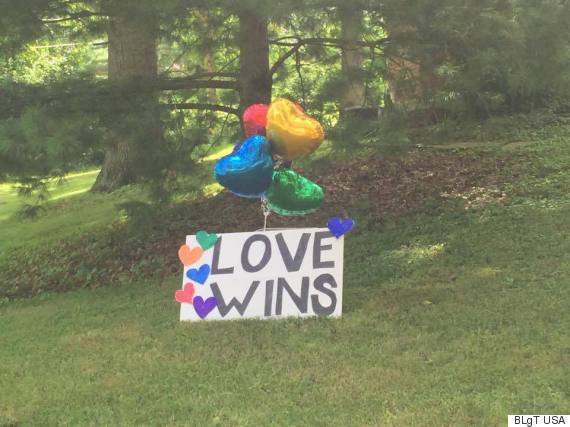 Shari, one of our Kickstarter backers from St. Louis, shared her Missouri experience: "My mom is in a retirement community. She hasn't told [the other residents] that she has a gay daughter, because she's afraid they would ostracize her. She asked me how she should introduce me and my partner. I told her to do what's comfortable for her... If she's afraid that they would ostracize her, then to tell them she's my friend. I don't want my mom to go through what I've been through." It's amazing what a generation can do to opinion. With 70 percent of millennials supporting marriage equality, the future is bright for the LGBT equality movement.
When speaking about her nephews, Shari exclaimed: "They are amazing! As they were growing up, my partner was always there. They never thought anything of it. When they got to the age when they realized what it meant to have two aunts, they were like, 'Of course! They love each other.'"
Just down the road from us in St. Louis was Ferguson, Missouri. We saw evidence of the struggle for justice and equality almost everywhere we went. "Black Lives Matter" and "Trans Lives Matter" signs decorated Mokabe's, the coffee shop where we worked throughout the weekend. Friday, June 26, also marked the day President Obama eulogized the late Rev. Clementa Pickney. In the morning, the President spoke about the importance of the Supreme Court's ruling in affirming the dignity of all people. Within hours, he then spoke about one the most profound American tragedies to date. Cue Amazing Grace. The paradox made us think -- so now, it's okay to be LGBT? But still not okay to be black? What about black and LGBT? Which brings us to the South.
As we pulled up to the house that we rented for our stay in Louisville, we noticed two flags flying proudly in front of the neighbor's house. There was the American flag, and right underneath it, the battle flag of Northern Virginia, commonly referred to as the Confederate Flag. As we looked for the key to get into the house, the neighbor came around the corner, with the butt of a gun clearly visible above the waistband of his pants. Heart drop. He told us we should park our car under the street light to keep an eye on it, due to the vandalism in the area. Collectively, we took a breath and found somewhere else to stay.
Seeing the flag in the states that once belonged to the Confederacy is hurtful, though not entirely surprising. But when the Confederate flag flies in Union states, the message becomes crystal clear: we weren't safe. One of our team members is black, and all of us identify as a member of the LGBT community. To this point, we had never questioned our safety as we traveled the country. Last night was jarring, especially after such a momentous weekend.
This becomes increasingly important as we embark on this week of the tour, heading into the July 4 holiday weekend. Last night's event was in Louisville, Kentucky. Restaurant partner Marketplace threw down BLgTs, with proceeds going to our partner Fairness Campaign all summer long. West Virginia, we will see you Thursday night at Bluegrass Kitchen for Fairness West Virginia. The celebration continues as we close out the week in spectacular Americana fashion. We're hosting a special BLgT Rooftop Aperitif on July 4. Sponsored by The Embassy Row Hotel, A Destination Hotel with BLgTs by Station Kitchen & Cockatils. Tickets are $25 and they're going fast. Hope to see you for America's birthday on the roof! Grab your mom, friends, and register online: blgt.us
For delicious photos of our events, check out our Facebook Page. For more Sandwich Stories from the road, get after our Blog. Also, we <3 email. For questions, sponsorship, and/or media inquiries, email us: go@getout.io
Calling all HuffPost superfans!
Sign up for membership to become a founding member and help shape HuffPost's next chapter