Note: The following is the fifth post in a series of posts from GET//OUT regarding its BLgT USA 50-state food equality tour. Each week, we'll be sharing updates, photos and more as the BLgT team travels across the country helping to raise awareness about and celebrate LGBT equality.
Celebrating America's birthday on a rooftop in Dupont Circle never looked better than when the BLgT USA truck stopped in front of The Embassy Row Hotel and our battered bodies fell out of it. Traveling is hard. Nineteen sandwich states in. Five events last week. The grind started to take its toll. There may have been tears of exhaustion in an indie West Virginia coffee shop (yes, it exists), and incoherent sentences accompanied by hand gestures of general confusion. With friends and family ready to fill the rooftop on July 4th, rolling our BLgT Burban into The Embassy Row Hotel driveway felt like coming home after six weeks on the road.
The Embassy Row Hotel -- A Destination Hotel, stepped up big in making our D.C. event such a success. Partnerships start with passionate people. Sarah Vining, Director of Marketing & Communications, read about us back in February during our Kickstarter campaign. Sarah championed our event with Dennis Hernandez, Director of Marketing & Brand. Shawn Jervis, General Manager, gave final sign-off and support. The team demonstrated a sincerity in support of LGBT equality, both in their local community and through their support of our 50 state national tour. The entire staff wore red BLgT pins while we we in town for the weekend.
On the partnership, Shawn beamed: "When the hotel was renovated and we were launching in the middle of March, I decided to put the pride flag up, because that's the neighborhood we're in and want to be a part of. The BLgT tour is a perfect fit for us. Food is what we're passionate about, and it's fun."
Station Kitchen & Cocktails, the restaurant at The Embassy Row Hotel, did their twist on the BLgT -- a BLT wrap with 'g'reen tomatoes and 'g'reen sprouts. Over 100 supporters and hotel guests attended our event on The Rooftop, including Kris Perry and Sandy Stier (Prop 8 Plaintiffs), Zach Wahls (Scouts For Equality), Gautam Ragahvan (Vice President Policy, GIll Foundation), Leanne Pittsford (Lesbians Who Tech), Pia Carusone (Restorative Republic), senior LGBT advisors from the Center For American Progress and The White House, and our even a few of our family members. A little torrential downpour couldn't hold us down, knowing the BLgT will be on the restaurant menu all summer long, with proceeds to a local DC center serving the LGBT community.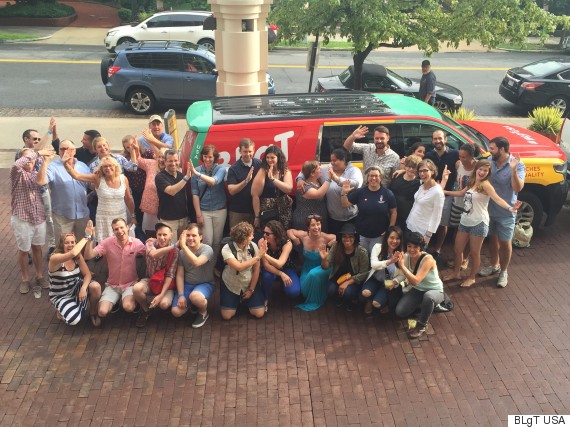 The sponsorship of BLgT USA by The Embassy Row Hotel reflects a trend amongst businesses using their influence to push for greater equality. LGBT people are superbly brand loyal, which is one of the many reasons companies are interested in marketing to LGBT communities. In 2011, nearly 75% of LGBT people were likely to consider brands that supported non-profits and/or causes that were important to them, and 87% were likely to consider a brand that was known to provide equal workplace benefits for all employees, including LGBT identified people. Being LGBT friendly is good business, but for many people who work in these companies, it's about more than just the bottom line.
Businesses have continued to step up in the political arena as well. This has been reflected all across the country, but most recently was seen in Indiana in the backlash towards the Religious Freedom Restoration Act passed in March. Salesforce, the NCAA and Eli Lilly all made strong statements in opposition to the law. In Arkansas, Walmart publicly denounced a similar bill.
Businesses have not only come to the aid of LGBT people in defense, but have also been present in positive and progressive ways as well. Nike is an example of this with their BeTrue line that benefits LGBTQ organizations across the country. Additionally, our corporate sponsors Enterprise Rent-a-Car, Orbitz and Target Corporation are known for their inclusion of LGBTQ people within their companies, as well as their sponsorship of LGBTQ organizations, including BLgT USA. "We're excited to rally Minnesotans in support of LGBT equality this summer!" said Michael Abata from Target about our local Minneapolis event partnership with Target. Don't cha know, Michael... we're pumped, too!
This week, the BLgT USA truck stops in Baltimore at Mt. Vernon Stable & Saloon to benefit the GLBT Community Center of Baltimore and Richmond, Virginia to partner with Pasture. From there, we head south to the Carolinas, including a special stop in Charlotte at Campus Pride, a social justice leadership academy for LGBTQA college youth.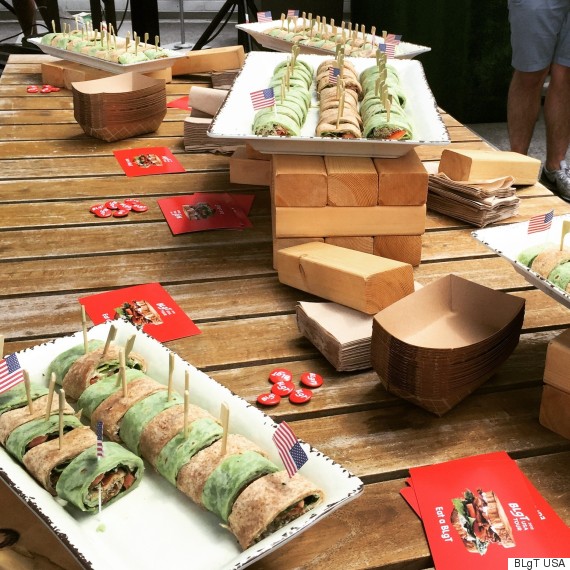 For delicious photos of our events, check out our Facebook. For more Sandwich Stories from the road, get after our blog, Instagram, and Twitter. Also, we <3 email. For questions, sponsorship, and/or media inquiries, email us: go@getout.io
Calling all HuffPost superfans!
Sign up for membership to become a founding member and help shape HuffPost's next chapter