Note: The following is the sixth post in a series of posts from GET//OUT regarding its BLgT USA 50-state food equality tour. Each week, we'll be sharing updates, photos and more as the BLgT team travels across the country helping to raise awareness about and celebrate LGBT equality.
It's happened. We've officially made it to The South. After dipping our toes in the southern waters a couple of weeks ago, Ginsburg -- that's our BLgT truck -- rolled into Raleigh, North Carolina, this weekend after an epic event in Richmond, Virginia. New regions are a nice change of pace, as are the adorable Southern accents we've started to hear every day. Bless.
In Richmond, we partnered with local haunt Pasture, to serve up their BLgT for Diversity Richmond. Thanks to promotion from local favorite, OutRVA, Pasture was packed with locals -- a great mix of LGBT and ally supporters. From Richmond, we drove to Raleigh where we were greeted by David Benson and his girlfriend JJ Johnston, owners of The Third Place to benefit LGBT Center of Raleigh. With David's teenage daughter running around with her friends, it was truly a family affair.
There is nothing like being in an indie coffee shop, reading the free paper and absorbing the local flavors. Last week we talked about big business and corporations aiding in the efforts of achieving LGBT equality. This week we're diving into the heart of our 50 state tour. In Richmond, Michele Jones, one of the owners of Pasture connected us with the local ABC news. Ava-joye Burnett covered the story, and the evening piece showcased what the tour is all about. BLgT USA is about local connections -- small business owners who are committed to bettering the world around them. Small business owners, especially restaurant owners, have been the pulse of this tour. They welcome us with open arms, and they are committed to the cause in a way that breathes life into their communities.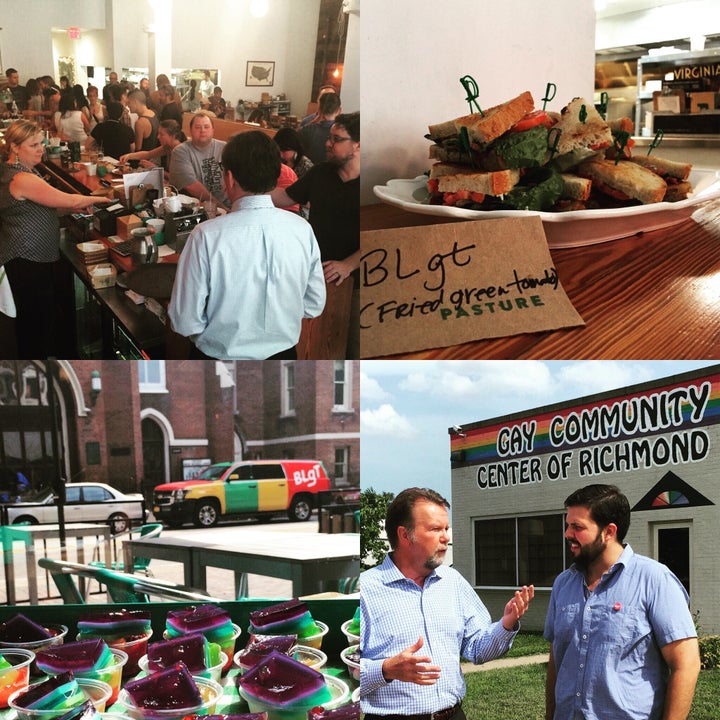 Michele noted, "When marriage equality was passed, we were all so excited. One of the first people to get married ate here. We're excited to see how much money we can raise for Diversity Richmond, and who else we can get on board to do this with us." A similar sentiment was shared by David in Raleigh: "Years ago, there would always be gay people here at night because they had nowhere else to go. We encouraged that, so a lot of kids would 'come out' and then hang out here. And that hasn't really changed all that much. We're still open to all kinds of people."
The beauty of working with small businesses is truly getting a feel for the various states and communities we are visiting. This was especially clear in West Virginia, where we received a warm welcome, in a place that most would assume we wouldn't. Keeley Steele, owner of Bluegrass Kitchen, Tricky Fish, and Starlings, all with BLgTs on their menus for the summer, had something to say about that. "One that has always struck me is the stereotyping of West Virginia. Even though I may not have had some of the hardships as others, I definitely feel the need to defend and stick up for people who are just trying to live their life without any judgement. We are not Northerns. We are not Southerns. We are Mountain people," she said. "The restaurant industry is historically gay friendly, and my other background is in art, which is also gay friendly, so that's my world."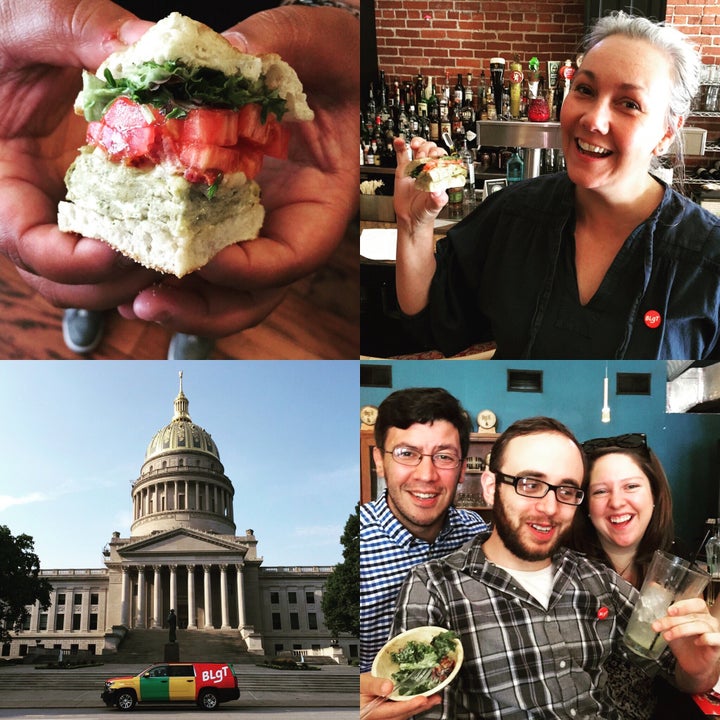 Each of these restaurant owners intentionally provide space for LGBT people in their communities, as do most of our restaurant partners. For Keeley, Melissa, David and JJ, though, they happen to reside in states that are often regarded as unfriendly to LGBT people. West Virginia, North Carolina and Virginia are all categorized as "low equality" states. The spaces offered by these restaurant owners do a great service to their communities, and we are honored to partner with them on this tour.
This week, we finish our tour of the Carolinas with stops in Columbia, South Carolina, and Charlotte, North Carolina, in partnership with Campus Pride and Dish, before heading to Ft. Lauderdale for the weekend in collaboration with the Pride Center at Equality Park and our national partner Center Link. We can't wait for more Southern sun!
For delicious photos of our events, check out our Facebook Page. For more Sandwich Stories from the road, get after our Blog. Also, we <3 email. For questions, sponsorship, and/or media inquiries, email us: go@getout.io
Calling all HuffPost superfans!
Sign up for membership to become a founding member and help shape HuffPost's next chapter