Leeloo the boxer, mere days away from giving birth, was brought to a high-kill animal shelter in North Carolina just before the holidays. The deaf, emaciated dog had spent much of her time chained to her previous owner's porch and was in desperate need of care.
Her arrival at the shelter set off a chain of rescue efforts that changed her life and the lives of her six puppies.
(Story continues below.)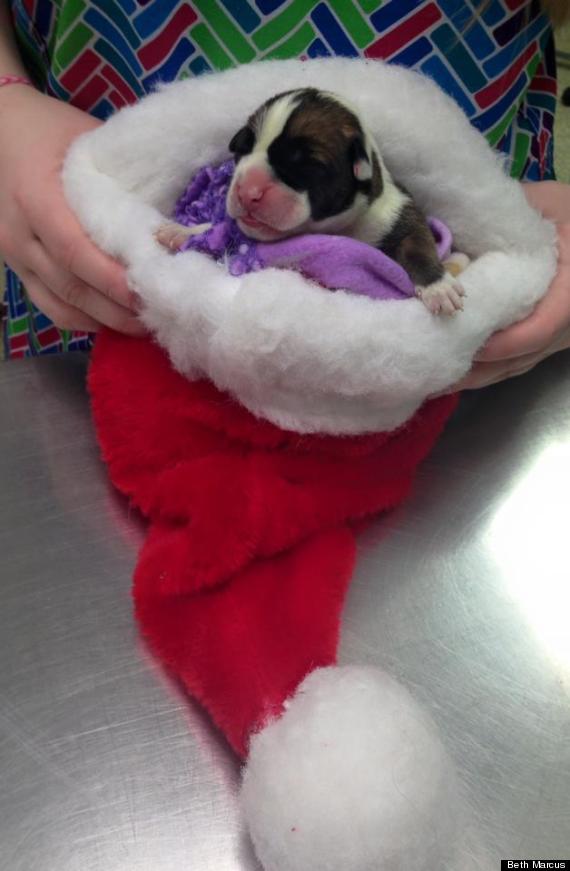 This is Jojo, Leeloo's Christmas "miracle" puppy. Jojo was delivered on Christmas Day, more than 24 hours after her other siblings. She was stuck inside Leeloo and almost didn't survive. Photo credit: Beth Marcus
"I immediately offered help and set the wheels in motion to get her," says Proctor, who coordinated a caravan of volunteers to bring Leeloo from North Carolina to her new foster home, with Beth Dunlap Marcus in Charlottesville, Virginia.
"I live on a farm and have six dogs living with me," says Marcus. "I couldn't let her or her puppies be euthanized."
Leeloo went into labor on Dec. 23. The first five deliveries went easily.
"By all accounts it was pretty textbook. She had one baby on the 23rd, and then four more early morning on Christmas Eve," says Proctor.
Proctor and Marcus thought that Leeloo was done. But on Christmas morning, the new mom didn't seem to be feeling well. Marcus took her temperature and found she was running a high fever. A Google search told Marcus that there might be another puppy stuck inside Leeloo.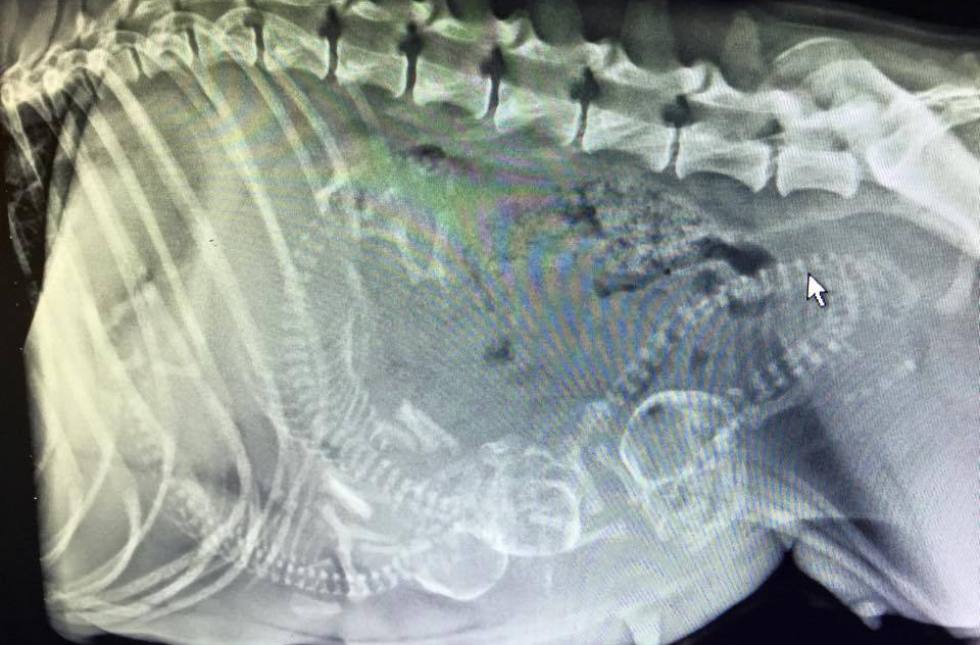 Salmon operated quickly, but two of the puppies were already dead. The third, however, lived.
"The last little one, completely against all odds, had a heartbeat and was breathing," says Proctor. "By only God's grace, this little tiny miracle girl arose from her mom."
"She's a little cutie," says Salmon, who credits the birth less to the divine than to humans: those who let Leeloo's body deteriorate, and those who are doing their best to undo that damage.
"She should be 10 pounds more," Salmon says of Leeloo, who is between 20 and 30 percent underweight. "I'm grateful for organizations like Green Dogs."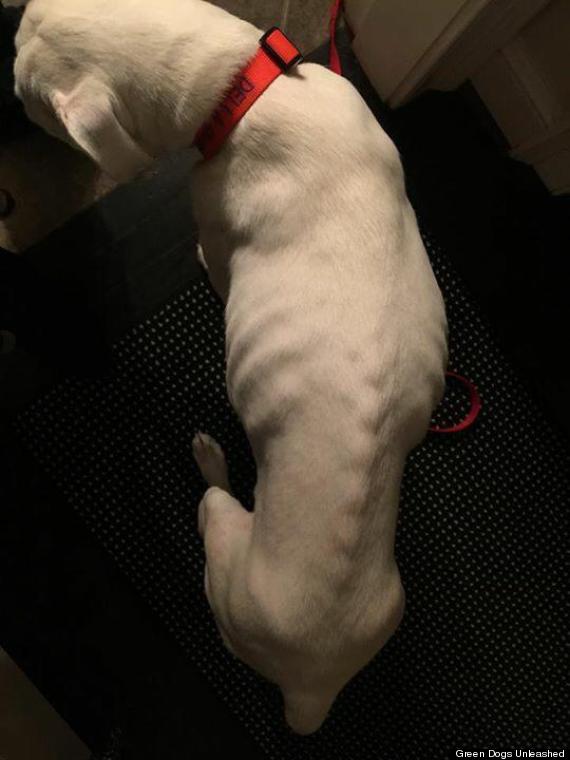 You can see Leeloo's ribs sticking out in this photo, taken just after she'd given birth. Photo credit: Beth Marcus
Leeloo and her final pup rejoined the others not much later. The whole family is home with Marcus now.
"The rest is history! They are all so fat and healthy," says Marcus, who'll be taking care of the gorgeous gang for a few more weeks until the lucky little ones are ready for solid food. Then they'll go to another foster home for a few more weeks, and the pups will be spayed and neutered to make them ready for permanent homes of their own.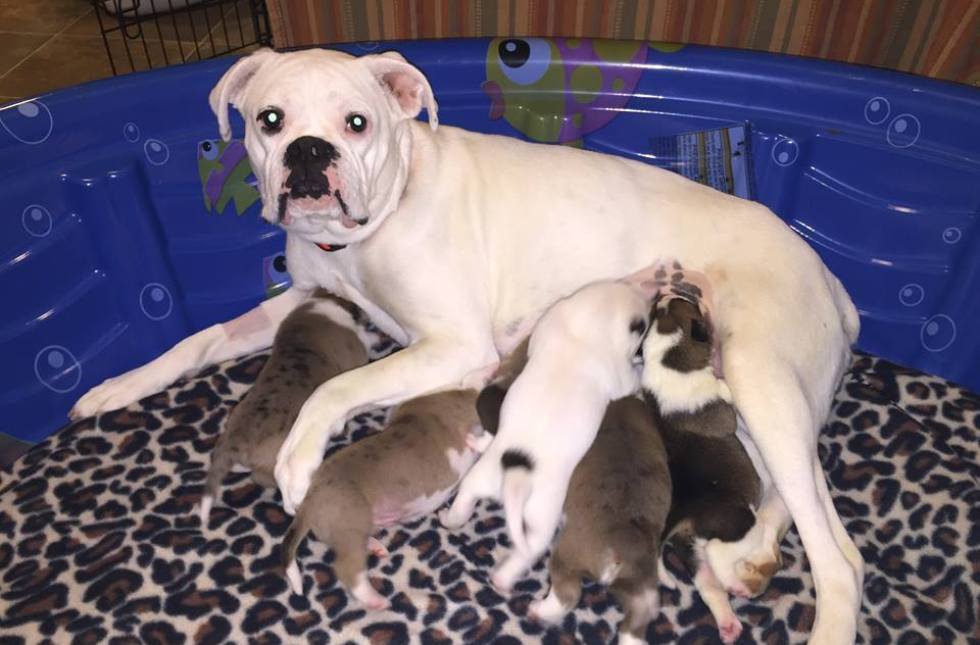 Leeloo is turning out to be a great mom, Marcus says. Photo: Beth Marcus
Leeloo will eventually get a new home, too.
"Through all of this, she has remained by far, one of the sweetest and most forgiving souls I have ever met," says Proctor. "Now it is time for us to give back to her. We will stop at nothing to find her only the absolute most amazing forever home."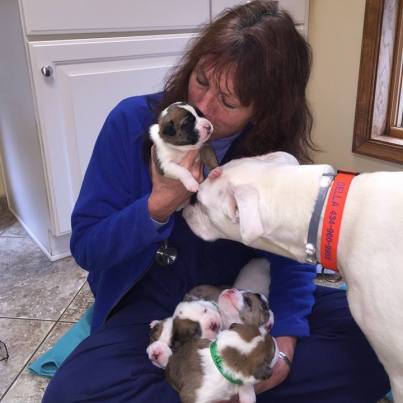 Dr. Salmon at a checkup with Leeloo and the pups, Jan. 6, 2015. Photo credit: Beth Marcus
Want to do more? Take in a foster animal. Often, the shelter or group will cover the cost of medical care and other expenses. You can also offer to help drive animals to their new foster homes, like volunteers did for Leeloo. Reach out to your local shelter or favorite rescue group to find out more.
And get in touch at arin.greenwood@huffingtonpost.com if you have an animal story to share!
Before You Go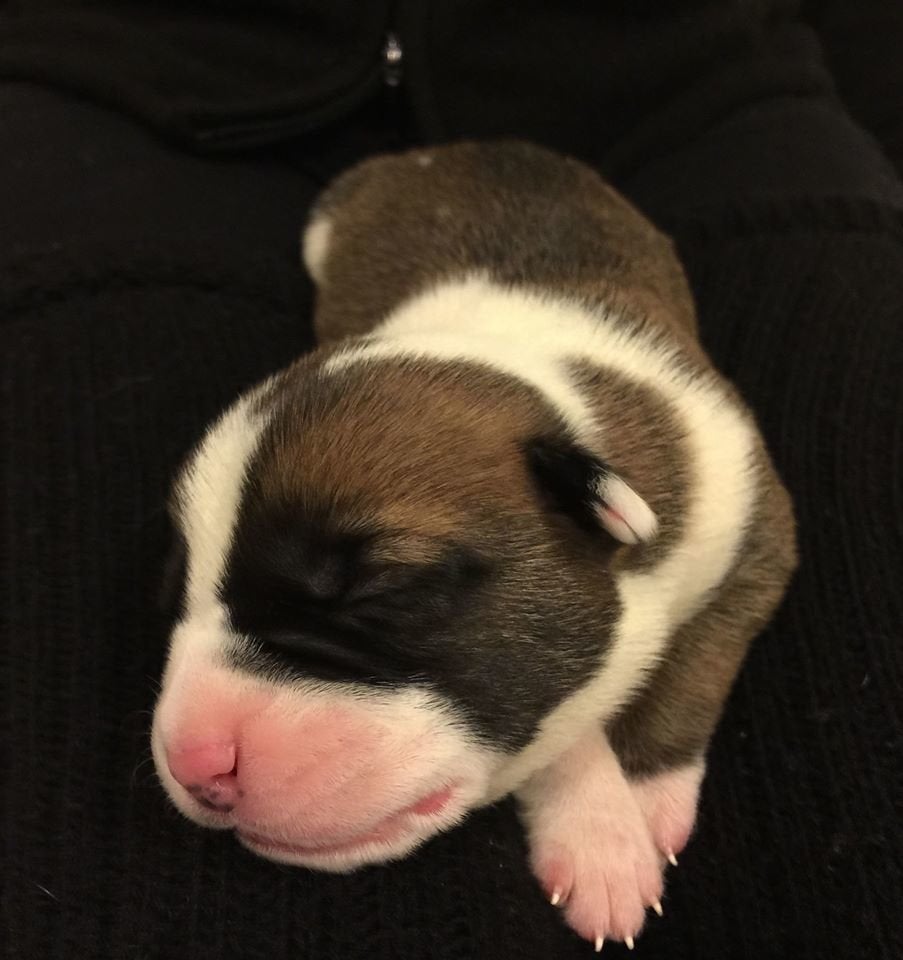 Deaf Boxer's "Miracle" Puppies
Popular in the Community