Helen didn't start out deaf and blind, according to the veterinarians.
"The vet said at one time she was a perfectly healthy puppy," says Bill Sexton, a retired schoolteacher who adopted the pit bull with his wife Christine, also retired, about a month ago after seeing her picture on an animal rescue group's Facebook page. He says scars on Helen's head indicate that her disabilities were caused when she was "either beaten or has head trauma from fighting."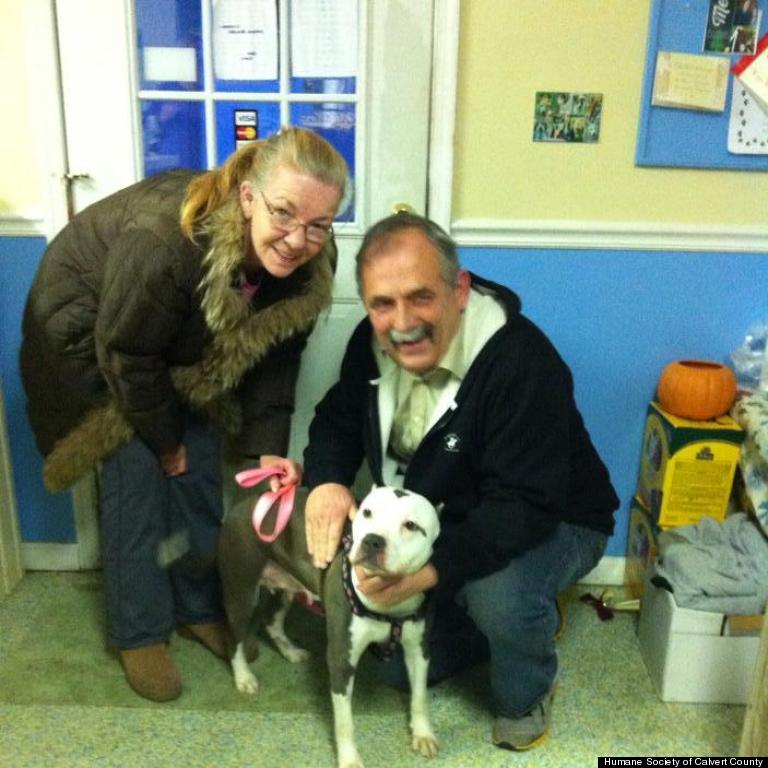 Here are the Sextons adopting Helen from the Humane Society of Calvert County
Sexton saw Helen's photo on a Maryland animal rescue group's Facebook and, he tells HuffPost, having watched a lot of the TV show "Pit Bulls and Parolees" recently -- that's the heartwarming show with a pro-pit bull message, set at a pittie rescue center in New Orleans (the center was previously outside Los Angeles) -- he said to his wife, "They're not going to put her down. Over my dead body. She's too pretty."
From a background that no one can be too sure about, Helen joined the household, which already had three cats and a 13-year-old Lhasa apso named Xena, who'd also gone blind from cataracts.
Sexton says that while Helen and the cats can get persnickety with each other, it has been a joyous addition.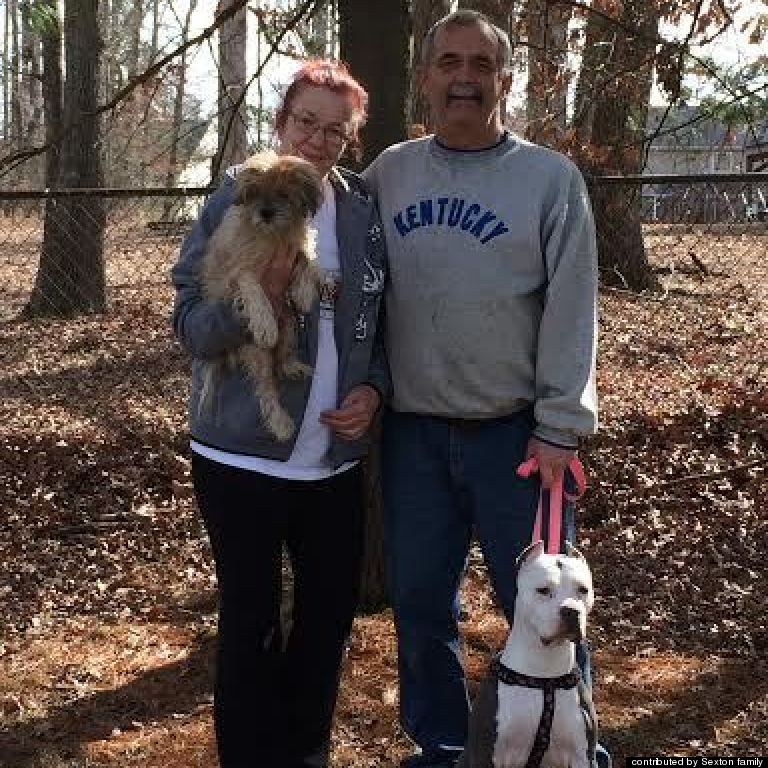 Bill and Christine Sexton with Xena and Helen
"I don't know how old she is, I don't know where she came from," says Sexton. "When you call her name, there's no response. But I talk to her all the time. She's just a wonderful, wonderful companion. She loves to play. She loves to go on walks. I think we needed each other."
Here's how the Sextons expressed the family's feelings in a letter they wrote from Helen's perspective and sent to the "Pit Bulls and Parolees" ranch. They credit the ranch with opening a lot of eyes, including their own, as to misconceptions about pit bull-type dogs -- and they're hoping Helen's story is similarly inspiring:
February 1, 2014

Good Morning Villalobos Rescue Center,

I just wanted to thank all of you for helping to save my life. No, I am not one of your rescues, but you influenced others to help me. My name is Helen, and I am about 3 or 4 years old and I was rescued by the Humane Society in Calvert County Maryland. I was adopted by a couple in St. Mary's County, Maryland in early January.

I am deaf, blind, and suffer from neurological damage that the doctors say were caused from being beaten. I am also scared from being used as a bait dog or fighting. When I shake or get excited I fall down because I have bad balance, and when I use the bathroom I often lose my balance.

My new Mom and Dad are both retired, although Dad still works at a school that is about two or three blocks from the house. He just likes working with the kids! Dad watches your show "Pit Bulls and Parolees" on a regular basis and there is not many episodes that he doesn't tear up. We just do not understand why people treat animals in a bad way. Dad tells everyone that, it is much easier to be a dog person than a people person. Your show convinced mom and dad that adoption was the way to go, so when a friend saw my picture on the web he immediately called about me. They came to see me, they wanted me sight unseen but they learned from you that it was my choice. I had to make the connection, and boy did I ever. I did have to wait to be spayed and chipped and they came to get me the night of my surgery. Mom and Dad say that it was a great day.

We walk and play every day, except for yesterday, when I had to go gets checked by the vet. He said all I needed was hugs and I get plenty of those every day. Even though it was late when we got home we still go to play a bit. I love to play tug of war, dad always lets me win, but when the is rubbing me and loving me when I have the toy mom get nervous because I make some really strange sounds but my tail is a dead giveaway. My tail never stops wagging, I am just so happy to be loved. Our play always end with a belly rub that I love.

Mom is originally from Australia and Dad is from the foothills of Eastern Kentucky. They have both lived on farms and have lots of experience with animals; they understand that I have disabilities and a very patient with my training. I bet it is hard to train a dog that is deaf and blind but I try my very best to please. Before I came to live with them they had Xena, a 13-year-old Llasa Apso who is also blind from old age and cataracts. We both bump into things sometimes but we do fine. Xena sleeps a lot and sometimes she gets cranky when I mess with her, but we are fine together.

Thank you again for all that you do for our breed, without your show other people may not have the opportunity to be informed about our breed. We are misunderstood, thanks from the bottom of my heart.

Helen
"She's full of licks and hugs," says Sexton. "She's in a position where she can just enjoy being loved. Be safe, warm and happy. Have food, be taken care of. I just want her to have what she deserves."
This piece has been updated to reflect that the TV show "Pit Bulls and Parolees" is now set in New Orleans, instead of California.
Calling all HuffPost superfans!
Sign up for membership to become a founding member and help shape HuffPost's next chapter