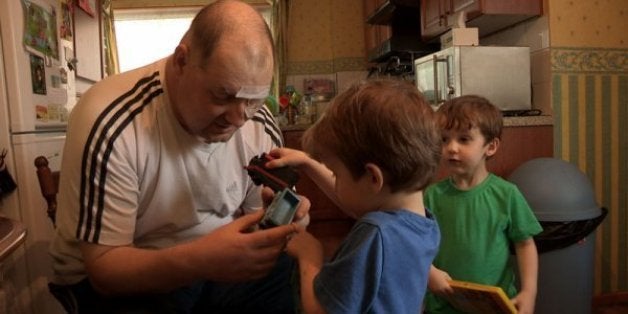 While most fathers catch the first glimpse of their children in the delivery room, 43-year-old Ian Tibbetts saw his twin boys for the first time when they were 4 years old.
Gradually losing his sight after a factory accident, the blind father saw his sons clearly for the first time this year all thanks to a remarkable medical procedure.
Tibbetts, from Telford, Shropshire in England, is the subject of a upcoming BBC One documentary that followed him through a radical procedure in which a surgeon removed a tooth and part of Tibbetts' jaw bone in order to fashion an eye-like device that contains a plastic lens. The tooth was then embedded under the eye so the tissue can be cultivated before implantation.
The multi-step operation, called osteo-odonto-keratoprosthesis, does not guarantee sight, but makes it possible since the body does not reject the tooth. Fortunately for Tibbett, the procedure was successful, and he was finally able to lay eyes on his sons.
"They were totally different than what I pictured in my mind," he said during a recent interview with the BBC.
He said he imagined his sons would look more like him. But, that's not a bad thing: Tibbetts thinks they take after their mother and look a lot better than he imagined.
In the video below, Tibbetts describes seeing his sons for the time: