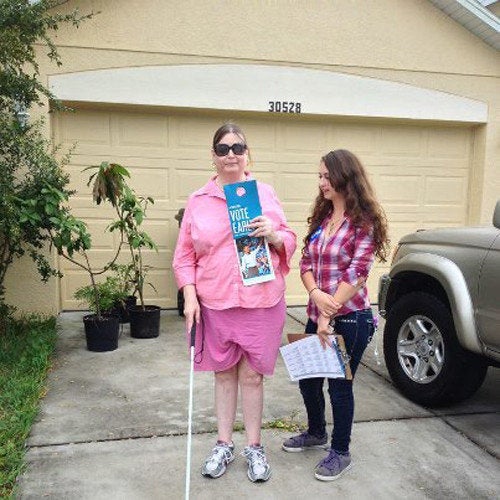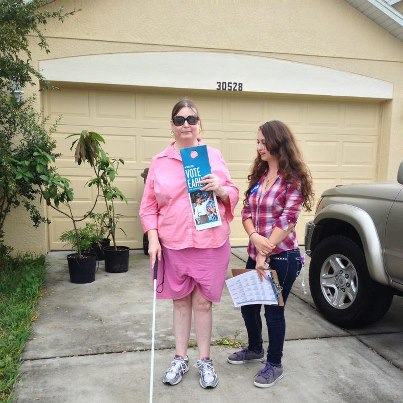 The first time I went out canvassing -- the first time I helped to participate in the democratic process, was when I was 12 in Detroit and my parents insisted that I help out with the McGovern campaign. His passing this week reminded me of the importance I felt as a child helping to make a change in our nation's history.
During the Carter campaign, my parents no longer needed to ask. I looked forward to the election season and my chance to be a part of our democracy, even though I still was too young to vote. I involved myself in the model United Nations, and considered being a congressional page, always with the thought of making a difference in our world.
The next time I got heavily involved in politics was the first Clinton campaign, with a young toddler in tow. Not as easy, but still just as rewarding. Our country was changing, in new and exciting ways. We were living in the beltway while Gary was stationed in DC, and the atmosphere was electric. After Clinton's victory as his inauguration approached, the DC area took on a brightness and excitement that exceeded the sun shining down on the snow. Everything seemed lighter and happier. Everyone seemed ecstatic about "the change to come." We couldn't stop "thinkin' about tomorrow." And I knew that I had been a part of that change.
By his next election we were in Cincinnati, Ohio and working in a "Swing State." My daughter helped stuff envelopes and handed me sheets with phone numbers. She still may have not fully understood how important her role was, but she inspired me to always think about the future.
In 2000, we were dealing with three daughters, one very sick and living in the NICU of Children's Hospital, then coming home to round-the-clock pediatric nursing care, and I had been sick with pneumonia, as well. But I felt emotionally ill over the results, especially in Florida. Just a few votes -- only 537, made the difference.
In 2004, we drove 100 miles to Columbus to bring our three girls to a gigantic rally for John Kerry (he had no appearances in Cincinnati) and saw Bruce Springsteen on stage with the candidate. We briefly met Candy Crowley, who asked if our girls were getting involved and we proudly said yes.
In 2008 my life became more difficult after losing my eyesight, but we were happy to see our oldest daughter getting active on her college campus. I did my best at home doing phone canvassing, memorizing scripts and having my girls read the phone numbers to me. I even traveled 45 miles to St. Petersburg to work the phone banks for Charlie Crist's independent bid for the U.S. Senate 2010. I had no idea why our photo with him was posted front and center at his campaign headquarters, but I was honored and happy to be part of the process, yet again. (Go Charlie -- looking forward to 2014)
For this election in 2012, I had battled pneumonia again, but sent out my husband and kids to do the campaign work and voter registration drives. I desperately wanted to get back to canvassing, because of the importance of this election, because we live in Florida (another important swing state), and especially because I have three daughters and it is their futures that are on the line.
Then, this week, as the election approaches, our Organizing for America precinct offered us tickets to see President Obama in Ybor City in Tampa. The price: four promises to canvas to Get Out The (Early) Vote. This meant it was finally time for me to commit to putting boots on the ground, or for me, boots and red-tipped cane on the ground. Still lightheaded from getting over pneumonia, I needed to prove to myself, after holding back and only doing phone work during the previous elections, that I could still do the hard work needed to help win an election, despite my still-new blindness.
The terrain was unfamiliar (familiarity is important to the blind) and uneven. It rained. My cane rolled over pit-bull poo (I smelled it for blocks) and more than once, I fell. Despite my falls, with my ready and able daughter carrying the clipboard as Gary worked the opposite side of the streets with our youngest daughter, I continued on, determined to hit all the homes on our list (97 in all).
We came home after five hours of canvassing tired and wet, but elated. Happy with the knowledge that I was able to break my own mental barrier and content with the assurance that I know I will be doing it again. That I can and will continue to be a part of the democratic process, as a role model for my daughters, for women, for my friends in Detroit, New Orleans, Atlanta, Washington DC, Baltimore, Cincinnati, West Palm Beach and Tampa (you know who you are), and all who read this. Whether you are visually impaired, physically impaired or able-bodied,there is so much at stake and so much you can do.
Falling down never felt so good.
Calling all HuffPost superfans!
Sign up for membership to become a founding member and help shape HuffPost's next chapter