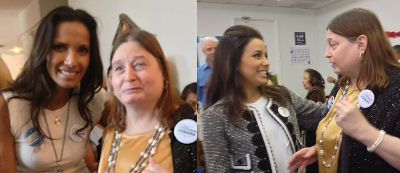 It's great to be living in a swing state during a presidential campaign as the election day gets closer. It seems to bring out the best and worst in people and politics.

Let's start with the best because that is what I find so inspiring.

I have met several women in the last few weeks who have taken so much of their time to help re-elect the president. From the our local field organizer, who seems to be at our Organizing for America office every day and every night, to Neighborhood Team Leader Elena McCollough, who served our country in the U.S. Coast Guard and Coast Guard reserve, and crisscrossing the city rallying volunteers from rural Pasco County to the Latino areas of Tampa, there are women who find an amazing amount of energy and drive to do what needs to be done.

This weekend was especially rich in new acquaintances as I paused from my canvassing to meet some of the other grassroots volunteers. I went to an event sponsored by Women for Obama, and later by Latinos for Obama. I met the celebrities at the center of each event, Padma Lakshmi and Eva Longoria. Both women are busy flying across the country to give their personal reasons for campaigning. (I suppose that Romney spokesperson and champion Gov. John Sununu would be surprised that these women, who are not African-American, are so enthusiastic in their support.) I met women who are taking whatever time they have beyond their full-time jobs to help get out the vote and spread their reasons for supporting the continuation of the current administration.
What motivates these women to put so much attention into this election? In my conversations, I found deep personal reasons, as well as altruistic feelings to promote a better world for all.

In the morning I listened to the beautiful, exotic and intelligent actress, model, author and TV hostess Padma Lakshmi, who spoke of her concern as a single mom for the future that her daughter would inherit. She worries about the misogynistic statements and actions of the Republican party and their Tea Party influences. She inspired her audience to do what they could to change the course of such ill-conceived thoughts and policies.
In the afternoon, I went to Casa Obama, a neighborhood volunteer center, to help out and meet the stunning Eva Longoria, who revealed her passions about LGBT (gay rights) issues, health care and staying the course to help our struggling economy by helping the middle class recover and not giving more tax breaks to the rich and corporations with massive profits. I had the chance to briefly tell her of my own health care stories, and we found in each other a kindred spirit as she spoke of her own special-medical-needs sibling. She had so little time and so many places that she had committed to visit. I felt humbled that she took the time to approach and engage me in a conversation on these important issues. As a motivational speaker and advocate, I would be honored to continue to work with her in any capacity to be part of a change in policy, culture and environment. These women, who have diverted themselves from their busy careers to spread their message, inspire me and others to take their concerns, energies and passions to the next level.
I met some great grassroots volunteers who, despite full- and part-time jobs, take whatever time is left to work phone banks, street canvassing and helping out at the early polling locations. Some, like Jen Greenfield, Jean Wilson and Charlene Buchanan, did all three in the same day, and voted as well. We met wonderful people who opened their homes and worked with state-wide campaign staffers to put on these events in the hopes of inspiring more volunteers. I also spoke to Tampa City Councilwomen, like Lisa Montelione and Yvonne Yolie Capin, whose passion and personal concerns to help their constituents with this election goes far beyond their loyalty to political party.
Then there's the dark side, when people try to influence the election by following poor ethics, not playing by the rules and using unfair tactics.

In Pasco County, Obama signs disappear within hours, while Romney signs remain intact. Jen Greenfield related her conversation while phone-banking with a senior citizen who was told by a previous caller that he could vote by phone just by offering his name and last four digits of his social security number, and another who was told that he could not vote early because he did not schedule an appointment in advance.

My friend in Ohio has a son who works in California on an acting career while still keeping legal residence in Cincinnati. After flying in to visit and vote, he was turned away at the early polls when he casually mentioned his current work location. He was told that he had to vote on an absentee basis, even though he produced a valid Ohio driver's license and voter registration card, and never applied for absentee ballot. He left Ohio yesterday, dejected, without casting his first-ever presidential ballot.

At Land O'Lakes High School (after Alex Sink was not allowed to used Pasco school property in 2010 while running for governor, due to school rules prohibiting use of public schools for political campaigning), the Romney campaign was allowed the use of the stadium by the current Republican lame-duck Superintendant of Schools Heather Fiorentino. Cheerleaders were coerced to appear at the rally and told that their attendance was mandatory. According to the Tampa Bay Tribune,
"They have expressly endorsed Mitt Romney," said Kenny Blankenship, Land O' Lakes High social studies teacher and vice president of the Pasco teacher's union....Blankenship said parents of cheerleaders had told him the students initially were told participating in the event was required, but a later email stated it was voluntary. He said school district policy bans performances by student groups such as bands and cheerleaders at political events.
The school website also was posting links where parents and visitors could get tickets to the rally, but those links were later retracted when publicized in local papers and teachers union sites.
In both women and men, recently our political process seems to be bringing out the best and worst in people. I prefer to concentrate on the best. In this season, I have had the pleasure to meet some of the most driven, engaged, informed and caring women.
I need no eyesight to know that these ladies are beautiful both inside and out.
Calling all HuffPost superfans!
Sign up for membership to become a founding member and help shape HuffPost's next chapter