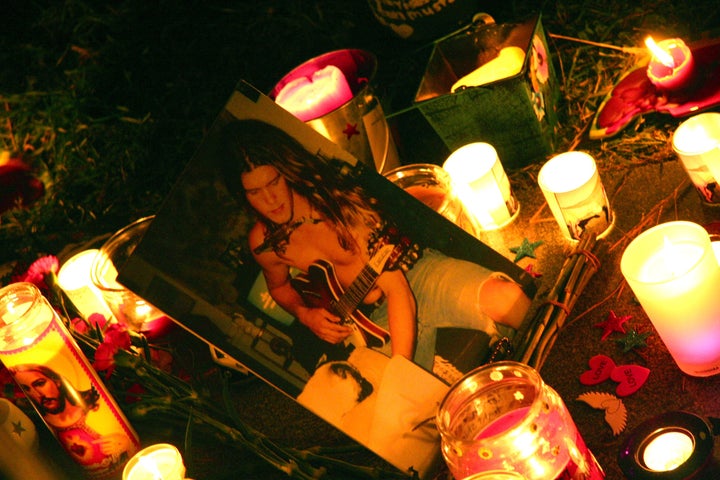 When I ask people about Blind Melon, I get mixed responses. There's the blank stare. There's the "Oooh yeah, that bee girl video." Finally, there's the familiar humming along to their early '90s hit 'No Rain.' Everyone seems to know the catchy "All I can say is that my life is pretty plain/ I like watching the puddles gather rain" lyrics.
I'm filming an upcoming documentary about Melonheads, the fan community of Blind Melon, a band that hit the music scene fast, and left nearly as quickly from a mainstream standpoint. People usually ask, "What ever happened to those guys?" After frontman Shannon Hoon's death in 1995, most people assumed that their fan base had died too. The truth is a devoted Blind Melon following still exists around the world.
Hoon's followers thrive online in various active fan forums such as "In Memory of Shannon Hoon" which hosts nearly 1,500 fans and growing, and the official Blind Melon Facebook page which boasts over 225,000 fans. They also meet annually at the singer's final resting place in Dayton, Indiana at an event known as the Shannon Hoon Vigil. I attended the most recent Vigil last month with my film crew on what would have been Hoon's forty fifth birthday, a day when candles that should have been blown out atop a birthday cake instead remained lit atop his tombstone illuminating photos of the twenty eight year old's life before it was lost to a tragic accidental overdose. Hoon died on this day, October 21st, seventeen years ago.
Every year, Hoon's mother, Nel, has celebrated her son's life at the cemetery where he is buried, opening the invitation to any and all friends and fans of Shannon in what ultimately turns out to be a three-day event. The weekend combines Dayton locals and fans from as far as Australia. As a first timer at the vigil, I was surprised at how warmly I was embraced.
When I met Nel Hoon for the first time, all I could think was 'this is one hip Mama." As I pulled up to her house, I was greeted near the sidewalk by a bright smile and a leather cap. Before even saying a word, Nel's arms opened wide and embraced me with a mother's hug. She invited me in, explaining vigil with simple words: "I made a promise to Shannon that as long as I live, I would never let his name be forgotten."
Mama Nel enforces a strict advertisement that vigil is a 'sober event,' a rule that is respected every year. At two in the morning, a young college kid who drove from Boston was attending for the first time and pulled a beer out of his backpack. Nel greeted him kindly, gave him a big hug and told him not to be embarrassed. She gently explained that advertising for the event made it clear that absolutely no drugs or alcohol were allowed at the cemetery, and disposed of his beverage. It was the only alcohol I saw during my four days there. Not once did I witness intoxication or substances other than cigarettes.

For nearly two decades, Nel's covered the vigil costs. Event expenses like tent rental to port-a-potty rental to t-shirts and candles are out of pocket expenses that are not always made back. This doesn't concern Nel as long as people are coming, gathering, and remembering. This year, Melonheads raised hundreds of dollars to contribute to the weekend; a meaningful gesture that allowed Nel to focus her time on making necklaces, votive holders, and other parting gifts to give away to people who traveled so long to be there. Her policy is nobody leaves vigil empty handed.

At the ten acre cemetery of Shannon's gravesite, and that of his brother by his side who lost his life to cancer in 2009, my crew and I stood back filming what we could, watching in amazement the loyalty and dedication of Shannon's fans, some of whom couldn't afford a hotel room in the area and brought blankets to sleep in tents all weekend. For some fans, the annual trip to Dayton, Indiana is their yearly vacation.
What began with about twenty has grown to an event that sees at least two hundred people from all walks of life every year. Many Melonheads meet for the first time in person after years of chatting through online fan pages and forums. At the vigil, lines of economic and social status didn't exist; only a shared interest in music that makes fans consider one another family. Attendees paid respect to Hoon on knee in prayer, dropping tokens of affection on his tombstone, singing music and lighting candles.
Unity and generosity are Melonhead languages. Lawn chairs and blankets were shared while Blind Melon tunes played in cars with open windows. Guitars were passed around. Mothers danced with their daughters on the grass. Gifts were happily handed out. A common giveaway; bent fork necklaces, a nod to the gifts Shannon used to make his friends and family. I was treated to a little smiley face clay token from a Melonhead I just met over the weekend. It's sitting on my dresser at home. The owner of one of Shannon's Ford Galaxies arrived with the car, which he does every year, and let fans take turns sitting in the driver seat, taking pictures.
As the weekend progressed, the simplicity of friends gathered around a grave to reminisce and say goodbye was challenged when a small group of grounds workers appeared, demanding vigil attendees get off the grass so they could mow, despite the fact I witnessed the grass being mowed personally two days prior. When lawnmowers didn't cause the group to pack up and head out, they tried smoking everyone out. While we sat sharing stories and tears of Shannon, his childhood, and his daughter, workers lit a burn pile on fire right near our chairs, causing smoke to blow directly in our direction over Shannon's resting place.
"There's no way this vigil is going to happen again," they threatened to seventy-two year old Nel, demanding she get everyone off the grounds so they could mow the lawn. My heart broke for her. However, I have a feeling the annual Shannon Hoon Vigil won't be ending any time soon. Nel said she'll be out there celebrating this annual vigil until her last breath.
Storytime with Mama Nel is a highlight of vigil weekend. Personal stories that the world would never have heard on MTV or radio stations were soaked up by a group of cross-legged Melonheads. She told us about the boy she raised and the man his family and friends knew. High school Shannon going to all lengths to impress a girl he had a crush on. Teenage Shannon who nearly got himself in big time trouble for helping a kid on the run. New rock star Shannon who kept every little token his fans threw on stage for the band. And new Dad Shannon, who enjoyed staying at home with his daughter and girlfriend, refurbishing furniture. Childhood friends of Hoon who also come to pay their respects and reminisce of their times together joined in the tent, some sharing a story or two, others keeping silent as they remembered their friend.
At one point, staring at the last known photo of 28-year-old Shannon, illuminated by the glow of candlelight and sound-tracked by the familiar riff from a two guitar rendition of Change, it really hit me. After a day of happy reunions and celebration was an evening of mourning and remembering. I realized why the first vigil visit is so memorable for anyone who attends; the personal mourning. There have been many moments I have shed a tear for the loss of such a talented man, and the family and the band of brothers he left behind, but this was the first time that I was present at his final resting place, glowing with candles, covered in photos of him as a child, a teenager, and the last photo ever taken of him. It was so overwhelming that on occasion, I left my film crew to step out of the tent and take a walk under the dark sky. I cried as I walked the cemetery, listening to his songs being sung by those who loved him in the distance.

Nel wiped tears as she brought the reunion to a close with last memories and final words shared with her son. I hugged her often as a daughter who has lost a mother, and she held me back as a mother who has lost a child. The joy of the weekend was still present, but it was different; somber. A true realization of why we were all joined together-to celebrate and remember a cherished soul, and to keep his memory alive.
Popular in the Community