It's not the size of the dog in the race that matters, they say, it's the size of the race in the dog.
For Belle, a sled dog in Pocatello, Idaho, that means racing even though glaucoma robbed her of her eyesight six months ago. Despite the disability, KIDK-TV reports the determined dog will harness up this winter, running for the joy of it -- albeit at the back of the pack, not the lead, where she used to run.
"She doesn't seem to know she's blind," Jessica Roberts, Belle's handler, told the station. "Sometimes we have disabilities and ... it is tough, but there's also a lot of things we can enjoy."
In her pursuit, Belle will join the ranks of other blind sled dogs, including Gonzo, a New Hampshire dog whose inspiring story went viral last year and Amy, a half-blind sled dog in Alaska.
"Amy is blind in one eye," Olson told The Huffington Post, but "she is still a key member in the team and absolutely loves to run. I doubt she knows she's at a disadvantage."
"Like any sports team, it's invigorating to be a part of a group working toward a common goal," Olson said, explaining the dog's ambition, "and a dog most definitely experiences that camaraderie. Sight is just one sense. They still get to experience the smells, tastes, and ultimate 'runner's high' of a sled dog."
And in New Hampshire, a dog named Gonzo, who went blind more than three years ago, can't help but keep running. Gonzo's kennel manager, Ben Morehouse, told the AP he couldn't bear to leave the dog behind last year -- a dog "with such a want and a drive and a desire," he said -- that with a veterinarian's blessing, Gonzo ended up back in the harness.
With a little help from his brother, a dog named Poncho, Gonzo was back running in no time. "Gonzo and Poncho are not the most efficient sled dogs out there. They won't set a speed record, they won't pull the most you've ever seen," Morehouse said. "To be honest, they're probably some of the goofiest dogs you can put in harness. But they're just fun."
WATCH Belle's story, above, and Gonzo's story, below:

Related
Before You Go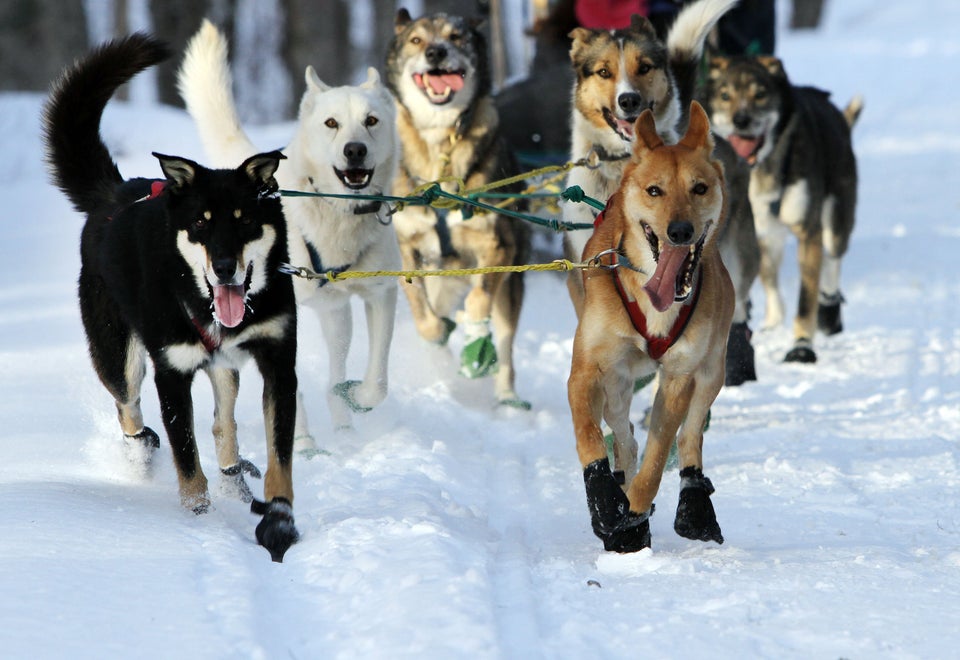 Gonzo, Blind Sled Dog, Thrives With Brother's Help
Popular in the Community