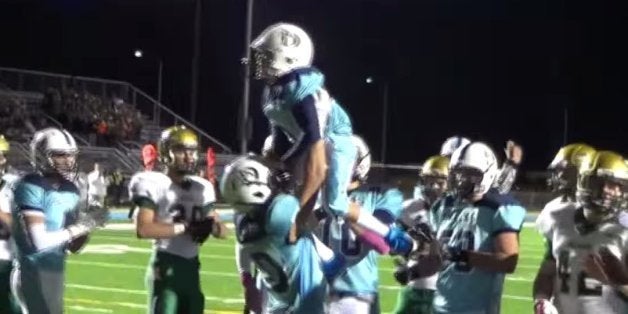 His Dallas, Pennsylvania, community wanted to give him a memory he'd never forget, ABC News reports. So, the freshman's high school football team named him captain for that Saturday's game. After halftime, the announcer called Olenginski onto the field. While the other players watched, he took the quarterback's handoff and walked down the field -- with another player guiding him -- to score a touchdown.
When he reached the end zone, the crowd erupted, fireworks were set off and his older brother, Michael, a senior and captain of the team, lifted him into the air as players from both teams crowded around them.
The next day, the boys' mother posted footage of the special moment to YouTube.
"My coach gave us the okay to have Justin over here go out for a touchdown after the halftime," Michael Olenginski, 17, told local new outlet WNEP. "It was just a great opportunity to share that experience with him because I honestly never thought I'd be able to take my brother out on the field."
Their mom was equally elated.
"[Justin] heard the crowds calling his name and the fireworks and everything, so he really got to experience that moment. It was pretty exciting for us and for Justin," Angela Olenginski told ABC News. "I think just everybody making a big deal about him was the most exciting part for him. He's been through a lot, and so this is a pretty big deal and a really happy moment for our family and for Justin to experience."
There was also an outpouring of support for Justin Olenginski on Twitter.
everyone in that stadium better get UP for Justin Olenginski tonight!!!!!

— Mikey Shutlock (@Shutyoself_36) October 11, 2014
Related
Popular in the Community