"How many good eyes do you think we have between us?" I ask.
Alex Innes doesn't hesitate. "One," he says.
Until that moment, I had no idea of the extent to which this cheerful confident man is visually impaired. I have one eye that doesn't work – but the other is fine, and you only need one to lead a perfectly normal life. The difference between our experiences of eyesight is unfathomable.
But Alex, 27, hasn't let Retinitis Pigmentosa (RP) ― a progressive inherited eye disorder ― stop him from travelling around the world, living abroad, getting a degree and a career, and leading an independent life. He's now a media consultant in a school in Essex, UK, where he lives.
A burning ambition since he was 12, Alex won a coveted place in the Virgin London Marathon, which he ran successfully on April 23 2017 to raise funds for RP Fighting Blindness, the charity providing support and research funding. On the day of the race, he had already raised £4625 - 185% of his £2500 target.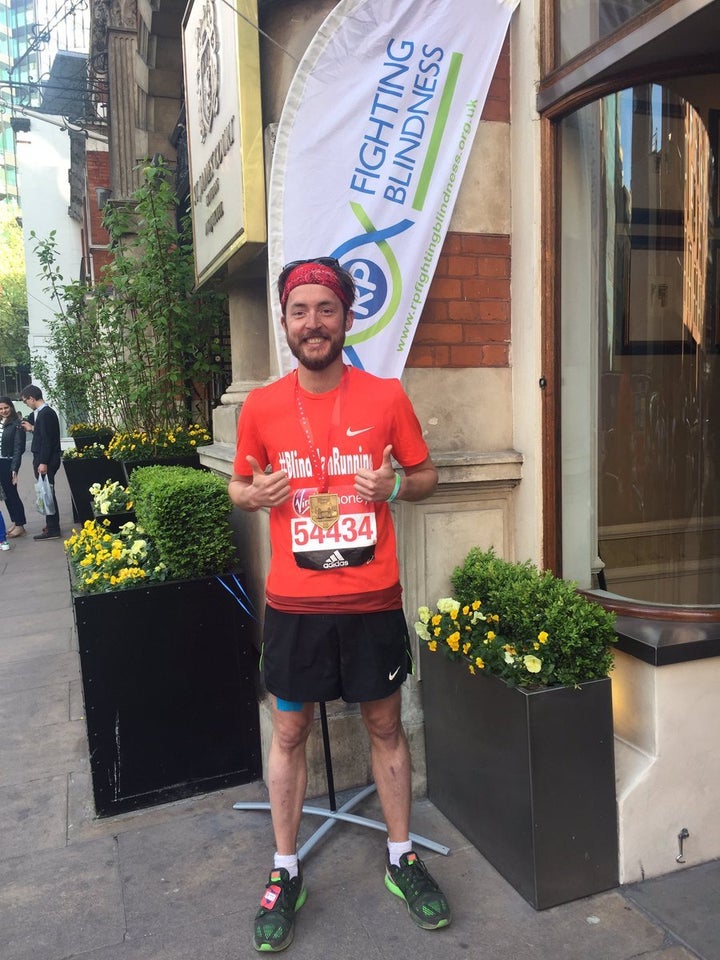 On Twitter Alex uses the touching hashtag #blindmanrunning for his fund-raising tweets ― because in mid-2016 everything changed.
RP is currently incurable and unpredictable, and can lead to blindness as it causes the retina to degenerate. Peripheral vision loss ― tunnel vision ― is an early symptom, as is difficulty seeing in poor light ― night blindness ― and cataracts. It is normal practice with RP to replace clouded lenses with plastic ones to improve vision, and this is what Alex had done last summer. The aim is to improve vision for as long as possible. Unfortunately, although the surgeons have no explanation, his sight deteriorated.
"I can't see at night now at all," he says.
"My pride has always made it difficult for me to ask for help, but I am forced to be a lot less stubborn these days."
His RP isn't his only challenge ― he also had a dramatic start to life. Born at 28 weeks, he weighed just 3 pounds, dropping to 2.3 pounds shortly afterwards ― about as much as bag of sugar. His premature birth resulted in jaundice and partial but non-progressive deafness, and several early near death experiences. The first signs that he had inherited RP came when he constantly clipped the car as he walked round it when small. Diagnosed with RP at 7, he was largely unimpaired visually until his late teens.
"I knew I had it but I didn't feel so bad about it as a kid because I didn't have a social life outdoors. Even when I got to my teens I could still go out in the evening without any help. My early 20s were the tipping point ― it went a bit downhill and became a major factor in my life."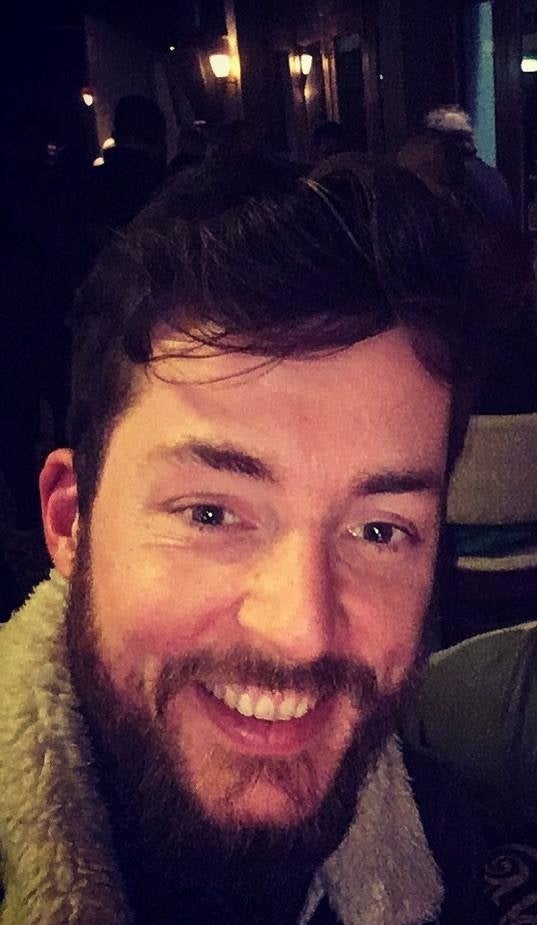 Alex had organized successful events at Buckinghamshire New University, where he got a degree in marketing. But it became increasingly difficult to work in dark venues, where the night blindness caused problems. Overwhelmingly he didn't – and doesn't – want to be defined by RP.
"I used alcohol as an excuse, so if I felt exposed I'd blame the booze, and people would say, he's just pissed. It felt like a dirty little secret, and I told very few people, even girlfriends, about my eyesight. I was in denial and I didn't want to accept it.
"Recently I was having a heart to heart with a friend and it was a bit of an eye opener ― if you'll pardon the pun. He admitted that, although he respected my decision not to tell anyone I couldn't see well, he'd actually been informing people behind my back. I'd been missing handshakes, drinks and hugs and he didn't want people to think I was arrogant or rude. I thought I'd been blagging it.
"I didn't know what to think, but then I realized it was kind of a relief ― he saved me a job by saying it. I didn't know when's the right time to mention my night blindness. And I hate drawing attention to myself. How do I drop it in to conversation? Will I make it sound like it's a bad thing?
"I also wanted to avoid questions, like where's the white stick and guide dog?"
The last seven months have been particularly tough since the cataract operations. Fortunately Alex is surrounded by close family and friends, including his girlfriend Lucy, and his uncle Dan, who shares the condition and offers a lot of support. He credits his mother Angie, who brought up Alex and his younger brother Jordan by herself, for his resilience and independence.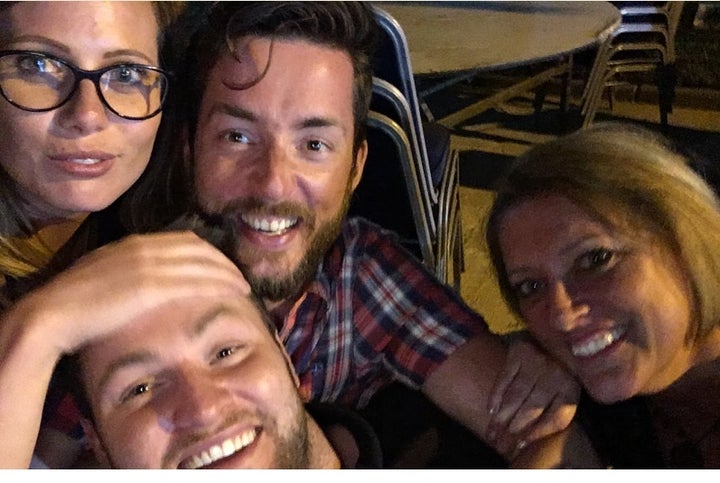 The community has rallied round Alex's marathon bid, with local schools holding Christmas jumper and own clothes days to raise hundreds of pounds for RP Fighting Blindness. Alex is bringing his event organizing and marketing skills into play, with a gig planned, and an experiential viral video project in the offing too.
As far as the actual 26.2 mile run is concerned, training has gone like clockwork. "Anyone can do it," he claims. "You just need to give yourself time." In addition to building up the miles, and running a half marathon at Silverstone as a warm up in March, Alex now has an ex-Army personal trainer, Graeme McKie to toughen him up.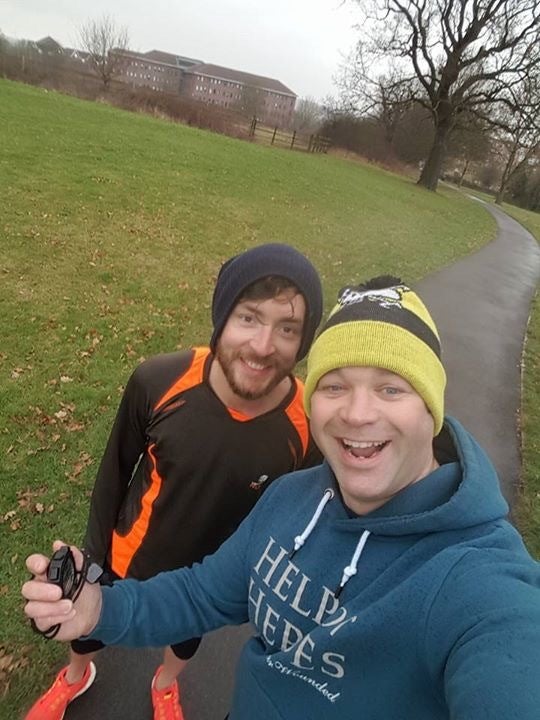 They train outside in daylight with no problems, except when it comes to the thin dark skipping rope ― which was invisible to Alex. The next challenge is hauling a tyre with a rope tied round his waist, shadow boxing which he doesn't like much – "I'm a lover not a fighter" – squats and push ups.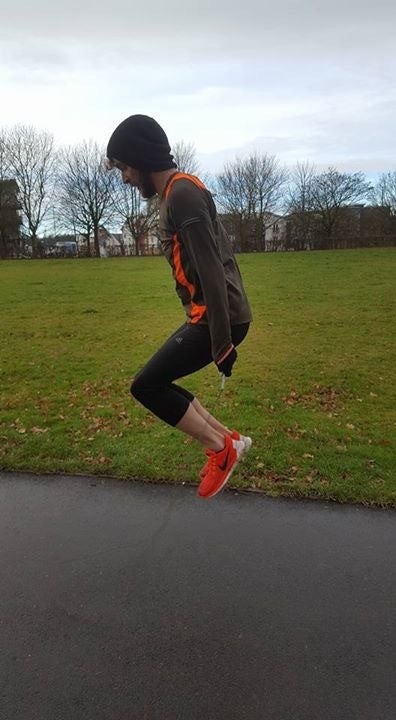 "It's brutal, but even 2 weeks has made a difference. And you really feel the benefit… afterwards."
Alex Innes is clearly a brave man, but gradually going blind while so young, sociable and fit is a very tough call. As is expecting the cataract operation to make things better, and finding that it has made his sight worse.
As he says, if he had been born blind it might be easier because you can't miss something you never had. The last seven months have been devastating as he has had to come to terms with losing some of his independence.
"I felt a bit sorry for myself," he admits in his understated way. "But when I heard I'd won my place in the Virgin London Marathon, after trying for years, that gave me a real boost."
Alex Innes reached the Finish in an impressive 5 hours and 24 minutes. Given his drive and determination, it's unlikely to be his last fund-raising marathon for RP Fighting Blindness.
Follow Alex' Innes on Twitter: @99lexi99 #blindmanrunning
RP Fighting Blindness – Retinitis pigmentosa (RP) is an inherited condition of the eye that leads to loss of vision and blindness. RP Fighting Blindness works hard to stimulate and fund cutting edge research to find a treatment or cure and support those affected.
Essex based personal trainer Graeme McKie can be reached at gmckie@cokecce.com and 07734584005