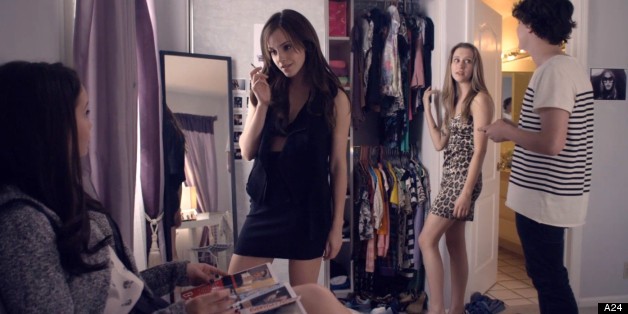 Sofia Coppola hasn't had the best of luck at the Cannes Film Festival: her 2006 film "Marie Antoinette" was booed by the finicky cinephiles who attend the prestigious annual event. Fortunately for Coppola, there were no such jeers, at least audibly, when "The Bling Ring" debuted at the 2013 incarnation of Cannes.
"Coppola's uproarious and bitingly timely film feels every inch a necessary artwork: the story is closely based on a string of true events that occurred in 2008 and 2009, but if it hadn't actually happened, someone -– Coppola, probably -– would have to make it up," wrote Telegraph critic Robbie Collin in a four-star-out-of-five review.
Starring Katie Chang, Israel Broussard and an against-type Emma Watson as a character based on Alexis Neiers, "The Bling Ring" focuses on a group of California teens who robbed the rich and famous of their designer clothes and assorted bling. The film is based on the real-life Bling Ring, a group of teens who stole from Paris Hilton, Lindsay Lohan and Orlando Bloom in 2008 and 2009.
"What's gratifyingly fresh about the film is Coppola's refusal to sentimentalize the kids' crimes as a form of starry-eyed celebrity desire, which would be the easiest and most self-flattering stance for a celebrity filmmaker to take," wrote HitFix reviewer Guy Lodge. "The girls don't steal Paris Hilton's Louboutins to feel like Paris Hilton, whom at least some of them hold in blatant contempt; they steal them because they're nice shoes, and readily available at that."
If the film sounds a bit like the opposite side of "Spring Breakers," Harmony Korine's tale of corrupted youth committing crimes out of seeming boredom, that's because it kind of is: "The girls make 'Spring Breakers' minxes seem well adjusted," wrote Graham Fuller for Vanity Fair.
Writing for Variety, famed critic Scott Foundas went one step further:
Indeed, while some may liken the pic's characters to the masked marauders of both "Spring Breakers" and Michael Bay's recent "Pain & Gain," Coppola's markedly less violent offenders don't seek wealth so much as notoriety — a goal that has rarely seemed more attainable than in this age of Warholian decadence, where being famous for being famous is more desirable than being famous for anything else. So "The Bling Ring" traces an intriguing feedback loop of which it is knowingly a part: a movie that affords its subjects the very immortality they so aggressively sought.
Despite some strong reviews, not everyone was enamored with Coppola's latest effort, her first since the 2010 bust "Somewhere."
"This may be Coppola's flimsiest movie to date," Kevin Jagernauth wrote for Indiewire's The Playlist.
For more reviews, head over to Indiewire's CriticWire blog. "The Bling Ring" is out in theaters via A24 on June 14.
PHOTO GALLERY
Cannes Film Festival
BEFORE YOU GO