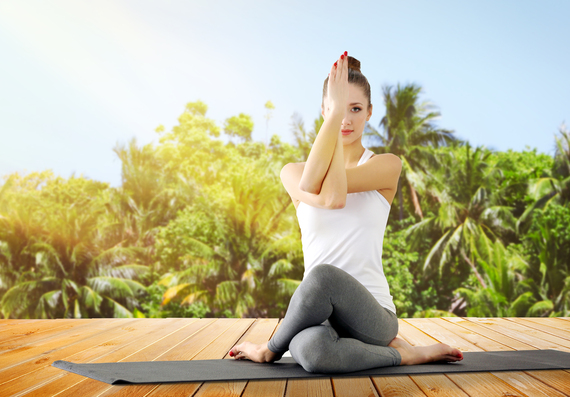 In the hyper-active, turbo-charged, fast-paced world that we live in today, time just simply seems to fly by. Not only are we trying to keep up with work, busy careers and all that's happening in our personal and social lives, but more than anything we're also trying to just simply keep up with ourselves.
If we're not careful, in what seems like a mere blink of the eye, years can come and go, until one day we wake up, take a good look in the mirror, and realize that it's time to start making good on that often heard promise that we're not just getting older -- but actually getting better.
The good news is that's well within our reach -- and it's never too late to get started.
Feeling healthy, happy and energized at any age begins with creating a balanced lifestyle. While exercising and diet is great for the body, balanced living also means nourishing and nurturing the mind and spirit. Yoga, meditation and other forms of mindfulness practice provide that nourishment and also act as a natural counter-balance to the everyday stress of our hectic modern lives.
And if stress is known to give you grey hairs and wrinkles, then think about what that a daily dose of bliss will do.
And the age-defying benefits are far reaching.
Though the practice of yoga and meditation as its roots in the ancient 5,000-year-old Vedic tradition of India, today they are core components of living a healthy, holistic lifestyle, with over 36 million Americans alone practicing yoga and meditation regularly.
But traditional yoga, with its focus on deep breathing, meditation and mindfulness, is so much more than just a work out.
Follow Marina Rose on Twitter: www.twitter.com/MarinaRoseQDNA
Photo: Africa Studio via Shutterstock
Related