We are living in an exponentially expanding trust gap. — Richie Etwaru
Blockchain will disrupt every industry. Blockchain is a disruptive technology because of it's ability to digitize, decentralize, secure and incentivize the validation of transactions. A wide swath of industries are evaluating blockchain to determine what strategic differentiation can exist for their businesses by leverage Blockchain. Here is high level overview of what is Blockchain, and what is it used for via MIT Technology Review:
"Blockchain, also known as distributed ledger technologies, show significant promise in addressing the trust and transparency required for a digital world. Opportunities exist to rethink cooperation and control governance, financial control, flow of wealth, the trust gap, and transforming transparency of organizations. Consequently, society faces a unique opportunity with blockchain to transform how we engage with each other." — Ray Wang
To learn more about the importance of Blockchain and its disruptive nature, Ray Wang and I invited a Blockchain expert author, who believes that every company will be disrupted by a trusted version of itself, and one of the first chief digital officers of a multi-billion dollar publicly traded company to speak about the importance of distributed ledgers and the future of trusted companies to our weekly show DisrupTV.
Richie Etwaru is chief digital officer at QuintilesIMS [NYSE:Q], where he is responsible for identifying, prioritizing and embedding technology innovation and digital trends into the vision, strategy, and operating model required to support the growth of the Global Technology Solutions business unit. Prior to joining QuintilesIMS from Cegedim, Etwaru was the Executive Director and Head of Innovation and Transformation at UBS Wealth Management, SVP and Divisional CIO for Lehman Brothers, and co-founder of several technology ventures.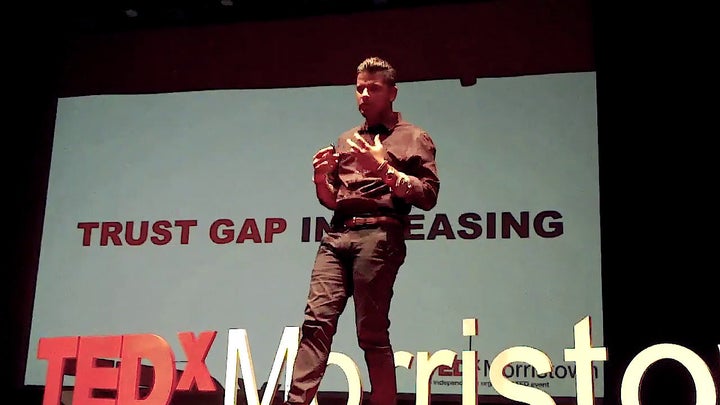 Etwaru has delivered over 100 Blockchain keynotes across the world and has written some of the most read Blockchain blogs as of this writing. His interviews on Blockchain, advisory work with governments and venture funds, and TEDx talk titled "Blockchain: Massively Simplified" delivered in March 2017 has unlocked potential and identified opportunities for hundreds of organizations. In his new book, Blockchain, Trust Companies, Etwaru covers the so what of Blockchain as opposed to the crowded area of the what of Blockchain. Etwaru is also an adjunct professor of Blockchain Management at Syracuse University. Etwaru is an excellent follow on Twitter at @RichieEtwaru.
Here are some of the key takeaways of our conversation about the disruptive nature of Blockchain with Etwaru:
1. Transaction cost, reach and speed have improved, but the most important element is trending down. According to Etwaru, most of us in the tech industry have spent our careers in what he calls 'the layered cake" of what drives commerce - electricity, network, storage, compute and servers, operating system, business process, sales, brand, marketing, services and perception management. We have lowered transaction costs along the way, we have increased the transaction reach with the Internet, and we have increased the transaction speed with wireless and mobile phones. The one thing that hasn't changed in commerce is transaction trust. Etwaru believes that in fact, transaction trust in trending down.
"If you are starting a company, running one, or trying to save one from its Kodak Moment, this book is a sobering reminder that every company is at risk of being disrupted by a trusted version of itself." — Richie Etwaru
2. Trust will be the new company differentiator - Every company can be easily replaced by a trusted version of itself, according to Etwaru. Today, customer experience is defining business differentiation but in the near future, trust will be your company's true differentiation. The science of cryptography, immutable configurations, distributed ledgers and data sets will democratize trust at scale.
3. Blockchain will eliminate the need for an intermediary to validate data integrity - Etwaru uses a simple example to demonstrate how Blockchain is design to validate and trust data from a one-to-one manner. The ability to validate a data set without the 'middle man' increases business execution velocity, while reducing the trust gap.
"Every large paradigm in the history of the human species thus far narrowed or completely closed some large gap; blockchain will narrow or completely close a large gap as well. The printing press closed the knowledge gap, the steam engine closed the power gap, and the Internet is closing the distance gap. Blockchain stands to close the exponentially expanding trust gap." — Richie Etwaru
4. Trust and sharing go hand-in-hand - In the absence of trust, the data sharing must go through an intermediary. With blockchain, individuals can share data sets at scale without a middle-man, creating the scenario of sharing sensitive data to unfamiliar parties in an intimate way. The ability to trust information from someone who is willing to share it will create conditions where the integration and prosecution of data is accessible and affordable to all.
"A trust gap is vivid and apparent in commerce, and we have become anesthetized to a world where we carry the burden to always trust but verify almost every transaction with expensive, cumbersome and often inconveniencing intermediaries. Blockchain, mankind's first opportunity for trusted commerce at global and sustainable scale." — Richie Etwaru
5. Corporate structures will change based on Blockchain - There are two layers below the layered cake that drives commerce, according to Etwaru. The two layers at the foundation of companies of tomorrow is: 1. how we organize, 2. how we cooperate. The same way cloud computing disrupted the storage and compute layer, and the Internet disrupted the connectivity and network layer, Blockchain will be a disruption in how we organize and cooperate.
Paradigms are shaped by discussions. Etwaru's mission is to help shape and lead the conversation regarding Blockchain. The discussion about Blockchain is much more that cryptocurrencies and Bitcoin. The combination of Artificial Intelligence (AI), Internet of Things (IoT), Cloud Computing and Blockchain will massively transform every company in every industry.
Here is Etwaru's TEDx video on the disruptive nature of Blockchain - a fantastic primer on how technology can be used to reduce the trust gap.
I recommend you to follow Etwaru on Twitter (@RichieEtwaru) for more thought leadership content on Blockchain. I also highly recommend his book, Blockchain, Trusted Companies because he is able to develop a blueprint for business leaders to considers as they develop their Blockchain strategy. In his book, Etwaru masterfully defines a maturity model that carefully defines the evolution towards trusted commerce. Using Blockchain, Etwaru gives examples of how finance, identity, reputation, inventory, market agreement and cooperate data sets sequentially evolve through blockchain first, becoming trusted data sets that can enable transparent consensus at scale, and eventually candidate data sets for smart contracts to transact on autonomously. Consensus at scale is a prerequisite for autonomous commerce. This is the future of trusted companies. Reduce the trust gap or get disrupted. The choice is yours.
Related
Popular in the Community