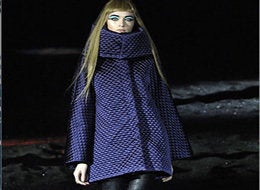 Winter fashion trends...what does it all mean? Every season we are bombarded with a laundry list of all the latest, the newest, the freshest, the greatest, the can't-live-without-it, the-I'll-die-if I-don't-get-it, must-haves in fashion.
As we pass the local newsstand or our corner store, there they are, gleaming out at us, beckoning and hypnotizing us with eternal possibilities.(For me it's GQ & Details) From our most respected fashion magazines to our celebrity weeklies they bring you the very best from around the world and the red carpet. They show you the newest shoe,the coolest boot, the hottest sunglasses, the best bag. For instance, my friends at Marie Claire showcase some fantastic bags very cute at all the right price: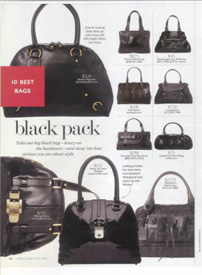 Cute, right?
And of course, the best coat, a must-have for winter! (I have to say, Ports 1961 has the most adorable black cashmere coat -- very stylish.)
Now as you flip through the intoxicating glossy pages, while drinking that too-expensive coffee, with a glazed look on your face it becomes quite clear all your stuff now looks like crap... or at the very least... old. All of your fall\winter pieces from last season that you loved and adored, cherished and broke the bank to purchase suddenly don't look so cute anymore. I hate that feeling!
You are exactly where those magazines want you to be: excited, energized, and ready to shop, which is not totally bad place to be. I mean, I could think of many other head spaces that would be twice as bad for you.
Now here come all of the lists on how to update and modernize your wardrobe and my all time fave, "What's In and What's Out." That one has so many of my girlfriends screaming "I just bought that coat, how can it be out of #%@ style already"!?!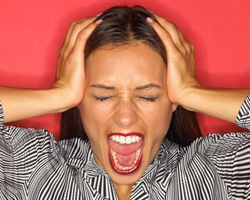 Black is the new blue. Long is the new short. Silver is the new gold. Vintage is in and antique is out. Totes are in and clutches are out. Naked is in and clothes are out. 50 is the new 40, 40 is the new 30, 30 is the new 20, and 20 is the new...WAIT ONE BLOODY SECOND!? Let's stop the madness right now! By the way, 50 is 50 but that's a whole other blog.
I say that instead of racking up credit card debt or being Little Miss Responsible but feeling totally unstylish, I say we use those lists as a guide. I say let's use those fashion magazines for inspiration! I say let's accessorize! After all, our ability to accessorize is what separates us from the animals.
Here's a short list of things to buy and do this fall season to make you look and feel more fashionable -- starting from the top of your head down:
Hats:
Buy a new one or six. Anything knit from chunky (like your granny made it) to fine gauge fedoras and oh yeah.....fun fur! Plus they can mask a bad hair day, and we all love that!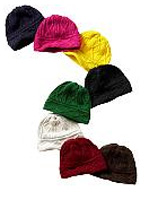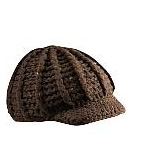 Scarves:
Extra long is great fun. They can be worn in a multitude of ways. Get one in a jewel tone or bright neon; it can liven up any coat. Plus, a splash of color at the neck does wonders for the face. P.S.: Make sure you know where the ends are at all times, especially when getting in out of cabs or moving through revolving doors. Death by scarf caught in cab is not a cute way to go.
Coats:
If last season you bought the balloon or the cocoon shape don't toss it. Add a belt in gold or black and make it new. If yours is too bulky, ask your tailor to remove some of the bulk.....from the coat that is. Actually, add a belt to everything, including sweaters!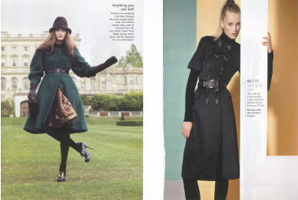 Nice look, right? Very modern.
Belts:
Great news: the waist is back! What better way to emphasize it than with a fabulous belt? Shiny, metallic, wide, skinny, colorful, patent leather, the list goes on. Whatever you wear, whenever you wear it, belt it! Belt your PJ's even
Sweaters:
Save all sweaters. Add a belt, add a pin, layer it up. If you do buy new sweaters, just remember that grey is the new black. Also that little sweater shaver thing is the best invention ever!!! Splurge and by the deluxe model for only $19.00, it is soworth it.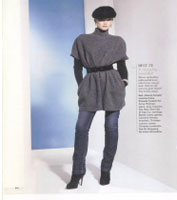 Gloves:
Do splurge on new gloves, especially elbow-length leather ones. This season I must agree with the pro's, gloves can make everything look new and modern. Bright gloves really give your outfit a boost as well.
Tights:
Tights, tights, tights ! Wool, sheer, opaque, bright, get all of them. Benefit is you don't have to shave your legs all winter. (Scary thought.)
Boots:
Get them cleaned for another season, would you please? It's amazing what is under all that dirt and grime. If you must buy, there are the usual suspects (which are sensational) but I have to say Nine West is rockin' if you need a new pair of those trendy mini ankle boots.
LBD (Little Black Dress):
Every woman must own an LBD. It's that tried and true dress that always saves you in a pinch, always looks fabulous and appropriate. If you don't have one, stop what you're doing right now and go buy one immediately. If you have one and it is feeling a little stale, add a new belt, the new gloves, tights, those mini boots and VOILA! Très chic.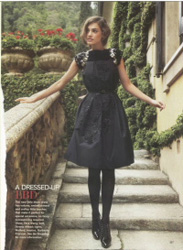 A good rule of thumb is to only buy if you absolutely LOVE, LOVE, LOVE. If you truly love, then you should buy it and enjoy it. If you kinda like it, then forget it -- it's just an impulse. Fight it! You'll thank me when you don't have to look at that neon green coat staring at you from your closet, laughing at you: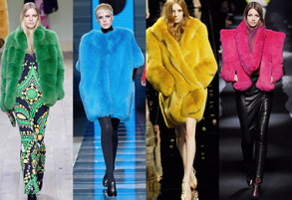 I do love them, but...
In the end, I don't want to dictate what you wear. Wear what makes you happy, wear what makes you confident, wear what makes you feel special. I've said it before and I'll say it again, fashion is about personal style and feeling great.
Always remember and never forget: High heels will give you instant sexy!
(Thanks to my friends at Glamour for the great belt photo.)
Want more fashion tips? Click here to read more from Huffington Post Living!
Support HuffPost
A No-B.S. Guide To Life
Related
Popular in the Community