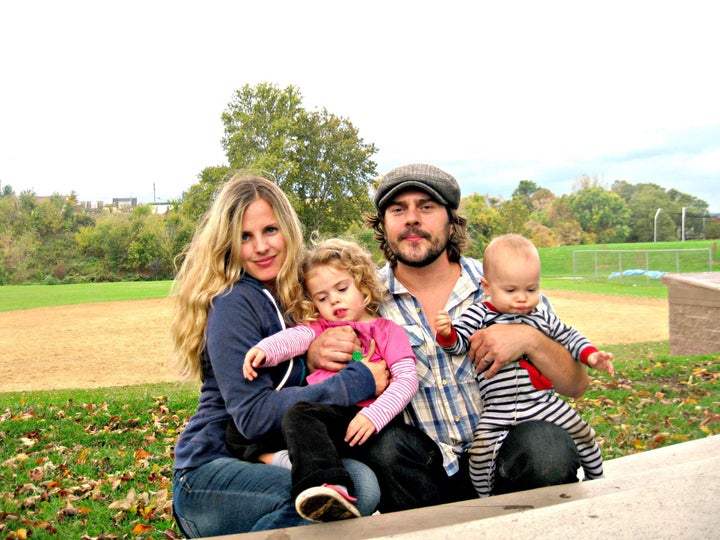 If you've been tempted to dismiss the internet as superficial and souless, and online relationships as a poor imitation of real ones, you might want to talk to Serge and Monica Bielanko today.
You can find them living at Serge's mother's house in rural Pennsylvania, with their two children -- Violet who is almost three, and Henry, who is not quite one -- and their two dogs, Milo and Max. That was where they fled after the farmhouse a few town over, the one they'd called home since they migrated to Pennsylvania from Utah a few months ago burst into flames. Monica grabbed Violet from her burning bedroom and the entire family watched from their car as everything they owned turned to ash.
I know Monica from her blog, thegirlwho.net and have followed her tart and lustrous writing for more than two years since Heather Armstrong tweeted about Monica's torrid chapter-at-a-time blog account of how she and Serge met. (He played guitar in the rock band Marah; she saw him play and they got to talking at the bar. They married three months later, but they don't tell anyone.) Heather herself knows the strength of bonds built with people you have never met. "The internet saved my life," she has said, of how she blogged through the postpartum depression that led her to a psychiatric ward.
I got to know Serge's blog, Thunder Pie, through Monica's (they are basically one and the same) and wow does that man write like a rock star. Through them I met Violet, and waited for Henry's arrival, and even felt like I'd come to know the dog.
At 1:16 PM on Wednesday, @MonicaBielanko sent a tweet to her more than 2000 Twitter followers and more than 1000 Facebook friends. "MY HOUSE IS ON FIRE. THE ENTIRE HOUSE. YOU GUYS OH MY GOD OUR HOUSE," she wrote. The caps are hers.
A second later: "WE ARE ALL SAFE OUT FRONT. THE ENTIRE HOUSE IS ON FIRE. FIRE TRUCKS COMING. OH DEAR GOD.."
Then, at 1:21: EVERYTHING I OWN.. MEMENTOS, PHOTOS, PICTURES... IT'S ALL GONE.. YOU GUYS I AM SITTING IN MY CAR WITH MY DOGS AND KIDS AND WATCHING MY HOUSE GO UP IN SMOKE
The first replies came in at 1:17 and continued for hours. Expressions of shock, offers of places to spend the night, of money, of gift cards to Target and Walmart, of children's clothing, of love and of prayers. Many included some version of "I have never actually met you, but..."
Wrote Heather Martin, for instance: "It feels crazy to say this because we've never met, but my heart hurts for you & your family. So relieved to hear you are all safe. I'm a long-time reader who rarely comments, but wanted to add my voice so you know how many of us out here have been affected by your writing (& Serge's music!) and are ready to help in any way we can."
By dawn the next morning, blogger Katie Allison Granju had organized cyberspace to help. Katie, too, knows the power of invisible connections, and credits those with helping get her through the days at her teenage son Henry's ICU bedside, and through the months after his death from an overdose and a beating. Over those months, Katie started receiving photos from readers, each showing Henry's name in beautiful places. Among them was a picture from Monica of Milo and Max on a trail near what was then their home in Utah, a sheet spread over the hillside that said "Henry."
All that is why, at 7 AM on Thursday, Katie went onto her blog, Mamapundit.com and announced her plan. She wrote:
While it will take days or more to determine the full extent of the loss of their belongings, we already know that the losses are extensive. Additionally, while they are able to stay with Serge's mom for now, we know for certain that the family will have to relocate soon to a new rental home, and start completely over. And unfortunately - and to their eternal regret - they were not adequately covered by renters' insurance. Their landlord is hoping that at some point they may be able to get back into his house once all the fire damage is repaired, but for right now, that's just not happening.

Serge and Monica are both self employed. Serge is a musician and stay at home dad, working on his first book. Monica works harder than just about anyone I know to support her family as a freelance writer. They get by, but their budget had zero wiggle room for something so catastrophic.
That's where we come in, y'all.

Starting today, many of us in the blogging community are launching an emergency fundraising appeal for the Bielanko family. They need funds to find and rent a new place, and to replace everything they already know they lost.

I literally had to BEG Serge and Monica to let people help them; they would NEVER have asked for any help themselves. But they finally agreed after I told them I would do it anyway  But these are people who WILL pay it forward when the time comes, and I also know that if they end up with funds that are in excess of what they actually need to rebuild their life, they plan to donate it to their local Red Cross to help other families who suffer fire losses.

Katie gave a designated Paypal address, and contributions poured in.
Bloggers spread the word. The Babble.com blog, Strollerderby, gave out the Paypal address Katie provided.
On the music website No Depression, Paul Cantin wrote:
If anyone out there made a holiday or New Year's resolution to spend the coming 12 months committing random acts of graciousness, here is an early opportunity.

Serge Bielanko, of the group Marah, yesterday safely escaped with his wife, two children and dogs from a blaze in the home they had been renting and renovating in the village of Walker Township in Pennsylvania. News coverage of the blaze here and here.

I've had no direct communication with Serge or anyone with the band. I've only watched the drama unfold via social media, saw Mamapundit.com's efforts to help the family and thought that somewhere out there in No Depression-land, there's possibly a few people who have been moved by Serge's music and might be similarly moved by this unfortunate mishap.
The plan was to cap the fund at $10,000, a goal reached within 12 hours:
...we've received many, many $5 gifts and two $1,000 gifts, and everything in between. Folks have emailed gift certificates for groceries, and they've let us know to expect a check in the mail. And lots of you helped to get the word out so that this could happen.

By the end of the day tomorrow, which is when we will distribute your gift funds to them, the Bielankos will have the money they need available to rent a place to live (and to earn a living, since they both work from home). They will be able to pay the deposit, and the first and last month's rent so they can move in. They will be able to get their utilities turned on. They can replace the appliances that could not be salvaged so they can keep the milk cold. They will have money to replace the Christmas toys that burned. They will be able to buy clean sheets and towels and underwear and pajamas and socks.

And once the dust settles, and they are re-settled, if there is money left over, they plan to donate it to a local agency that helps other families who suffer fire losses.

People are kind, and generous and compassionate. And in addition to raising this emergency rebuilding fund for the Bielanko family together today, I think we generated an awful lot of good karma together as well.

Good karma, yes. And a pretty good argument that there is nothing virtual about online friendship.