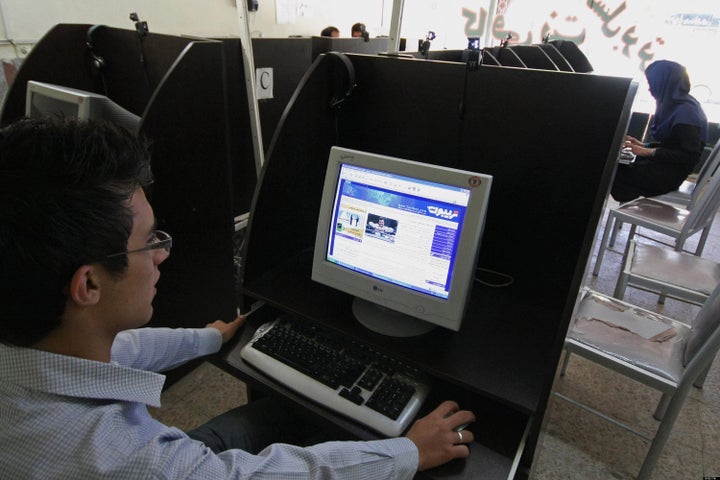 Iranian born blogger Hossein Derakhshan recently received a 19-year jail sentence and fine, even though he is a Canadian citizen. A technician-journalist living in Canada, Derakhshan was known as "the spiritual father" of Iranian bloggers, having posted a user-friendly "How to Blog" manual in Farsi in 2000. The draconian sentence is consistent with the Iranian regime's view of the Internet as a "rabid dog that has been let loose" and should alert the West to the harsh restrictions against freedom of speech in Iran and the surrounding region.
Active blogs in Iran mushroomed rapidly following Derakhshan's instructions, producing a blogosphere community known as "Weblogestan." From a population of 70 million, of whom half are under 30 years of age, the number of bloggers is estimated to be around 100,000. Dealing with a broad range of issues, blogs became a vehicle for dissidents to circumvent censorship, especially following the clamp down on the reformist press in 2000.
Derakhshan aired both pro and anti Iranian government views and had been assured of his freedom whilst in Iran. Nevertheless, he was imprisoned in Tehran for almost two years before being charged with "cooperation with hostile states, propagating against the regime ... insulting sanctities," and other charges. He could have fared worse: in July 2008, a new law was passed authorizing the death penalty for "online crimes."
Although the right to free expression is protected in the Iranian constitution, a government committee has identified dissident bloggers and Web sites.
Writers and cyber journalists have been arrested for using the Internet as a free press. The website of Parvin Ardalan, female activist and winner of the Olof Palme Prize, was blocked many times and she was charged with acting against national security. Cyber journalist Fereshteh Ghazi was arrested, beaten and kept in solitary confinement. Jelveh Javaheri and Maryam Hosseinkhah were charged with acting against national security and publication of lies, and accused of posting articles on the Web sites of the One Million Signatures Campaign and Change for Equality.
In her campaign against stoning, Iranian attorney Shadi Sadr made savvy use of the Internet by alerting the international community within hours after a stoning execution. During the post-election protests in June 2009, Sadr was violently arrested when she was pulled into a car and beaten, as part of a crackdown on civil society activists.
The Passdaran Revolutionary Guards Corps has consistently labeled the Internet a tool of imperialism and accused the United States of plotting a "velvet revolution" to overthrow the Iranian government. However, in spite of measures by the government to block Web sites, communication within and outside Iran have strengthened via the Internet.
Reporters without Borders have labeled Iran "the biggest prison for journalists in the Middle East." Jila Baniyaghoub had her blog blocked and was arrested while reporting on women's demonstrations against gender discriminatory laws. In some cases, journalists who were detained have disappeared.
Some Middle Eastern countries have shut down thousands of Web sites and blogs and soon Saudi Arabian bloggers will need to register with the government. Such restrictions have not deterred women's rights activists, who have successfully used the Internet to gather names for petitions like the right of Saudi women to drive a car and the International Campaign against Honor Killings. Feisty Saudi woman reformer Wajeha Al-Huwaider used YouTube to broadcast video interviews in campaigns against oppression of women and child marriage.
Cyberspace has become a war front for ideas, with Iranian hackers attacking opposition and Western Web sites, especially Twitter. In response, Iranian Web sites have been disrupted.
Apart from fearing cyber space as a battleground for liberal and Western influences, there is good reason for Iran to fear the Internet as a tool for military sabotage, as its nuclear program has been attacked by a mutating computer virus for the past year.
Hossein Derakhshan's plight represents that of modern dissidents for whom the Internet is an essential tool for obtaining information, avoiding censorship and communicating with the outside world, especially in countries that lack freedom of speech, assembly or association. Derakhshan needs leaders in Canada to speak up for him. He also needs more outrage and solidarity from bloggers worldwide, as does the larger dissident community.
Popular in the Community