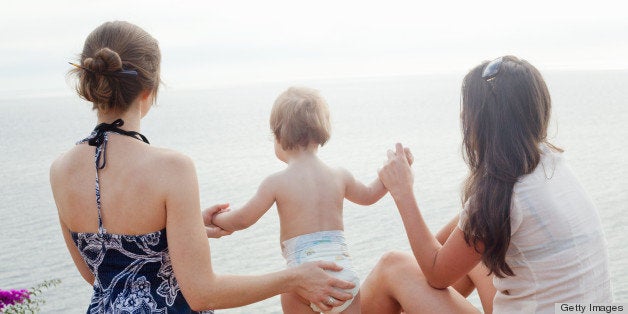 I always think of the month between Mother's Day and Father's Day (or Mothers' Day and Fathers' Day, if you're celebrating in the plural) as "parenting season," when we get a little more recognition than usual for the work we do to raise our children. For us LGBT parents and our families, however, it can also be a stressful time, when our celebration is often tempered with constant reminders that we don't fit the traditional mold. But this time of year gives us opportunities as well as challenges.
True, we must discuss with spouses, partners and children how we are going to observe the holidays, and how donors, surrogates, birthparents and gender identity figure into the mix. We must sometimes try to convey this to our children's teachers, with greater or lesser degrees of success -- but always with the chance for education and bridge building.
The parenting holidays also let us once again raise the level of national conversation about LGBT parents and our children. Mainstream media are now more often including positive coverage of LGBT families in their seasonal mix -- exemplified this year by The New Yorker's Mothers' Day cover featuring lesbian moms. This increased visibility can only be a good thing for showing that we are indeed part of the great diversity of family life.
Around the blogosphere, another seasonal opportunity to celebrate LGBT families is Blogging for LGBT Families Day, which I have held annually at the beginning of June since 2006. This year it will be Monday, June 3. Not only is it the first weekday of LGBT Pride Month, but it sits almost exactly between Mother's Day and Father's Day, honoring both parenting titles but recognizing that not all families fit neatly into those two observances. There's a big spectrum out there.
I therefore invite all bloggers -- LGBT, our families and allies -- to write in support of LGBT families on June 3. Just post where you normally do (or upload a video to your favorite video-sharing site) and submit your post's link to mombian.com to be included in the master list for all to see. (If you don't have a blog, simply leave a comment on the master post on Mombian that day.) You can also participate by tweeting and including the hashtag #LGBTfamilies. Even if you don't contribute, I hope you'll help spread the word about the event and come by to read about some of the many families and allies in our community.
Over the years, bloggers from across the LGBT spectrum, as well as our older children, our own parents and our allies, have contributed posts. Some shared personal stories; others offered social, political or media commentary. The posts have been funny, analytical, impassioned and heartwrenching -- and combinations thereof.
Some participants write throughout the year in support of LGBT families; others do so only on this one day. If you don't normally do so, I encourage you to find a way to tie in your usual topics. If you write about cars, for example, you might find cars from some LGBT-friendly car companies to review. If you are a librarian, write about your favorite books for and about LGBT families. If you are a food blogger, write about dinner with the gay dads down the street, or your favorite rainbow-colored recipe for Pride Month. It's a celebration, and all are welcome.
Thanks to the Family Equality Council for sponsoring the event, and to GLAAD for their support. However, the power behind the day has always come from individual bloggers who have been willing to share their stories and highlight the similarities and differences of LGBT families at a time of year when all families should come together in celebration. I look forward to reading your posts on June 3.
Popular in the Community