The last remnants of the world's natural areas are quickly disappearing—taking with them species that have lived on the planet much longer than humans have, forests that help stabilize soils and ensure clean water supplies, potential cures for diseases, and the livelihoods of millions of people.
In fact, according to recent research:
One-quarter of the world's mammals and one-third of primates and amphibians are already severely endangered;
Eighty percent of the world's scientifically assessed fish stocks are overfished or are already being fished at maximum capacity; and
Fifty-four nations are already more than 90 percent deforested.
We depend on nature... Now nature is depending on us...
Unless an effective global conservation strategy stops the loss, all nations, including the United States, will be poorer, less healthy, and less secure. And according to many of the world's leading scientists, the time to resolve these problems is running short.
To help focus public attention on the dire need for leadership in addressing these challenges the Alliance for Global Conservation is hosting a special blog here on Huffington Post.
In this blog, we'll examine the many threats facing ecosystems across the globe as well as explore some of the ways we can preserve the world's remaining natural ecosystems for the species and human communities that depend on them.
This will include posts featuring insights from experts and allies working with us as well as interactive web content such as videos and other online resources related to some of today's most pressing international conservation issues.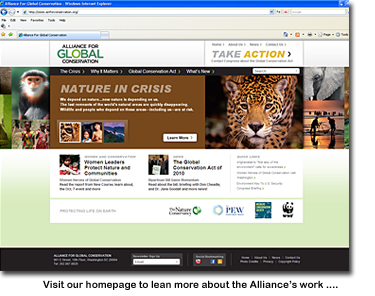 More about us ...
The destruction of the world's remaining ecosystems will not end unless world leaders implement a comprehensive global conservation strategy that helps developing countries protect their natural areas and helps local communities earn a livelihood from nature in sustainable ways. The Alliance for Global Conservation is a partnership among The Pew Charitable Trusts, The Nature Conservancy, Wildlife Conservation Society and World Wildlife Fund. We're working to encourage the U.S. to take a leadership role in forging this global consensus and global strategy before it's too late.
But in the United States, more than six agencies are involved in international conservation. The government has no overarching vision for addressing environmental degradation worldwide. If the U.S. is to lead a global conservation effort, we first need to have a clear strategy of our own with clear metrics and benchmarks of success. The Alliance is working with the U.S. Congress and several government agencies to develop that global vision.
To find out how you can help go to: www.actforconservation.org

Calling all HuffPost superfans!
Sign up for membership to become a founding member and help shape HuffPost's next chapter