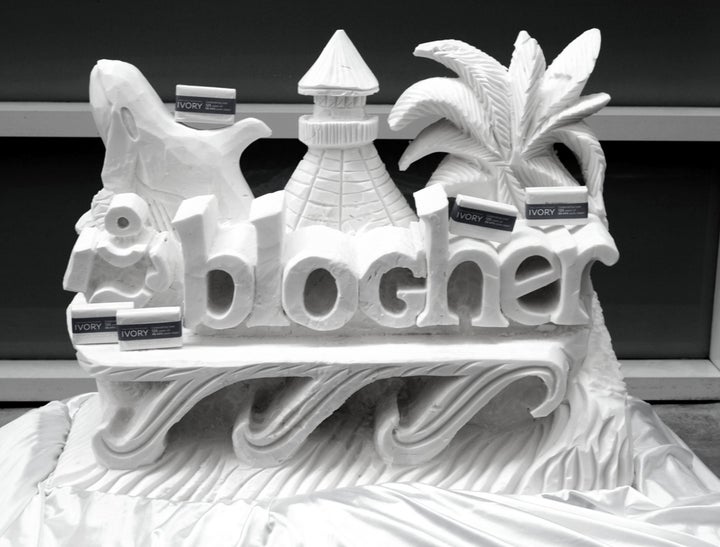 As Katie Couric explains, "It would take a pretty fantastic group of people to convince me to spend a Saturday afternoon during the dog days of summer in a hotel conference room."
Martha Stewart and Christy Turlington would probably agree. I know I felt the same way about leaving the cool beach breezes of Carmel for steamy Manhattan. Yet we're all there, on the long list of speakers at BlogHer '12, joining 4,500 bloggers coming to New York this week.
Created in 2005 by three women as a gathering for women who blogged, BlogHer has multiplied in size -- and importance -- every year since. Now a successful website, advertising network and TV channel the annual BlogHer conference is the jewel in the crown -- where bloggers, marketers and sponsors come to connect. Four smaller conferences have also blossomed from it.
So, why such a big deal about BlogHer?
Seriously. There's something for everyone, so BlogHer means different things to different people.
With several tracks on the official program, some people stick to the amazing amount of information offered in the sessions and never leave the conference site. Others never set foot in the conference itself, too busy with all the sponsored events going on outside. Since bloggers have become a powerful force, some come just to be wined and dined. The swag is legendary; people bring empty suitcases to cart it all home. Then there are the parties. One year my son stopped by my hotel room in Chicago and ran into drunk women roaming the halls; I'm sure it felt like his college dorm. So there's that, too.
This is my fourth BlogHer -- technically four and a half, if you count the year I had just started blogging, showed up without a ticket and couldn't get in the door. By the next year I was clued in enough to make plans ahead of time. Only beforehand, most of the clues were about what shoes everyone was bringing to wear.
When I got there, no one was looking at shoes; they were looking at name tags, trying to figure out if you looked like your Twitter avatar. Because after all, that's how many attendees first get to know each other -- online. If you think online connections are superficial or meaningless, you'd be missing the whole point, missing the heart and soul of what the event is and what brought it into existence -- blogging.
A blog is where you can develop and express your voice and your thoughts; where it's okay, even important, to be transparent; where being your authentic self is probably the best thing you can do. And it's the same at Blogher -- whether on the panels, in the audience, at the parties or in the hallways.
So my best advice for women attending BlogHer is to do what people do on their blogs: Be open. If you come with an open mind and open heart, BlogHer will fill you up.
Jammed with thousands of people, BlogHer has somehow managed to preserve the feeling of intimacy and freedom that exists on the Internet. Some people might disagree, but based on my experience, what's special is that feeling of openness, of acceptance, of knowing that this group gives voice to such a range of thoughts, feelings and opinions -- and even more importantly, that people listen.
The voices that make the most impact aren't necessarily the ones that shout the loudest or promote themselves the best. BlogHer honors them every year, selecting a few bloggers who read posts at a session many consider the best part of BlogHer called Voices of the Year. While you're sobbing or laughing till you pee in your pants, those voices make you aware -- and sometimes in awe -- of the talent and the truths that are shared.
In a world where the Kardashians are the gold standard of success, for me, BlogHer represents a kernel of reality, a source of inspiration and an island of sanity where people are appreciated not for what they look like or what they have, but for who they are. Sometimes that feels like a rare thing.
And for me that's a big deal. Maybe Martha and Katie understand the power of that, too.
UPDATE: President Barack Obama will be addressing the conference via a live video feed.
Related
Popular in the Community