The term "extended family" can have a very different meaning for one person than it does for another. For people whose extended families have grown strictly through marriage, their extended family is defined by nieces, nephews, brothers-in-law, sisters-in-law and, in some cases, children who were adopted.
For others, their extended family forms a loving circle of trusted and trustworthy friends who can be relied upon for advice, compassion, and companionship when blood relations are geographically or emotionally distant. Or simply unavailable.
Sometimes these "chosen" extended families contain people with shared interests, friends in common, or ex-lovers. Sometimes they consist of neighbors, coworkers, and casual acquaintances. But as a person grows older, their steady presence often allows for a more intimate sharing of thoughts and emotions than one might experience with relatives who may bring too much baggage to the table.
I've been extremely fortunate in life to have enjoyed the benefits of a remarkable extended family that began to form long before the onset of social networking. Many of these people hold cherished places in my heart, mind, and memory. One of those friendships came to an end when a woman I met more than 50 years ago passed away last summer on my birthday.
Two recent stories (one on film, the other onstage) highlight the role an extended family can play in the lives of ordinary people. While the situations in these two stories are wildly different, they point to the need for connection and inclusion as well as a sense of spiritual, intellectual, and emotional intimacy.
Directed by Sara Dosa, The Last Season is set in Central Oregon, where migrant workers arriving for the two-month mushroom hunting season find their treasured crop vastly diminished by a lack of rain. This documentary, however, is not about the mushrooms so much as it is about a most unusual friendship.
Roger Higgins was a trained sniper in the United States Special Forces in Vietnam. Now 75, the recovering alcoholic is in failing health and must rely on an oxygen tank and cane for physical support. A heavy smoker (despite the fact that he is wearing a nasal cannula), Roger and his wife Theresa live in an isolated cabin in the woods where Theresa must decide whether or not to call an ambulance if Roger's health takes a precipitous turn for the worse. Although he can still shoot at squirrels, Roger occasionally suffers from episodes of posttraumatic stress disorder in the form of vivid nightmares. His time is running out.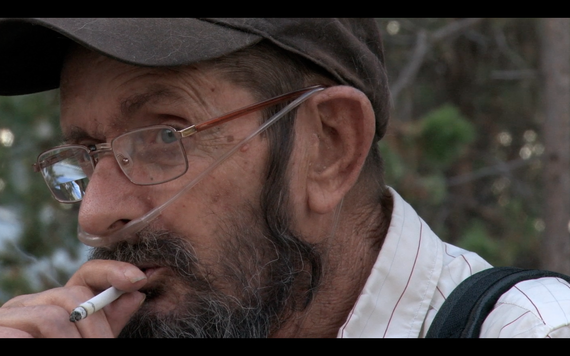 Roger Higgins in The Last Season
Kouy Loch was a platoon leader in Cambodia's Khmer Freedom Fighters who battled the Khmer Rouge. Following his mother's death from uterine cancer, he has been raising his daughter who, at nine years of age, is saving up for a trip to Disneyland. One of many migrant workers who comes to Oregon to hunt the rare matsutake mushroom (which brings top dollar from clients in Japan), Kouy seems fairly spry. The truth, however, is that he lost part of his left leg after stepping on a land mine (during the film he removes his prosthesis for the camera to reveal his post-surgical stump).
After the two men met during mushroom hunting season, they developed a friendship once they realized that they were both war veterans who had shared similar experiences fighting against the Vietnamese. By the time Dosa's documentary begins, their friendship has grown to the point where Kouy stays with Roger and his wife during mushroom season. He is more than happy to help out around their house, fixing things that Roger can no longer fix, and helping Theresa understand what happens when someone experiences an episode of PTSD.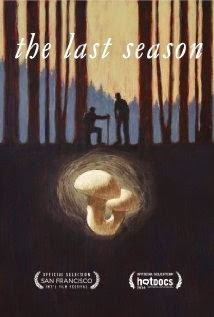 Poster art for The Last Season
Dosa's film (which was screened at CAAMFest 2015) captures some intensely personal moments, such as when Kouy asks Roger and Theresa if they would become his new parents. One can easily sense the deep emotions felt by a childless elderly couple and a middle-aged man who lost his biological parents long ago.
The Last Season is a very quiet, intimate, and low-key documentary in which Theresa and Kouy are acutely aware that the ornery Roger's time is running out. It has many touching moments, especially after Kouy starts addressing Roger as "Dad" and Theresa as "Mother."
Down in Palo Alto, TheatreWorks Silicon Valley recently presented the West Coast premiere of The Lake Effect by Rajiv Joseph. As a playwright, Joseph has had a close relationship with TheatreWorks since 2009, when The North Pool was featured in the company's annual New Works Festival. A co-commission by the Crossroads Theatre Company in New Brunswick, New Jersey, and Silk Road Rising in Chicago, Illinois, The Lake Effect represents an interesting hybrid of artistic missions. The artistic mission of Crossroads is:
"...to provide a nurturing working environment for writers and artistic collaborators through supporting the commissioning, development, presentation, and documentation of new scripts while celebrating the culture, history, spirit, and voices of the entire African Diaspora. The company aims to educate audiences by creating bridges of understanding between people of all cultural backgrounds in this society and the world and to use art to provoke and challenge a multicultural audience to a higher sense of communion."
Formerly known as the Silk Road Theatre Project, Silk Road Rising aims "to commission and develop new plays that can enrich the fabric of American storytelling by advancing a polycultural worldview with an emphasis on discovery, empathy, and pluralism."
For a talented playwright like Mr. Joseph, this co-commission opened up some new paths and allowed him to set The Lake Effect in his hometown of Cleveland, Ohio. As the playwright explains:
"I'm always interested in the relationships between minority groups and how they might interact, intersect, conflict -- it's a very rich story, one that tells a deeper story of America, beyond white and black. There are things that happen in the play that can spark debate about holding grudges, and being estranged, and also forgiveness. And finding your family where you least expect it."
Sensitively directed by Giovanna Sardelli (who has worked with Mr. Joseph on all of his plays), The Lake Effect takes place on a bitter cold night in Cleveland as Vijay (Adam Poss) is struggling to make sense of his sick father's financial records. His concentration is shattered by the arrival of Bernard (Jason Bowen), an African-American bookie who has become extremely close to Vijay's father, Vinnie, in the past year and, as usual, has come to the restaurant hungry for food and companionship.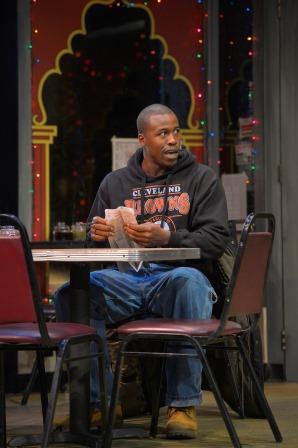 Jason Bowen is Bernard in The Lake Effect
(Photo by: Kevin Berne)
Bernard and Vinnie used to take frequent walks together to Lake Erie and, among other things, discuss the ups and downs of the tempestuous marriage between Vinnie's daughter, Priya (Nilanjana Bose) and her African-American husband. Although Vinnie had always been extremely cautious with his money, after meeting Bernard he started placing bets on football games and winning with the kind of accuracy that could make someone believe he was psychic. However, in all the time that Bernard has known Vinnie (whom Bernard claims saved his life), he has never heard the restaurant's owner mention the fact that he had a son.
When Priya arrives from Florida, sibling tensions quickly start to heat up. Vijay is irked by the fact that Priya knows the combination to the restaurant's safe and obviously has some history with Bernard. Priya is pissed that Vijay never contacted her after leaving his job on Wall Street and experiencing a period of severe depression. By the time their father passes away, Vinnie has won $18,900 betting on the Cleveland Browns. As soon as Vijay and Priya learn about the money from Bernard, a struggle ensues over who should get to keep it.
Will it be Vijay (the oldest child and the logical heir to his father's assets)?
Will it be Priya (who, along with her no-good husband, has been sued for running a marine salvage operation without a business license)?
Or will it be Bernard, who suffers from intermittent bouts of amnesia and, to everyone's surprise, has been named as the sole heir to Vinnie's estate.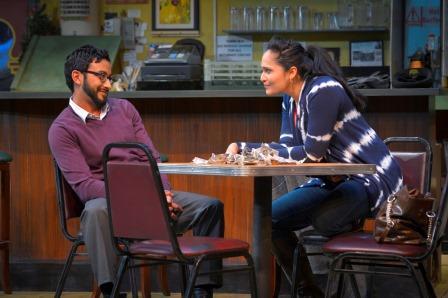 Vijay (Adam Poss) and his sister, Priya (Nilanjana Bose)
continue to argue in The Lake Effect (Photo by: Kevin Berne)
Mr. Joseph's tense dramedy reinforces his reputation as someone who can craft solid laughs while getting to the core issues surrounding a person's hidden agendas, emotional baggage, and conflicted history. He continues to show great skill in plotting as he slowly lets one inconvenient fact after another shift the balance of power between three severely wounded egos as Vijay, Priya, and Bernard all struggle to cope with the death of a loved one.
Working on a unit set designed by Wilson Chin, Sardelli's three actors deliver powerful performances, with Poss and Bose more animated than Bowen (for understandably emotional reasons). The play's final reveal -- and its curious resolution -- prove to be deeply touching.
REAL LIFE. REAL NEWS. REAL VOICES.
Help us tell more of the stories that matter from voices that too often remain unheard.