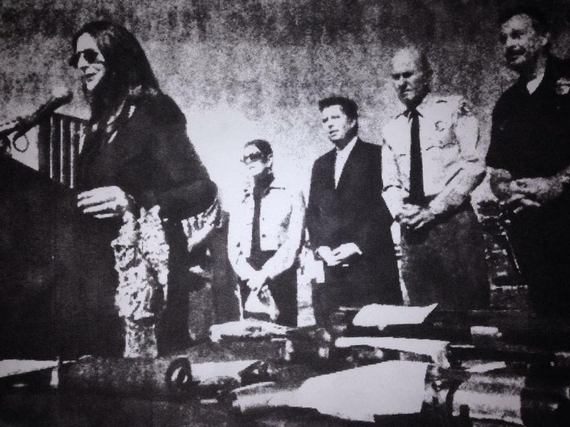 Blood in the Water: Art Stops Guns
Written by: Lin Evola
Edited by: Amanda Coppa
An uncontrollable epidemic of disastrous consequences is raging through our country and also throughout our world. Gun violence has no discrimination, not to race, gender, political affiliation, or religion. Every person in every corner of our world is hurting over the gun violence that has taken our world by storm.
As of 2009, an estimate number of firearms available in the United States of America was approximately 310,000,000: 114 million handguns, 110 million rifles and 86 million shotguns. There are no official numbers of AK47's, canons, knives, needles, hairpins, bombs or other explosives. While millions of people suffering from poverty and struggling to live, we are spending $17 trillion, globally, on producing these small arms and light weapons, which are used to kill.
In 2013 the Centers for Disease Control and Prevention logged 84,258 nonfatal injuries, 11,208 deaths, 21,175 suicides, and 786 accidental or undetermined deaths due to firearms. Since 2007 to now, wars have tripled in number, causing 60 million people to flee their homes and forcibly be on the run.
What people seem to put past perspective is that we will always be a "developing" world. We will always face struggles and challenges in all aspects, but the more violence there is, the less sustainable our world becomes. Human Beings have reached a tipping point, the point where we must decide whether to come together or to continue to destroy each other. To combat gun violence, we must focus on the continuous killings of innocents that are happening worldwide. Society wants to focus on environment and economics, but what good is a sustained environment and a great economy if we have no population still alive to enjoy it? Gun violence continues to impact the lives of everyone and until action is taken to curb this trend, more innocent lives will be taken from us.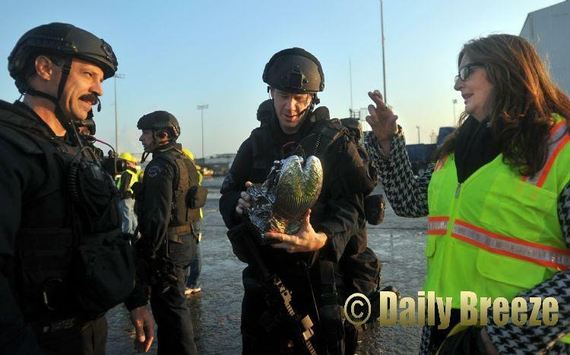 Oscar Arias, former President of Costa Rica and Nobel Peace Laureate was the first to take action to combat gun violence worldwide. Following the September 11, 2001 tragedy, he began a process that grew into the Biennial Meeting of States, a meeting in which United Nations Member States, International and Regional Organizations, and United Nations entities come together every two years to discuss the implementation of the Programme of Action to Prevent, Combat, and Eradicate the Illicit Trade in Small Arms and Light Weapons in All its Aspects. The goal is to reduce weapons through stockpile destruction, tracing weapons that become illegal, and identifying weapons trade globally. The problem presented at this year's sixth Biennial Meeting of States is that small arms related deaths have not gone down since the beginning of these meetings, in fact, the deaths have increased exponentially. We cannot implement change to actualize reduction of deaths by firearms globally, without the key word; implementation.
My attendance this year began a few days after the Los Angeles shootings and I completed my attendance just prior to the Orlando shootings. As I write this now, Nice, Baton Rouge, Turkey, and Dallas all have a different meaning than they did in June.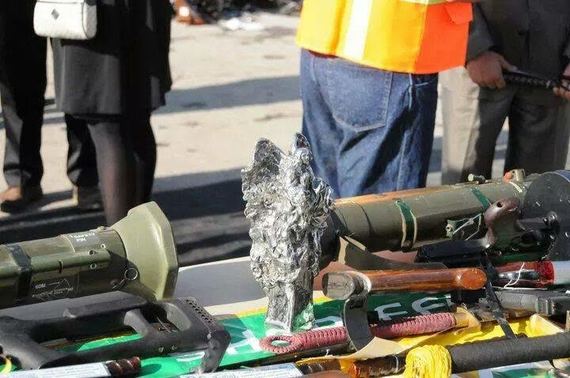 I feel as if I have a responsibility as an artist to bring awareness to harm caused by guns. I believe that art has a function in our world, it shifts the consciousness and directly communicates with the human soul. For example, the art of Jackson Pollock wasn't about drips of paint, it was about shattering the psyche during a time when world wars exploded the exterior while psychotherapy was imploding the consciousness.
When asked why I wrote the Peace Angels Project in 1992, I answered that I read in the LA Times that 1,000 children had been killed the year prior in Los Angeles County and I looked down and saw the face of my 8-year-old son, as we had just moved to Los Angeles. Like any parent, I believe that when my son was born, my body created my heart outside of itself. To discover that all of these children are being killed is destructive to the parents and the community itself. This epidemic of violence would change the fabric of a people.
In 1992, I began aligning myself with heroes that worked throughout Los Angeles. While these heroes were busy saving lives, I was writing the Peace Angels Project and focusing on investigating what we could do to stop the epidemic of violence in its tracks. I traveled to various national and international locations, visiting cities and countries with stockpiles of firearms, as high and as wide as city skyscrapers.
The view people have on art is very unique, especially for people at war. Beauty cannot exist in an area full of destruction and that is something you can only see from the view of war. War and destruction undermine the ability to build. Destruction and peace do not exist in the same place. In order to build a society, a family, a school, a business, anything, the fighting has to cease. When people asked for the Peace Angels, they asked for the art in which peace is embodied, as art is invited into the realm of war and shifted into life affirming peace.
The use of art communicates directly to the subconscious. I decided to use art to spread the awareness of the enduring problems surrounding gun violence and tip the volition into the oxygen of life. The Peace Angels Project was created to interrupt the cycle of violence through creating visual representations the greatness of Human Beings in which the pain that is often overlooked is represented in the metal itself. Art is a form of direct communication to humans through the signs and symbols they embody. That is why artists, such as myself, have destroyed weapons throughout history and created works of art out of them. Some artists respond to the war, but it leaves me with the notion of blood in the water.
The Peace Angels Project consists of figures of angels created out of the melted metal from weapons and ammunition from across the world. The Project transforms deadly and feared weapons into angelic figures that represent the potential of human beings to rise above violence and focus on peace. My young intern notes that: "You can't fight guns with guns, or else no one will make it out alive."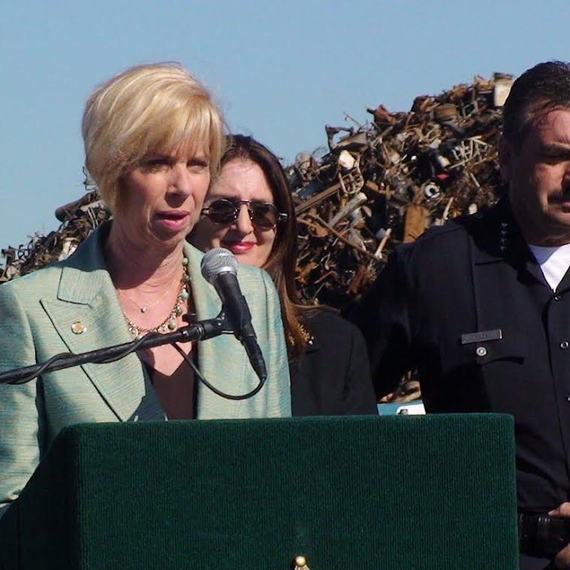 Weapon deaths will continue and increase as any epidemic does, that is an epidemic's nature. Discussed at the BMS meeting this year, it is estimated that arm sales from Britain to Saudi Arabia estimated at 3 billion pounds yearly, which is a violation of international law, yet, nothing has been implemented to stop this. Ukraine requested during the meeting for Russia to stop the continuous flow of illicit small arms, noting that many of the Iraqi and Syrian weapons that are being retrieved in conflict situations in the Middle East and Western Africa are coming across the Russian border, why? These are just two points of many that show how far the world has to go, on both national and international levels to combat gun violence and to stop fueling the issue at hand.
Tracks have been made to point the world in the right direction. The Bureau of Alcohol, Tobacco, Firearms and Explosives has distributed over $1 billion dollars to countries who destroy their stockpiles globally. However, not all stockpiles are governmentally owned and are often left behind unclaimed, which become a greater risk of being stolen for illicit trade.
We have a greater ability now to trace weapons back to where their components are made from. We know that many components are built in Brazil, China, India, the Netherlands, Romania & the Russian Federation. Most of the detonators, detonating chord, and safety fuses are being manufactured in India and sent to Lebanon and Turkey. Microcontrollers, which signal delays and transistors are manufactured in Japan, Switzerland and the USA. While all these countries manufacture and produce legal parts, components, and weapons, they also pose the risk of becoming illegal and illicit. We are able to identify weapons used in crimes and take them out of circulation through a global partnership of Interpol and Europol. The ITI (the International Tracing Instrument) has been formed to combat the flow of weapons. These markings can be made with alphabetical and numeric notations but also individualized symbols.
Higher levels of technology have both been a blessing and a curse in the 21st century. Many countries, such as Israel, requested at the BMS for higher technology to help combat terrorist who already have the higher technology. 3D printers are now being used to produce firearms, ammunition and other explosives and components. These items can be and are produced privately and so far, are untraceable; these are the weapons of greatest concern.
There will always be challenges and enormous amounts of effort still lie ahead to eradicate gun violence. The United Nations has a ground rule that documents can only be accepted through consensus meaning that every nation has to agree or stand aside on every issue in the document, in which Member States as a whole, come together. While the world is at a tipping point, this is just one small push in the direction of coming together.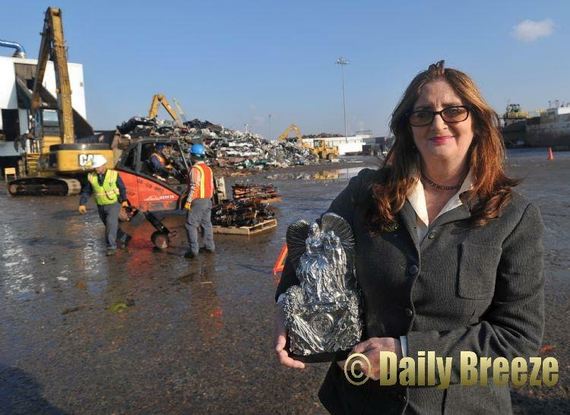 The International Action Network on Small Arms sponsored the Peace Angels Project to hold a side event at the BMS6 this year. Attendants were delegates, representatives, Non-governmental Organizations, and journalists. Nonviolence International wrote a very concise and inclusive article on the Peace Angels Project and Reaching Critical Will wrote an article in the Small Arms Monitor showing a picture of the Renaissance Peace Angel, which is currently in the permanent collection of the National September 11 Memorial and Museum. These articles were the Peace Angels Projects own tipping point. The Peace Angels Project was able to ask, with authority, each government for a small amount of destroyed weaponry for the New York and the Los Angeles Peace Angel monuments.
At this time, the Peace Angels Project is producing the first two city sized monuments: The New York and the Los Angeles Peace Angel monuments, each standing at 64ft. tall. Nationally, obtaining destroyed weapons, has already begun in Los Angeles, where the idea of the Peace Angels Project began in 1992. In 2010, The Los Angeles Sheriff's Departments of California already gave the Peace Angels Project over 1,000 destroyed street weapons led by the Los Angeles Sheriff's Department and the Los Angeles Police Department with law enforcement from half the Great State of California. The following year, 2011, Commissioner Ray Kelly, New York Police Department gave over 1,000 destroyed weapons for the New York Peace Angel to be created and placed at One Police Plaza, in New York City. In November 2011 the Los Angeles Police Department gave over 10,000 destroyed weapons including guns and semiautomatic weapons for the construction of the Los Angeles Peace Angel monument. In 2012, 100 barrels of decommissioned nuclear stainless core was given to the Peace Angels Project.
A media campaign began in December 2015 to request 1 million firearms per monument, to be destroyed by law enforcement to build the New York and Los Angeles Peace Angel monuments at 64 feet each. The firearms will be delivered by rail to our shipping facilities where it is mixed metallurgically. With a combination of cutting edge technologies in Silicon Valley, the best production facilities in Los Angeles, and the finest historic art production foundry in New York, A Peace Angel monument will be produced for each coast. The monuments will inspire, provoke and affect the evolution of the human race by encouraging human beings to progress from conflict to cooperation.
Both American citizens and global citizens who were in the World Trade Center Towers the morning of September 11, 2001 lost their lives. This sparked the idea to expand The Peace Angels Project to international levels in addition to regional and national levels.
Both Democrats and Republicans have lost children in our local streets that have now become killing fields. More Americans have died from US shootings since 1963 than all American's that gave their life fighting in war. Our world is swimming in a pool with blood in the water and our children are dying and will continue to die until we take action against gun violence.