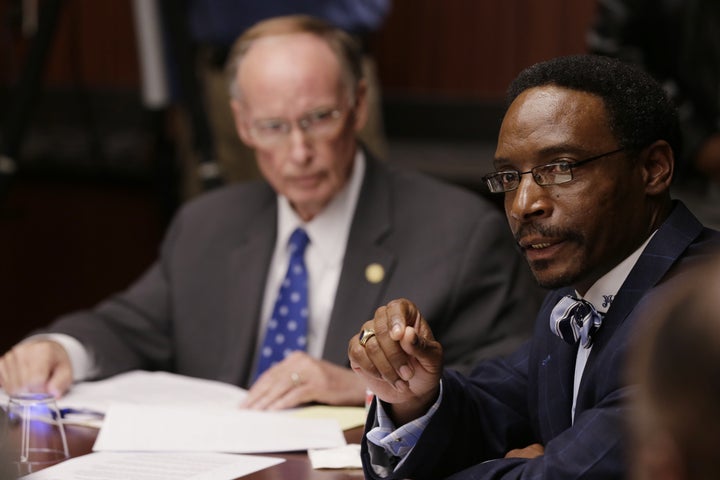 An Alabama judge has been accused of running roughshod over protections for poor defendants by ordering some to give blood or get locked up if they're unable to pay court fees. 
"If you do not have any money and you do not want to go to jail, as an option to pay it, you can give blood today," Circuit Judge Marvin Wiggins said, according to a Sept. 17 recording of him obtained by the Southern Poverty Law Center. "Consider that as a discount rather than putting you in jail."
The unusual bargain is illegal, according to the law center, because defendants cannot be jailed over debts they are unable to pay. There must be a hearing to determine whether a defendant has the financial wherewithal to afford the outstanding payments. Nothing in Alabama law stipulates that donating blood is an acceptable alternative form of payment either, according to the law center. 
"So, if you do not have any money and you don't want to go to jail, consider giving blood today and bring your receipt back or the sheriff has enough handcuffs for those who do not have money," Wiggins said at another point in the recording. 
In exchange for giving a pint of blood, defendants got a $100 credit against their debt and were allowed to go free, according to The New York Times. Many opted to donate blood that day, according to the Southern Poverty Law Center, which filed an ethics compliant against Wiggins for his treatment of indigent defendants. 
"In giving these orders, Judge Wiggins did not 'respect and comply with the law,' was not 'faithful to the law,' and did not demonstrate professional competence in the law," the complaint said. 
The recording also included a later exchange between a member of the district attorney's office and a blood bank worker. 
"Did we bring you all a lot of people," asked the official from the DA's office. 
"You sure did," said the blood bank worker. 
"You all came on a good day, too," the DA's official said later.
Dozens of defendants showed up before the judge on the day of the recording. About 500 had been summoned.  
Wiggins, like other judges from the court, has ordered defendants to pay for their court-appointed attorney without first establishing if they have the means to hire a lawyer, according to the Southern Poverty Law Center. The Constitution's Sixth Amendment guarantees the right to an attorney regardless of a suspect's ability to pay. 
There have been problems with some of Wiggins' other judicial decisions. The Court of the Judiciary "publicly reprimanded" Wiggins in 2009 for failing to recuse himself from a voter fraud investigation that involved his sister, brother-in-law and a cousin. 
A biography on the Alabama State University website says Wiggins became the first African-American judge on the 4th Judicial Circuit in 1999. He also was the youngest black judge in an Alabama circuit court. 
Attempts to reach Wiggins were unsuccessful.  
Calling all HuffPost superfans!
Sign up for membership to become a founding member and help shape HuffPost's next chapter