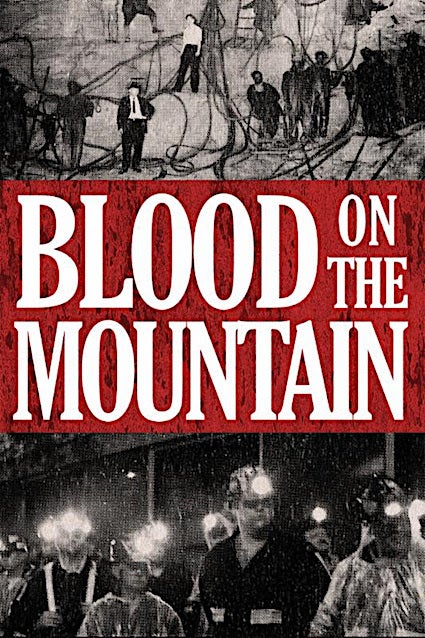 Mari-Lynn Evans and Jordan Freeman's "Blood on the Mountains" is a searing indictment of the coal industry's war on the people of Appalachia. But beyond its story of regional devastation, this stirring documentary is a template of class struggle across America.
Evans and Freeman track the development of the coal industry, nicely framing the main issues and players as they roll out their woeful tale. In the late 19th century, cheap abundant coal fueled the United States' industrial growth. Because this resource was located in rural areas, nascent coal companies were able to steer development. They could structure every aspect of the companies' composition and of their workers lives. Coal barons were able to shape this system in part because of the remoteness of mines from population centers and the failure of corrupt local and weak, remote federal governments.
Company towns, company stores, company doctors and company social centers were built around the mines so that workers could labor from dawn to dark non-stop. Having life's necessities nearby meant less work interruption. The companies' ownership of these necessities – housing, food, health care and even social outlets - bound the workforce to those who owned the means of production.
When the workforce rebelled, reformed or sought changes like higher wages, better working conditions or improved safety, company owners stifled change using private police or security forces to clamp down on rebellious workers. Often company towns were in areas outside the jurisdiction of public police. Mining enterprises commonly hired their own security forces. Life was cheap not only in the mines but at the hands of those that were supposed to enforce laws.
The film details how these conditions led to the battle of Blair Mountain. When in 1921, ten thousand armed West Virginia miners marched to demand change, martial law was declared and federal troops were sent in. The mining insurrection was suppressed by the soldiers. More effective than control of police powers was the control over allocation of jobs. People desperate for jobs were forced to work under deadly conditions. In the construction of Hawks Nest Tunnel during the Great Depression, 764 workers were killed from silicosis and buried in unmarked graves, their lungs having filled from the toxic dusts. The long history of miners' slow painful deaths from silicosis was punctuated by unrelenting murderous collapses of mines and related infrastructure. The Buffalo Creek Flood in 1972 killed 125, injured 1125 and left over 4000 of the town's 5000 population homeless when a coal slurry tsunami sent 30 foot walls of black waste to bury that town.
More recently, the criminal negligence of Massey Energy repeatedly ignoring health and safety violations resulted in the deaths of 29 of the 31 miners at the Upper Big Branch mine in 2010, the worst individual disaster since Buffalo Creek. The Mine Safety and Health Administration found that flagrant safety violations caused the disaster. Massey Energy's CEO the belligerent Don Blankenship was convicted of conspiring to willfully violate safety standards leading to the miners' deaths.
"Blood on the Mountain" shows us that guilt doesn't stop with the avaricious, heedless coal operators. Acting to try to protect Pittston Coal Company, builders of the Buffalo Creek Dam, West Virginia Governor Arch Moore tried to suppress his own investigatory committee report. Describing the continuous stream of accidents, deaths and disasters, Moore attributed them to acts of God, rather than the coal companies: "Why do all bad things have to happen to West Virginia. These are acts of God and where he picks to deliver his message, I don't know."
Later Governor Joe Manchin was hardly better, appointing a former coal executive to head up his Department of Environment. "We are looking for balance," said Manchin, "and it's tough to find balance in an extraction state."
Evans and Freeman's fine film is an effort toward that balance. Until recently the narratives from Appalachia have been shaped by the wealthy coal companies and their friends in government. "Blood on the Mountain" is the more complete story of the system built by coal industry to exploit the workers, communities and environment. Telling that story is a great contribution toward developing that region in a way that better helps its people, our country and the world.
(Film available through Evening Star Productions, television and video production)
Support HuffPost
The Stakes Have Never Been Higher
Related
Popular in the Community