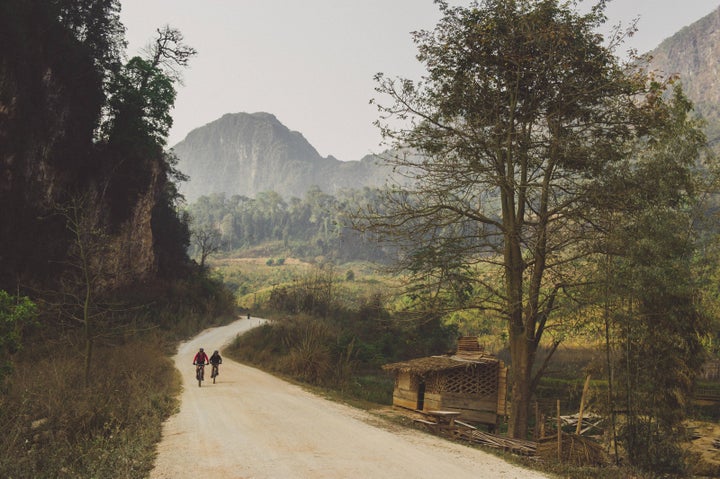 The first entirely in-house production from Red Bull Media House, Blood Road follows professional multi-sport athlete Rebecca Rusch as she and riding partner Huyen Nguyen become the first people to cycle the entire Ho Chi Minh trail through Vietnam, Cambodia and Laos. Where many adventure-based films fall short of providing any real substance, this visually stunning documentary goes far beyond simply completing a unique mountain biking route.
The purpose of Rusch's 1200-mile journey is to retrace the physical path that came into existence during the Vietnam War en route to the final resting place of her father: an American bomber pilot shot down in the closing stages of the war. The cultural scars and visual remnants of an utterly destructive war that Rusch and Ngyuen encounter during their travels are punctuated by the physical demands of pedaling over 1000 miles in the heat and humidity of Southeast Asia.
When Rebecca was three years old, her family learned of her father's disappearance, but information beyond that was scant. For decades, all they knew was Stephen A. Rusch's F-4 Phantom II plane had been shot down somewhere in Laos during a bombing mission. They did not know if had died as a result of the crash or if he had been taken prisoner, nor did US Air Force and thus he was declared Missing In Action (MIA). And so, Rebecca and her sister grew up without knowing the whereabouts of an absent father yet they knew there were, or at least, had been, loved by the man who helped give them life but about whom they knew so little.
Throughout the film, director Nicholas Schrunk fluidly weaves many of the letters Stephen wrote to his young family during his years in the war. Depicted by showing the hand-written notes paired with voiceovers, his sentiments ranged from the love of his children to his thoughts on the war itself. What begins as an almost callous tone of unashamed awareness for his job's destructive nature clearly evolves into a dissenting voice of a soldier who is losing belief of his purpose in an unending conflict. And such is the tone of the film: A daughter who desires to see her father's final resting place (on the 40th anniversary of his death) but is unsure of what she may find or learn along the way.
Although Huyen had never met Rebecca before embarking on their journey, she was recruited for the film because she was born and resides in Vietnam, and is also a professional cyclist herself. Her participation in Rebecca's pilgrimage sets the tone for the dynamic voice of the movie. Not unlike Ken Burns' recent Vietnam documentary, Blood Road openly depicts multiple perspectives on one of the most violent wars in modern history.
For too long, Americans have been fed a very biased viewpoint of the Vietnam War. For years, focus has been on the lives lost of US soldiers during the offensive, and this was seen as justification for why the US should have pulled out years before it did in 1975. However, the casualties and devastation inflicted on Southeast Asia were far greater and long standing than most Americans could imagine. In Blood Road, this point is visualized in a way that will leave you aghast.
From encountering UXOs (unexploded ordinance) among gardens in small villages, to witnessing bombshells repurposed as plant potters, the further along the Ho Chi Minh trail Rebecca and Huyen traverse, the more apparent the scars of war seem to become.
As the trials of simply navigating along this uneven and disconnected trail system help progress the chronology of the film, the difficulty occasionally appears to veer away from the purpose of the voyage: Rebecca visiting the crash site and final resting place of her father. Yet, every time that mission is almost clouded by depicting the physical task of cycling 1200 miles, Blood Road steers the viewer back on track.
One particular scene truly encapsulates the journey, Rusch's objective and evolving thoughts around the war and her father's participation in it. Huyen, Rebecca and their support crew come to a point in the trail where they must take boats across a small lake. As it turns out, the boats are made from the fuel tanks of the very planes Capt. Rusch piloted during his bombing runs in the region. The "Phantom" nickname given to the jets becomes an eerily apt dubbing as Rebecca is forced to confront the lasting legacy of her father's involvement in a destructive campaign.
While overhead drone shots are becoming increasingly tired and overused in visual storytelling, Blood Road uses them in a non-abusive manner to accompany, rather than guide, the dialogue. We see this usage in stunning shots as the journey continues southward. The marks of war become increasingly evident as Rebecca and Huyen pedal along the Ho Chi Minh, and on either side of the trail we see endless small ponds among the once dense Laotian jungle. The ponds, as Rebecca learns, are in fact craters left by the seven million tons of bombs dropped in the region during the 20 year conflict. Encountering a landscape so obviously transformed by war understandably has a profound impact upon both cyclists and indeed the viewer as such footage is rarely shown in any media around the Vietnam War, or the American War, as it is known in the region.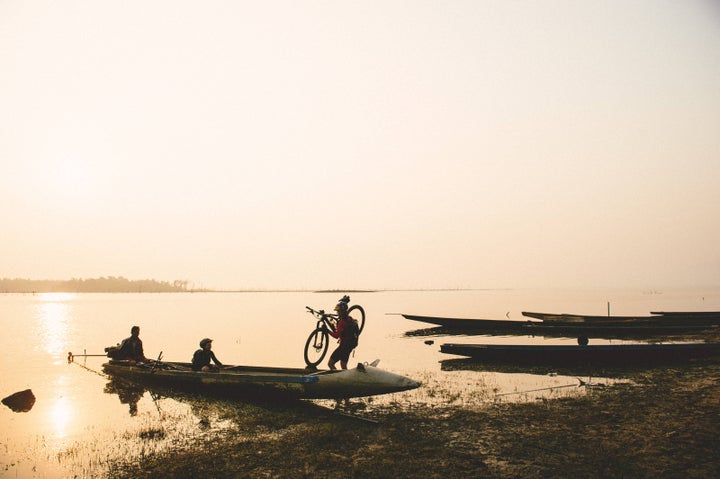 Throughout the film, Huyen is open in discussing her sentiments around what the ride means for her. She has no issue speaking about her thoughts on the war and how it continues to affect her life and the lives of the Vietnamese people. However, she is also forced to meet Rebecca's stoicism halfway. Rusch's tendency to vail her emotions is constantly put to task by both Huyen, their surroundings and the ultimate goal of reaching her father's crash site.
Finally, after hundreds of miles pedaled, the pilgrims reach the purpose of their trek: the village nearest to the location of Capt. Rusch's crashed plane. However, the real payoff comes when Rebecca meets, via their Laotian interpreter, the son of the man who both shot down and buried her father. The confluence of past events, emotions built up from a lifetime of a missing father and his tragic demise, and the journey the two cyclist have endured evokes a palpable gut reaction from Rusch and in turn, the viewer.
The story of Blood Road plays out like just that: a story. But it is reality and while not a fairytale ending, Rebecca achieves exactly what she set out to do. I will not spoil it here and will simply say the symbolism of Captain Stephen Rusch's final resting place left a lasting impression upon this particular viewer. Following this touching moment, you come to the realization that the journey is only half complete, but the emotional strain upon Rebecca clearly lifts as she and Huyen continue on their way to Ho Chi Minh City.
As Rebecca said when I interviewed her recently, "…The physical part is much more familiar; it's what I'm trained for and really the emotional journey was the hard part and something that was totally foreign territory for me. I think I needed to ride twelve hundred miles to get to the crash site. If I had just gone there, hiked in and found the spot, I wouldn't have received all those lessons…the history along the trail and the people who live there now and seeing the bomb craters; really I needed to I needed to immerse myself in that way for a couple reasons: one, to really experience what it's like there but to also physically just strip away all the defense layers.
"I'm not a super emotional person. As an athlete I'm sort of trained not to do that; not to show that kind of emotion and so riding a super long distance was necessary for me to peel away those defense layers and combine what I do. But also make me a little more vulnerable physically so that I could be more open emotionally."
Meaningful documentaries are probably not what come to mind when you think of Red Bull. More than likely, your mind veers toward (in no particular order): energy drinks, people doing crazy shit, Mini Coopers, and people doing crazy cool shit. Yep, same for me and good on Red Bull for cementing those images in our minds, because that's their intention. But their ethos seems to be maturing to also include touching films that both surprise and educate the viewer. This is exactly what Red Bull Media House has accomplished with Blood Road.
By mixing the adventure and physical demands of mountain biking while retracing the lasting stains of the Vietnam War while seeking a specific location in the hopes of emotional respite, Rebecca Rusch, director Nicholas Schrunk, and Red Bull Media House have created purposeful storytelling that transcends the action sports subset, effectively speaking to multiple demographics and ethnicities.
Following the filming of Blood Road, Rebecca could not get the thoughts and images of the journey out of her mind. As you can see in this short called A Bomb's Journey, the adventurer has become a philanthropist as well. Retracing some of her initial trip, Rusch has been revisiting the UXO filled regions Laos to help build awareness and cleanup efforts.
As Rebecca remarked on first encountering the bomb craters, "…initially I didn't believe that's what they were. And to be in those rural areas and see how everyone has repurposed the model and used the model. And we're both [Huyen and Rebecca] discovering that together. It was definitely one of the most shocking things; when all that stuff still remains from 45 years ago and how resourceful they were with anything that was metal. But then also the flipside of that of them going and getting metal is that the bombs are blowing up and still threatening them…"
Related
Popular in the Community