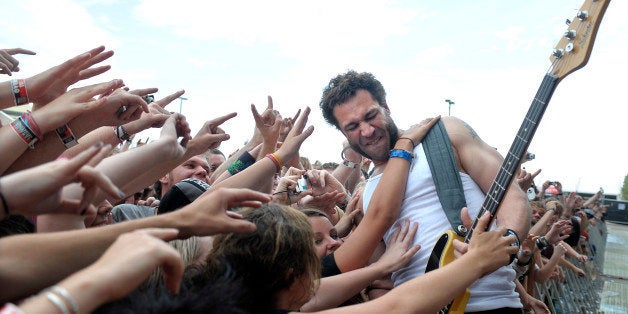 The American band found themselves in hot water last month after a video emerged showing bassist Jared Hennegan, better known by the stage name Jared Hasselhoff, stuffing the Russian flag down his pants during a concert in Ukraine. The AP reported at the time that the band, which is famous for sexually explicit songs like 1999 hit "The Bad Touch, was promptly booted out of a Russian music festival, and several Russian officials are said to have immediately slammed the group members for their antics.
In a statement posted on its website Monday, Russia's Investigative Committee said that it has now opened up a criminal case against Hennegan, as well as the band's singer James Moyer Franks, aka Jimmy Pop.
By using the Russian flag on stage in a "derogatory" manner, the musicians "entered a criminal plot to commit actions aimed at humiliating the human dignity of Russian citizens on the grounds of nationality," the statement reads, adding that Hennegan "desecrat[ed] … a national symbol."
Popular in the Community