The best part of binge-watching television series like Netflix's Bloodline is speeding towards the surprises -- characters grow on us, evolve and then take a turn we never saw coming -- which of course brings us to Kevin "oh no you didn't" Rayburn. The underestimated, impulsive f-up kid brother who ended Season Two by being pretty focused after all.
Even more surprising to those not familiar with this actor is the fact that Norbert Leo Butz is a hugely accomplished Broadway performer known for his award-winning lead roles in the musicals Rent, Wicked, Catch Me if You Can and Big Fish. If you listen carefully you can hear a real singer's voice when he speaks. He's also played edgy and nuanced dramatic roles in plays including Speed the Plow and How I Learned to Drive and is currently working on the second season of Mercy Street in which he plays a Civil War-era surgeon.
Butz's broad range and sheer talent, along with his non-matinee idol looks, puts him right up there with Philip Seymour Hoffman and Paul Giamatti -- versatile, gifted and crazy smart.

A Midwesterner from large Catholic family, he got his start touring the country performing Shakespeare in the Nebraska Theatre Caravan. His career slowly and surely took off after a move to New York but then the actor suffered a terrible loss in 2009 when his sister Teresa was raped and murdered in Seattle after which he vowed to never play a role that included violence against women.
All of which brought this classic American actor to this series and this role -- a weak man seeking strength, an addict seeking peace, a son and brother of violence finding his identity. A gorgeous performance and a star turn.
I recently interviewed Butz about his role as Kevin on Bloodline: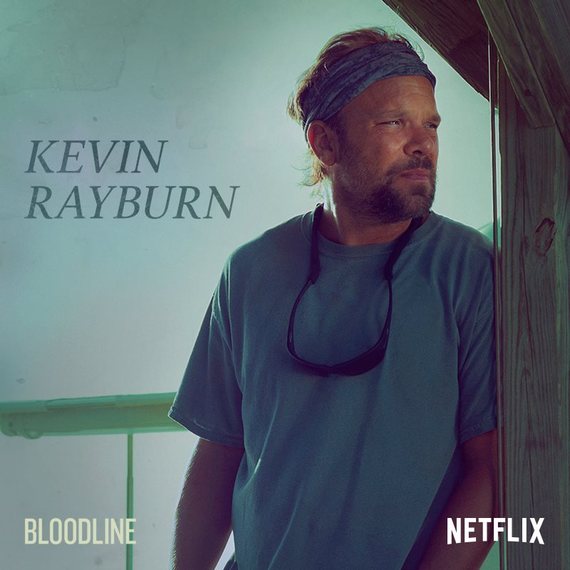 Nancy Doyle Palmer: It may be a surprise to Bloodline viewers not familiar with your career that you are such a highly regarded and accomplished actor and singer on and off Broadway. Can you talk a bit about how you changed gears to give us the seemingly simple-minded and impulsive character of Kevin?

Norbert Leo Butz: It was nothing intentional or planned out. Although maybe in hindsight I was more open to the idea of leaving New York for a series. After the last show I did in NYC (Big Fish) I was pretty burned out. Specifically, on Broadway musicals. It's a punishing schedule doing eight shows a week, especially for my wife and kids, and my voice and body were clamoring for a break. When I got the opportunity to audition for Kevin, I leapt at it. The cast, the writing, the location: it was a pretty simple and organic decision.
NDP: You come from a large family -- did you bring any of that dynamic into the Rayburns in your specific role as the kid brother?
NLB: On some level probably. Not consciously. You bring yourself and your own narrative to every part.
But yeah, on some level for sure. I'm one of 11. I've lost two siblings and my dad in the last six years, so that was interesting. The Rayburns are a lot of things, some not very noble. But I maintain they are first and foremost a family shaped by grief. Or rather by their inability TO grieve. And that resonated with me throughout the filming process. Profoundly.
NDP: Talk a bit about your co-stars on this show -- did on-set relationships become at all sibling-like?
NLB: I'd say yes. Again, not intentionally but that's the nature of this beast. We all live down there, near each other, while filming, and spend much more time with each other than we do our real families.
The benefit of course is that over the course of 23 episodes we build trust as actors. We are allowed the freedom to take risks, physically and emotionally, the way people do with those who know them most intimately. And this is an extraordinary group of actors, by anyone's standards.
NDP: Spoiler alert. What was your reaction when you saw the script and learned you were going to do to Marco? Did you know Kevin had it in him?
NLB: Well that's the great theme of the series, isn't it? None of us know what we're capable of when the circumstances of life become extreme, unreal, traumatic. How do people behave when they're fighting for their very survival? And what are we capable of doing in the name of family loyalty? Having said that I literally didn't sleep for three nights after reading that season finale. Which was only a couple days before we shot it! They keep us on the front foot, these writers, that's for sure!
It scared me and made me sad and threw me for a loop. But during the process of shooting it, I discovered it made a kind of perverse, tragic sense. And it opens up fascinating possibilities for future stories.
NDP: Along these lines, you have spoken about your own commitment to "help end the culture of violence against women on television, in music, in homes and public parks and backseats of cars all over America." Did this factor into your accepting the role in Bloodline because of its absence of this specific kind of violence?
NLB: Yeah it did. And in fact when they offered the part I called Glenn and Todd and had a conversation with them about what, if any, violent acts my character might commit, specifically against any female characters. They were open and understanding and assured me that that was not the story they were telling, and they have been true to their word on that front. It's just not something I'm capable of playing. Kevin's violent acting out is primarily against his own mind.
NDP: Discuss the differences in how you approach a role for series like Bloodline and Mercy Street as compared to your theater work.
NLB: That's complicated. In one sense they are the same: you start with the script and find your way to the role. You study the words, your actions, your contribution to the larger narrative. That part is the same. But it's very different in terms of performance energy. Acting for film is a sprint. Doing a play is a marathon. Those are really different skill sets.
NDP: What is it like to shoot a movie in the Keys -- it's a character and theme in and of itself in this show.
NLB: I'm unabashed in my love and loyalty to The Florida Keys. I will be returning there long after Bloodline. I've always been drawn to the water, in any form. Being from Missouri I was raised on its rivers. I'm a swimmer and a diver and I need to be in or near the water. Which you can, year round, in the Keys! There are no high rises; not even many tall trees, except for the old Banyans and ficus trees, maybe the poison woods. And of course the Coconut trees, so the sky is just unbelievably wide and open. Everything is in panorama. It's intoxicating. I just love it there. And talk about light! It's a cinematographers dream.
NDP: You once called yourself "the most successful unsuccessful actor in New York" -- do you feel like amending that now?
NLB: Ha! I probably said that after the premature closing of a show I did. If success is being able to do what you love and make a living at it, then yes, I should probably retract that statement. I'm blessed to be a working actor on interesting projects in different mediums.
Calling all HuffPost superfans!
Sign up for membership to become a founding member and help shape HuffPost's next chapter