 Bloody, Bloody Andrew Jackson is a hard-rock musical that tells the life story of this nation's seventh president in modern lingo to make the 19th century relevant to youth culture. Lets just say, been there, done that, hella better.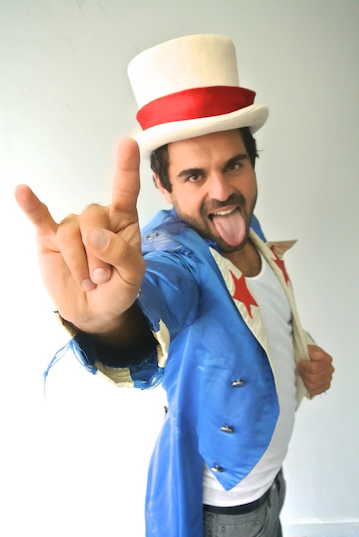 Photo by by Lauren English
Jesus Christ totally became a rock star back in the 1971 when the rock musical Jesus Christ Superstar transubstantiated God's only son into someone the kids could really groove on.
That innovation, of contemporizing a historical figure with pop music and a hip vernacular is now a familiar way to make an archaic story pertinent to our times. Andrew Lloyd Webber's '70s musical explained populism and the rise of magnetic populist figures by comparing their careers to those of celebrities and rock stars.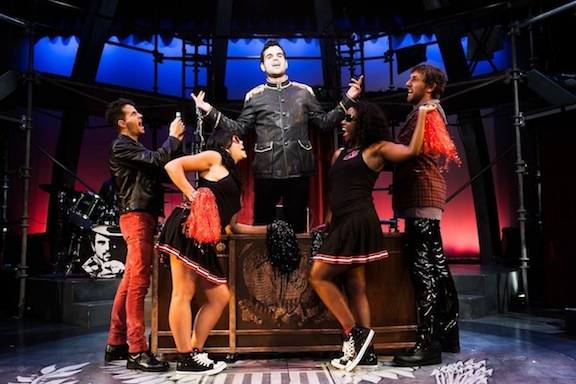 Photo by Jessica Palopoli
Bloody Bloody Andrew Jackson re-imagines Jackson as a guitar slinging, "Injin'" shooting bad boy with a potty mouth. The 2006 musical, written by Alex Timbers with music and lyrics by Michael Friedman opened on Broadway to mixed reviews in 2009. Although it was nominated for several Tonys, it closed early in New York. Last week, San Francisco Playhouse launched its 10th season with the play.
Giddy and anarchic, the production is an accessible account of the birth of populism, the founding of the Democratic Party and Jackson's obliteration of Native American tribes. For the most part, the musical revels in its dumbed-down version of history. The play relies heavily on the drawn-out gag of anachronistic ineloquence. If that fourscore stuff is a real snooze, won't kids today perk up to hear the prez say that "James Monroe is a douche bag?"
In these 1900s, the OED has been shelved and replaced by OMG and its ilk of thumb-talk and inarticulate youth-speak. And stuff.
Ashkon Davaran plays Jackson as a petulant youth having one long hissy fit. He sings "Life sucks and my life sucks in particular" and John Quincy Adams and Henry Clay's back-up singers sing "Jackson is a loser. Jackson is a loser."
The back-up singers make a cheery brigade of groupies and play other roles with solos and some clever lyrics. Angel Burgess plays Jackson's wife, Rachel, who dies more or less from abandonment and heartbreak, when Jackson decided to run for a second term. Crushed and defeated, she sings a sad ballad: "I always thought I'd live in a house with a dog and some kids and some slaves..."
El Beh plays a cello, waving it like its an electric guitar. She sings "Ten Little Indians," charting the demise of the Native Americans as they were pushed back off their land in the Trail of Tears.
Safiya Fredericks plays Black Fox, a Native American chief who negotiates with Jackson on the Indian Removal Act of 1830.
A little old lady narrator (Ann Hopkins in a scooter) narrates the story in historical context, posing the question, "was Jackson a great president, an American hero or a genocidal murderer?" Jackson who does not want the history books to define him, keeps shooting her in the head.
In fact, blood, bloody ambushes, blood-stained clothes, gun shots and arrow wounds add to the over-the-top humor in this bad attitude version of a middle-school history play.
William Elsman, Michael Barrett Austin and Lucas Hatton play political foes and supporters and round out the onstage band under the musical direction of Jonathan Fadner.
Jon Tracy directs a large cast of frontier cowboys, wild west militiamen, establishment politicians, Indian chiefs and womenfolk. The ragtag renegades stomp around with thrasher dance moves, hanging from ladders on a set with metal scaffolding. Their defiant rebellion rock looks a bit like the stage of American Idiot, the show based on the music of Green Day.
But the talent is much more amateurish. In fact, it is surprising that a play that relies so heavily on music features pretty sub-par singers. Some are off-key. Head-banger punk rock may often strive for dissonance and noise, but here, the actors are called upon to sing songs that are audible over the electric guitars and pounding percussions.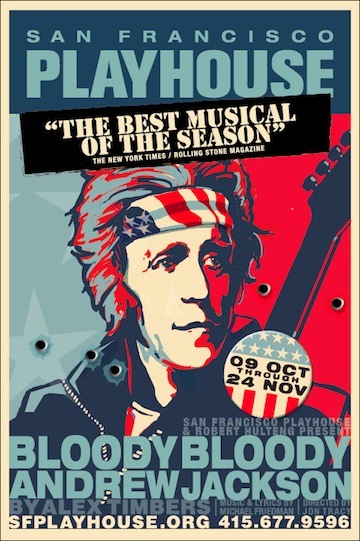 The show has been described as an "emo rock musical." Short for emotional hardcore. A subgenre, "screamo" may be even more apt, as it accentuates the aggressiveness. Emo musicians have a certain look, and the music has been associated with self-mutilation and suicide too. In Bloody, Bloody Jackson has a compulsion to cut his wrists.
Davaran's Jackson is certainly an interesting combination of aggression, self-pity and bravado. He struts the stage and asserts political promises such as "I'm gonna fill you with Popula-jizz-m."
Call me an old-fogey but my favorites aspects of the show were the historical insights and the parallels to contemporary politics. Jackson's fan base gushes that the president invited the public to attend his inauguration and that he actually turned to bow to the people. Of course, one thinks of the massive stadium concert that was Barack Obama's crowd-pleasing inauguration. Candidate Obama speaks of our vital participation in his election (enough with the email blasts!) and tells us that we are the one's he's been waiting for. Andrew Jackson brings his groupies, some with pom poms and sunglasses, into the Oval Office. "What the people want," he proclaims, "is pizza!"
"Bloody Bloody Andrew Jackson" runs through November 24 at the SF Playhouse, located at 450 Post Street in San Francisco, Calif.
This article appeared originally on KQED Arts.
Related
Popular in the Community