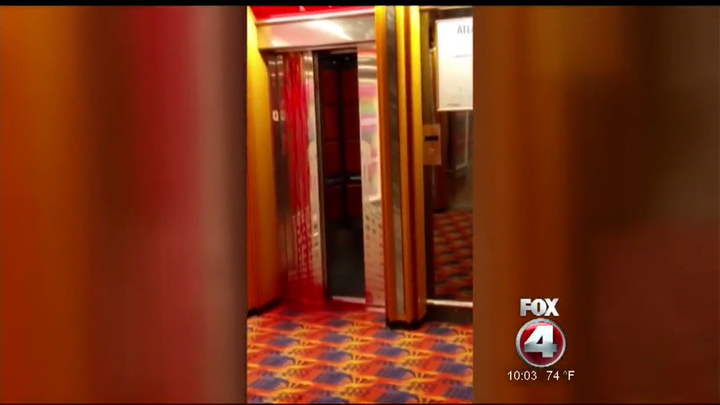 A family's Christmas cruise turned into a real-life horror movie when graphic video shows them coming across an elevator dripping with blood after an employee's freak death.
Matt Davis said he was heading to dinner on board the Carnival Ecstasy Sunday near Miami when he and his wife Susan came across the horrifying sight.
"To look and see the elevator with just blood coming down like a sheet, and not stopping... it was a real life scene of 'The Shining,'" he told WFTX-TV while comparing it to the 1980 horror film which featured a similar sinister scene.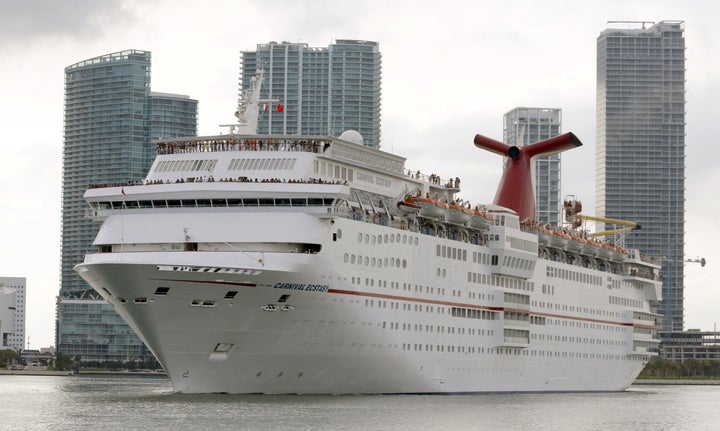 Video shot on his cell phone shows what appears to be a large stream of blood, at least a foot in width, pouring down one of the two reflective doors. It pools onto the ground and soaks into the carpet.
An off-camera employee is heard trying to divert them away from the extremely graphic scene as Davis reacts to the gruesome sight in front of them.
"That can't be right. No. That's not possible!" he's heard as his camera focuses on the elevator's bloody doors which are seen resting partially open.
Davis said it took about 45 minutes before the elevator was cordoned off from the public's view.
When they inquired about what happened, he said a waiter told them that an electrician got hurt. 
The cruise liner later confirmed that the electrician had died. He was identified by Miami-Dade police as 66-year-old Jose Sandoval Opazo from Liguria, Italy.
The police department and Miami-Dade coroner's office declined further comment on the incident when reached by the Huffington Post Thursday, saying it's still under investigation by the city's homicide unit. 
In a statement released by Carnival, they said Opazo was working on the elevator when he was killed. Exactly how was not released. 
"The company extends its heartfelt sympathy to the family and loved ones of our team member," they stated in part.
David told WFTX that Carnival offered to pay for three counseling sessions for them over the potentially traumatizing incident.
PHOTO GALLERY
Philadelphia
REAL LIFE. REAL NEWS. REAL VOICES.
Help us tell more of the stories that matter from voices that too often remain unheard.