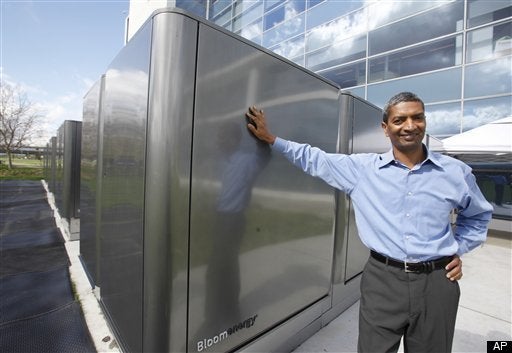 The Bloom Box launch was praised by representatives from major companies and officials including Gov. Arnold Schwarzenegger.
The much anticipated Bloom Energy product launch included details on the Bloom Box, essentially a power plant in a box. The California start-up claims it is a major breakthrough in clean energy technology.
Schwarzenegger said at the Bloom Box launch that 160 years ago people flocked to California for the gold rush and that same spirit is alive in Bloom Energy's Bloom Box.
John Donahoe of eBay, Bill Simon of Walmart, Brian Kelly of Coca-Cola, and Google's Larry Page also attended the Bloom Box launch. Donahoe remarked that the product is "almost too good to be true."
New York City Mayor Michael Bloomberg said of the product, "Make no mistake, when we look at Bloom, we are looking at the future of business, economy, and America."
You can't get one yet, but K.R. Sridhar, founder of Bloom Energy, says there will be one in every American home in five to 10 years.
WATCH THE 60 MINUTES PIECE ON THE BLOOM BOX:
Popular in the Community