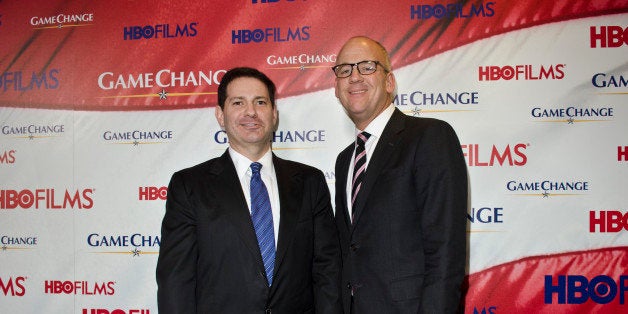 The long absence of Heilemann's byline -- which coincided with a period from mid-October to late January in which Halperin was also not writing for the site -- hasn't gone unnoticed within Bloomberg, given that the marquee journalists hired to lead the site are each making a reported $1 million a year.
Those rumblings have only been exacerbated by tensions between the New York-based Bloomberg Politics team and Bloomberg News staffers in the company's Washington bureau, which had steered election coverage in the past. Some Washington sources say the bureau has been marginalized by the shift to New York, and in recent weeks several D.C.-based political journalists have left the company. Last week, top editors from both sides met and discussed the presidential election and "making editorial operations in D.C. and New York more seamless and leveraging the full resources of Bloomberg's Washington bureau," a Bloomberg spokesman said Thursday.
The Huffington Post first inquired last week about Halperin and Heilemann's bylines after sources familiar with the matter said management bristled at the latter's first piece for its use of profanity and anonymous quotations, both of which ran afoul of the company's strict style guide, The Bloomberg Way.
While journalists can use anonymous sources to provide specific information, The Bloomberg Way prohibits "direct quotes from anonymous people." Bloomberg journalists can only publish obscenities when they are part of a newsworthy, on-the-record quote and not simply to add color. Bloomberg style may be looser on the web than within its subscription-based terminals, and some Bloomberg Politics articles include obscenities. But anonymous quotations remain off limits.
Heilemann was never prohibited from penning items for the site, sources said, but simply had not done so. His absence was notable nonetheless, given that he is a well-regarded writer, who previously authored New York magazine's "Power Grid" column and served as a staff writer for The New Yorker, Wired and The Economist. He's also been a National Magazine Award finalist and had work appear in three anthologies of the best American political writing.
Halperin returned to writing Jan. 30 with a piece in which sources suggested Mitt Romney would likely enter the presidential race; hours later, the 2012 Republican nominee announced he would not. Halperin has written several pieces since, and on Wednesday reported exclusive fundraising tallies for Texas senator and 2016 hopeful Ted Cruz. Both pieces relied on anonymous sources, but neither included anonymous quotations.
In a statement, a Bloomberg spokesman stressed that the pair have many duties beyond writing, including hosting an afternoon politics show, "With All Due Respect." The spokesman said "their focus is far broader, from building the team to forming the entire new product -- news-gathering, TV, web, print, digital video, polling, partnerships, special events and anchored live stream coverage."
"It's always been a collaboration with Bloomberg's Washington bureau and in the six months since launch, Mark and John have interviewed 14 presidential candidates, traveled across the country and hired more journalists to cover the 2016 election -- all on top of anchoring a daily show on Bloomberg TV," the spokesman said. "They've been writing as much as they can -- and often contributing and guiding reporting or sourcing without bylines. You'll see more of them directly on the site as we head into election season."
There are few campaign reporters with a higher profile than Halperin and Heilemann. And when Bloomberg brought them aboard, it was expected they would build an aggressive, multifaceted media operation in time to capture the growing 2016 audience. There have been some clear successes, but also difficulties in meshing -- both managerially and stylistically -- an aggressive online news operation with a buttoned-up media company. Halperin and Heilemann, after all, are perhaps best known for campaign books that rely heavily on insider gossip and anonymous sources.
Michael Bloomberg originally launched his company as a subscription-based financial news service, which expanded in 1990 with Bloomberg News. While Bloomberg News, with more than 150 bureaus worldwide, remains key to the media giant's profitable terminal business, it has also lavished resources and attention on new consumer-focused sites like Bloomberg Politics and Bloomberg Business.
That's caused its share of internal tension. In August, Politico reported on the somber mood in the D.C. bureau after the cancellation of "Political Capital," a public affairs program hosted by Al Hunt, who largely built the Washington operation. The ax fell as the company prepared to launch Bloomberg Politics, as well as Halperin and Heilemann's TV show.
Management also seems increasingly to be split between the two power centers. Currently, executive editor Winnie O'Kelley oversees the D.C. bureau, but divides her time between Washington and New York. She took on the role a year ago after several high-profile departures in Washington, including executive editor Susan Goldberg and managing editor Tim Franklin.
Over the past month, several Washington-based political journalists have left Bloomberg, including Lisa Lerer (to AP), Annie Linskey (to the Boston Globe) and Jonathan Allen (to Vox). The departure of Allen, the Washington bureau chief for Bloomberg News, was especially notable, as he had been hired with great fanfare a few months before Halperin and Heilemann were, and had been expected to play a large role in 2016 coverage.
The company threw two book parties last year, in New York and Washington, for Allen's book HRC: State Secrets and the Rebirth of Hillary Clinton. On April 15, 2014, Allen and The Hill's Amie Parnes, his co-author, inked a deal for a second Clinton book pegged to the 2016 election. Two weeks later, Michael Bloomberg tweeted a photo of himself with the authors at a company-sponsored party and offered his congratulations.
Allen was promoted to Washington bureau chief the same day that Bloomberg posted his tweet. Allen took on more managerial duties as a result, and continued to write on politics and appear on television, including in the wake of recent revelations about Clinton's use of a private email account while secretary of State.
However, management in New York made clear to Allen that Bloomberg Politics took precedence in covering Clinton and had its own reporter assigned to the Democratic front-runner, according to sources familiar with the situation. That afforded Allen few opportunities to cover Clinton, the subject of his and Parnes' next book.
Earlier this month, on April 1, Allen joined Vox as the site's chief political correspondent, and his first piece for the site was on what Clinton had learned from the previous campaign as a new one begins.
In an email to HuffPost, Allen said, "There are a lot of talented people who are smart about politics at Bloomberg" and "the future there is bright."
The day after Allen left, Bloomberg Politics named Kathy Kiely as Bloomberg Politics' Washington news director, a new position that includes liaising between D.C. and New York. Halperin and Heilemann both visited the bureau that day to introduce Kiely to the Washington politics staff, for what a spokesman described as an "election kickoff meeting."
Related
Popular in the Community