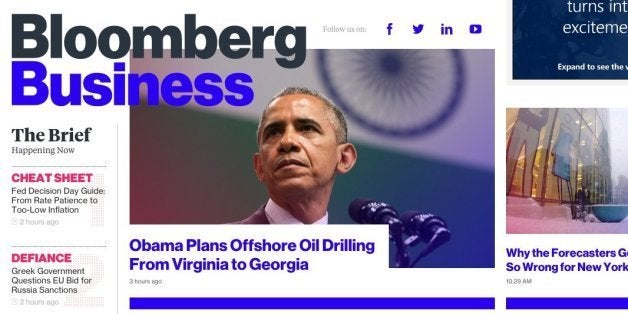 Despite a number of delays and setbacks over the past several months, on Tuesday night Bloomberg L.P. successfully launched its highly anticipated "flagship digital destination," Bloomberg Business.
The site is intended to serve as a central hub for all of Bloomberg's media outlets, allowing visitors to access content from Bloomberg News, Bloomberg Businessweek and Bloomberg TV, as well as a number of new channels. With the goal of streamlining the company's services, the new portal has done away with Bloomberg.com and Businessweek.com, bringing both entities together under one roof.
"Bloomberg Business will be the flagship for all of our consumer media activities on the Web and beyond," Justin Smith, CEO of Bloomberg Media, said in an interview with The Huffington Post. "We have so many content assets, and what you're seeing us do here is reorganizing, re-architecting them into what we believe is a clear and more simple -- and frankly more consumable -- menu of choices."
Though the portal was slated to launch last fall, Bloomberg decided to flip the release date of Bloomberg Business with Bloomberg Politics in order to capitalize on the potential wealth of content driven by the 2014 midterm elections. Bloomberg Business was then expected to be unveiled on Jan. 20 ahead of the World Economic Forum in Davos, Switzerland, but again the launch was delayed, leading Bloomberg to cancel a press briefing.
"The tech team and the editorial team spent the six days, through the weekend, fixing what were these pernicious bugs that had emerged," Smith said, admitting that the most recent delay was a "bit of an embarrassing situation."
"Listen, this is Bloomberg," he continued. "We wanted it to be in great shape and we wanted it to be both incredibly technologically sound, but also beautiful and just world class in every way. So we didn't want to press the go button until that was guaranteed, and that happened to be last night."
Since returning to the company in January 2014, Smith says Bloomberg founder and former New York City Mayor Michael Bloomberg has been "very hands on" and "very involved with the strategy and the execution of this project."
In a memo to staff, also provided to the HuffPost, Bloomberg expressed his hopes for Bloomberg Business.
"The new site capitalizes on Bloomberg's unique media strengths," he wrote. "It combines the heart of Bloomberg News -- factual, reliable, authoritative, and lightning-fast reporting that covers the world -- with the spirit of Bloomberg Businessweek, which has earned a well-deserved reputation for excellence in both design and journalism, offering insightful, imaginative -- and at times irreverent -- stories and features."
"Bloomberg Business unifies our news and media assets, something I've been particularly focused on since returning to the company last year," he continued. "For the first time, our users will easily be able to capitalize on the combined strengths of our global media assets, which are unmatched."
Calling all HuffPost superfans!
Sign up for membership to become a founding member and help shape HuffPost's next chapter