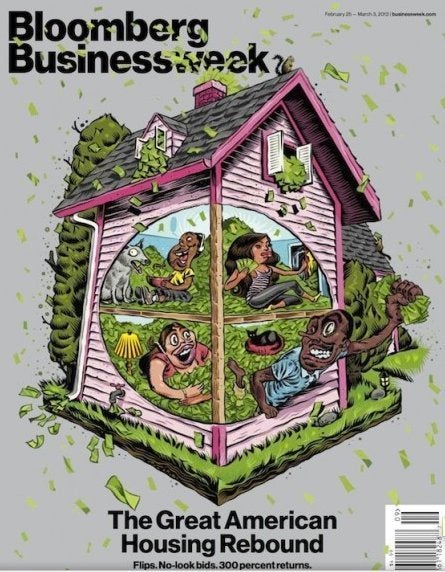 Last week's issue of Bloomberg Businessweek drew wide attention for all the wrong reasons. For its story on the new housing rebound, the magazine's cover featured cartoonish depictions of minorities practically drowning in cash. Journalists, bloggers, and politicians all denounced the cover as racist. "They [the magazine] ought to be ashamed," wrote Matthew Yglesias at Slate.
The Bloomberg Businessweek cover was offensive because it played upon the worst stereotypes of Latinos and African-Americans. Not only was it incorrect in suggesting that minorities caused the housing crisis, it was not at all an appropriate illustration for the accompanying article. Unfortunately for Bloomberg Businessweek, this cover represented a tremendous lapse in editorial judgment.
The cover in question showed four bug-eyed, big-lipped people lolling about a pink shack that is literally bursting with dollar bills. While the ethnicity of these characters is ambiguous, one thing is clear: none of them are white. It is astonishing that no one at Bloomberg BusinessWeek realized that this imagery -- showing minorities as lazy, irresponsible, and greedy -- would be perceived as insulting to people of color.
The cover also missed the mark because it does not match the accompanying article. In "A Phoenix Housing Boom Forms, in Hint of U.S. Recovery," writer Susan Berfield present an insightful look at the Phoenix housing market, with no emphasis or reference to race or ethnicity. And if the illustration was intended to show a multi-cultural community like Phoenix, it failed. According to the United State Census Bureau, Phoenix is 40 percent Hispanic and six percent African-American. So why weren't there any caricatured white faces on the magazine's cover, lounging around that pink shack?
Josh Tyrangiel, the editor of Bloomberg Businessweek, addressed the controversy in a statement to the website Politico. "Our cover illustration last week got strong reaction, which we regret," he wrote. "Our intention was not to incite or offend. If we had to do it over again we'd do it differently." Without doubting Tyrnagiel's sincerity, this is not enough. Consider that he says that he regrets the cover's "strong reaction," not its inflammatory, insensitive content. Tyrnagiel, who was Advertising Age's 2012 Editor of the Year, owes his readers and the public a genuine apology. Inadvertant racism is still racism. The fact that the artist behind the cover was Hispanic is irrelevant; this cover was offensive, no matter who drew it.

True, Bloomberg Businessweek is known for its provocative covers. There was the one showing two airplanes apparently having sex, above the tagline "Let's get it on." Another one, on the Mormon business empire, depicted Jesus telling Joseph Smith to get rich and raised the ire of members of the LDS church. This time around, though, the magazine simply went too far. They denigrated a sizable portion of the country, and undermined their own reputation and integrity in the process.
Bloomberg Businessweek's recent cover was a serious misfire and the magazine should fully own up to it. Such inaccurate, incendiary journalism has no place in 2013, let alone in a respected and widely read publication.
Calling all HuffPost superfans!
Sign up for membership to become a founding member and help shape HuffPost's next chapter