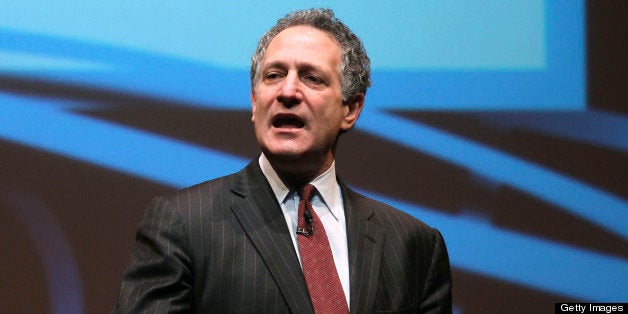 May 11 (Reuters) - After reports that users of the company's financial terminals were investigating potential leaks of confidential information, Bloomberg LP CEO Daniel Doctoroff said that the company had made a "mistake" by giving journalists access to data on clients' terminal usage.
The financial information and news company sought to assure its customers that Bloomberg News journalists will no longer have any information about what users of its terminals are accessing.
Bloomberg, whose financial data terminals are widely used on Wall Street, had allowed journalists to see some information, including when customers had last logged in, and how often they used messaging or looked up data on broad categories - such as equities or bonds.
Doctoroff said in a statement on Friday that reporters, however, could not see which particular news stories clients read, or the specific securities they viewed.
Goldman Sachs flagged the matter to Bloomberg in April after a Bloomberg reporter in Hong Kong asked Goldman about a partner's employment status, noting that the person had not logged on in some time. Goldman argued that the information was sensitive and should not be seen by journalists.
"Having recognized this mistake, we took immediate action," Doctoroff said in the statement posted on Bloomberg's blog. "Last month we changed our policy so that all reporters only have access to the same customer relationship data available to our clients."
The questions about Bloomberg reporters' access have moved beyond Wall Street banks. The New York Times, citing people briefed on the matter, reported that banking regulators at the U.S. Federal Reserve are examining whether their own employees were subject to tracking by Bloomberg reporters. A Fed spokeswoman declined to comment.
Doctoroff said Bloomberg also created a new position of client data compliance officer to continue to ensure that its news operations never have access to confidential customer data.
No clients had canceled their subscriptions because of the issue, a person briefed on the situation said on Friday.
Privately held Bloomberg has about 2,400 journalists worldwide. The company gets the bulk of its revenue from terminal sales to financial institutions. It has more than 315,000 terminal subscribers globally. Last year it posted revenue of $7.9 billion.
Thomson Reuters' , the parent of Reuters News, competes with Bloomberg.
In a statement, Thomson Reuters said the news division operates "completely independently with reporters having no access to non-public data on its customers, especially any data relating to its customers use of its products or services.
"Thomson Reuters collects and analyses customer data to improve product functionality and customer experience. There are strict controls in place that prevent access of this data in any form by Reuters or other staff without permitted use," the company said.
REAL LIFE. REAL NEWS. REAL VOICES.
Help us tell more of the stories that matter from voices that too often remain unheard.